How Coronavirus Has Changed Senior Care In Mass.
Play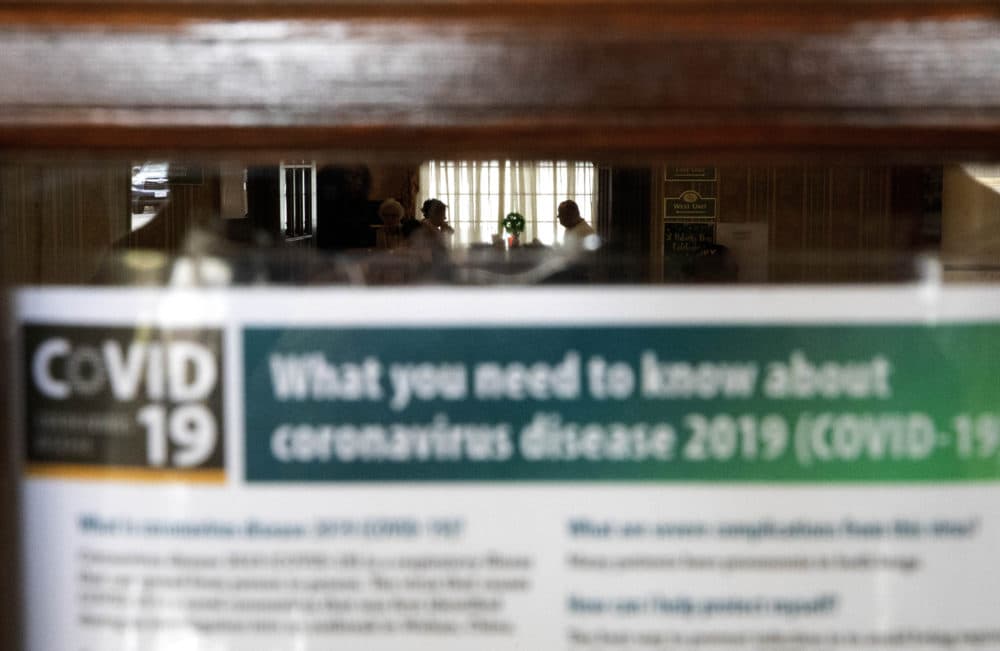 This article is more than 2 years old.
Senior care facilities in Massachusetts have severely restricted visitors following a coronavirus outbreak at the Life Care Center in Kirkland, Washington. At least 129 people tested positive for the virus at the center, and 35 have died.
Cases have been identified in several senior care facilities across Massachusetts. With older adults particularly vulnerable, Radio Boston checked in with two leaders of senior care facilities about precautions they're taking and their advice for families.
We heard from Lou Woolf, the president and CEO of Hebrew SeniorLife, one of the largest senior care operators in the state, and Crystal Cote-Stosz, the administrative director of The Lathrop Home, a residential care facility in Northhampton.
Interview Highlights:
On precautions at Hebrew SeniorLife, one of the larger operators in the state:
Woolf: "For the last two-plus weeks ... we started being extremely proactive about restricting visitors and private aides. We initiated a program where we only allowed what we refer to as essential visitors, [including] people coming in at an end of life situation [and aides who provide] essential services...
"As far as the independent living residents we care for ... we strongly, strongly, strongly urge them to stay in their apartments and not congregate, and we do a ton of virtual entertainment engagements. But, if they really want to go out, we cannot stop them from going out. But we do scrutinize [them] significantly when they come back and ask them all the screening questions and make sure that they don't congregate."
On some ways facilities are trying to manage resident's anxiety and depression:  
Cote-Stosz: "We have residents at Lathrop Home who have anxiety and depression around not being able to have daily contact that they're used to, that face-to-face contact with their loved ones. We do have family members that we are calling via FaceTime app so that we can have the seniors in our facility see their loved ones face-to-face, wave, blow kisses. We are also having programming at our facility. We have a group [activity] set-up of [fewer] than 10 residents that we can social distance six feet apart.
On whether they've heard any pushback from families on these changes: 
Woolf: "At the beginning, [some people] thought perhaps we were being all too vigilant — when people weren't taking this quite as seriously. But, as it's evolved, they have been incredibly appreciative and recognize why we did what we did so soon. We may have a handful of families who were feeling as though it's a little too restrictive, but that's a handful out of thousands of families."
On advice to support loved ones in senior care facilities: 
Cote-Stosz: "Write letters, send emails, do FaceTime, send photographs with your letters ... We are holding onto mail for 24 hours after we receive it ... but any email that we receive, we're sending those out daily with the photographs, giving them to the residents and that really is the highlight of their day: to get a special message from their loved one, especially with photographs of their pets and things like that."
Woolf: "What I would add to that is to really understand that the facility that is caring for your parents is absolutely doing the best they can. They are in this for a reason. To the extent that they are restricting visitors and all, respect that as much as possible, support it as much as possible with your mom and dad — because that will be what does the best for them — and encourage the community to do as much as they can."
Note: In the attached audio, we also hear from WBUR Reporter Miriam Wasser with an updates on cases in Mass. and how older adults who live alone are coping. 
This article was originally published on March 24, 2020.
This segment aired on March 24, 2020.