Living Through Corona: Binx
Resume
Around this time last year, three Boston-based drag performers — Binx, Severity Stone, and Kirbie Fully Loaded — came into WBUR's Studio 3 fully dressed in attire inspired by this time of year.
We talked about the importance of Halloween to the drag community, as October is traditionally the busiest month of the year for drag queens and kings, and a time when many future performers experiment with drag.
But of course, this year is different. Our inability to gather means no in-person drag shows, but it has inspired performers like the ones we spoke with last year to get creative and go virtual.
To see how that's being done, we caught up with Binx as part of our series "Living Through Corona." Binx told us that while every Halloween is special, it's particularly disappointing that things won't go on as usual this year.
Find out more about Binx, and her virtual Halloween show, here.
Interview Highlights
On how the effect of the pandemic on Binx's career:
Binx: "I kind of just had to hope that I could get pandemic unemployment through that way because... I no longer had any jobs. I could do stuff online. It didn't really start up right away with online shows. And when they first started, there really [wasn't] any money coming through them, just tips to whoever decided they wanted to tip [for] virtual drag."
"And now sometimes you can kind of get some money doing digital drag. It is fun because when I was a little kid, like I always wanted to be edit and make music videos for all my favorite pop stars. But like editing actual, virtual drag is really time consuming and really hard. I wasn't prepared to be a music video director like last year."
On adjusting to drag in the digital world:
"Yeah, well, it went from like performing in bars and performing at clubs and at restaurants and places, and then now I have to add an extra element where I'm now editing my own videos and directing my own videos and kind of coming up with ideas for videos that I wasn't doing before."
"It's a new element of being creative, but it's also like a new element of, 'Now I have to make a whole entire video and have it in on time' instead of just coming to the venue and performing in front of everyone the way I was used to it."
On inspiration through quarantine: 
"I do like the digital aspect of drag. I think it really has taught a lot of people how to incorporate, like all the technology that we have in the world to make their drag a visual presentation. When you audition for a show like Dragula or Drag Race, you know they're going to ask for an audition tape."
"And now all of us who've been doing digital drag learned a little bit more about how to make and record ourselves and produce these things so we can look better for something like that in the future."
On Binx's digital fashion show for Halloween:
"Before the pandemic happens, this is the show I wanted to do in person. And I was watching everybody do digital drag and I was doing digital drag. And I was like, 'Why don't I do this fashion show digitally?' And I was going to do it around Pride. And then I just didn't feel like the timing was right. And the more time that passed, I was looking at Halloween. I was like, 'OK. I think this is going to be the perfect time.'"
"So the Runway Witch I actually came up with way before I was doing drag, when I got out of high school, I worked at a Nordstrom and then I worked at Saks Fifth Avenue. So I was always working and kind of like luxury fashion, but I was always working in men's. And some people would tell me, 'Oh you should do drag, you should do drag!' And I was like, 'I could never do that.'"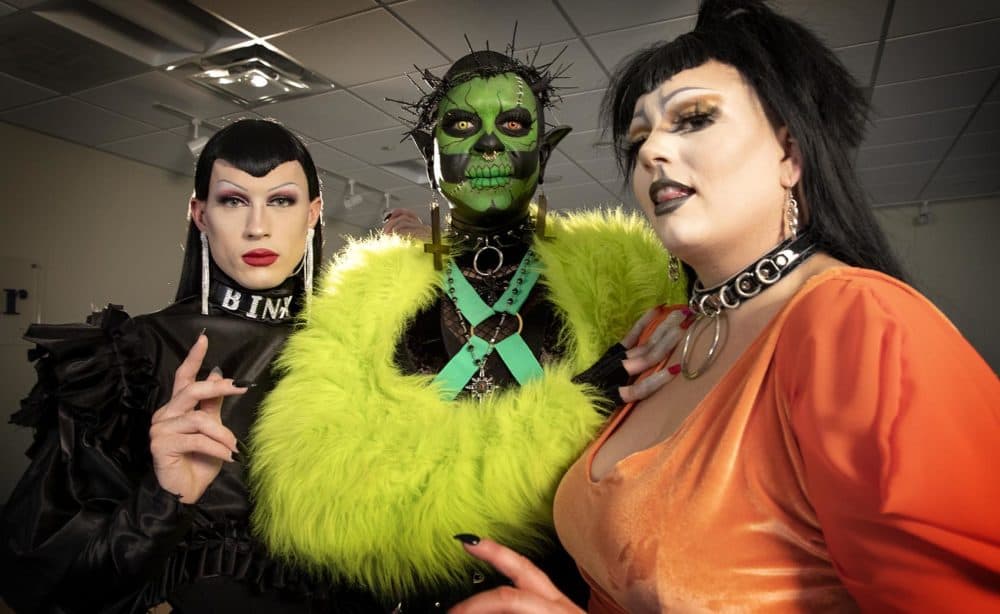 "But I was always kind of on the edge of, like, men's fashion isn't really giving me what I want. And I can't exactly just walk out in women's fashion. I could, but it would just be like a big leap for me to just all of a sudden be doing that in my everyday life. And then ... through watching mostly [RuPaul's] Drag Race. I think it was like Aquaria, though, kind of like made me look at it and be like, 'OK, I really could do this.'"
"And so I started doing drag. And to me, it was never really about the wigs or the makeup. It was always about what I could wear, how I could style myself. And I was buying a lot of clothes at first. And then last summer, I finally got a sewing machine and I just sat down and taught myself how to sew. And I just kind of never looked back."
This article was originally published on October 29, 2020.
This segment aired on October 29, 2020.