Sports Reporter Michele Tafoya On Patriots-Broncos And Her Career, Plus Pats Add Bennett
28:55
Play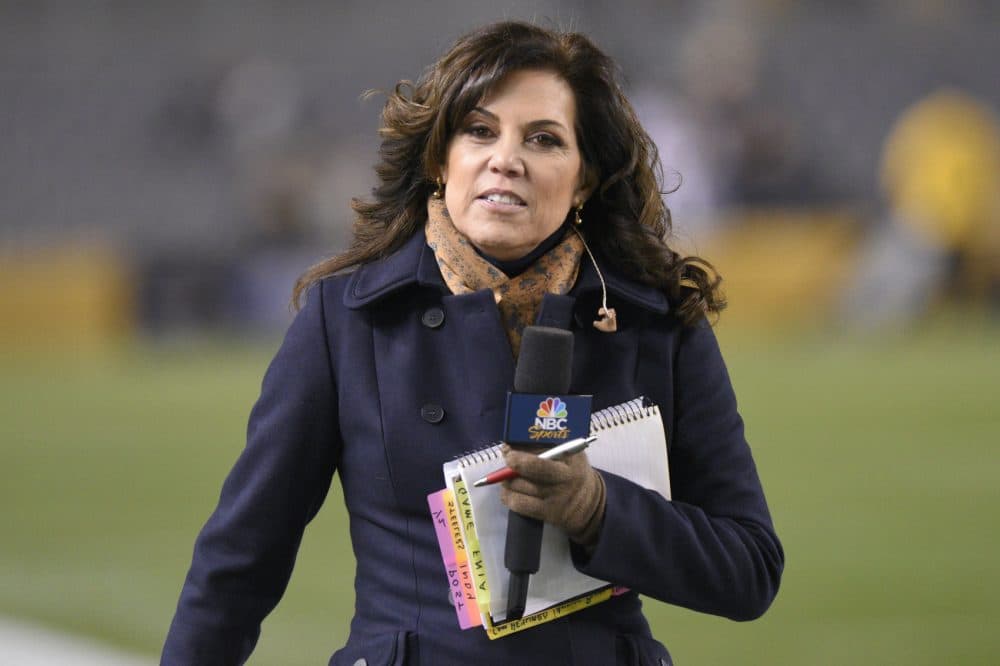 In today's episode of Season Ticket, host Chris Gasper (@cgasper) and reporter Jim McBride break down the news that the Patriots have claimed tight end Martellus Bennett off waivers. Then, Michele Tafoya, Emmy award-winning sideline reporter for NBC Sunday Night Football, joins to talk about the NFL season so far, the upcoming Patriots-Broncos game, and what being a sideline reporter entails. She also looks back on her career and talks about her close bond with a beloved Celtic.
Guests
Interview Highlights
On Martellus Bennett's familiarity with the Patriot's system
Jim McBride: He's not that far removed from [the Pats'] playbook. I wouldn't think it would take much more than maybe the five hour flight out to Denver to reacquaint himself with the playbook. The knock on him this year was that he only had two dozen catches for 200-something yards, but that's way better than what the Patriots have gotten out of their backup tight end situation this season that's for sure.
"This is a little bit of a desperation move."

Chris Gasper, on the Patriots claiming Martellus Bennett off waivers
On what claiming Bennett off waivers says about the Pats' offseason signings
Chris Gasper: This is a little bit of a desperation move to me. It's a situation where, when you look at their offseason—whether it's Gilmore, Gillislee, obviously Kony Ealy, Dwayne Allen—a lot of these moves haven't worked out and they probably would have been better off just keeping Bennett in the first place even though he got that three year, $21 million deal from the Packers and the Patriots didn't want to pay that.
On the types of information she uses for her sideline reports during NFL games
Michele Tafoya: You get about 20 seconds, 25 seconds [for each report], maybe 45 seconds in the pregame. So you do have to be succinct. But I spend time with players from both teams during the week prior to the game and I'm trying to get interesting stuff. Let's just say ... [Steelers wide receiver] JuJu Smith-Schuster, we find out that he's going to get his driver's license. Just fun little things like that that are going to speak to a broad audience, or narrow things that are going to augment what Al [Michaels] and Cris [Collinsworth] are doing in the booth. And, yes, it's breaking news. And a lot of that is injury updating and observations down on the sideline.
On much of her reporting not making it to air
Michele Tafoya: We're very judicious with everything we put in the show, whether it's graphics, whether it's roll-ins, whatever it is. Everyone leaves the stadium after each game going, "Gosh, I had like nine other things I wanted to get on the air," and you just can't. Last week we were in Miami and I was set up four different times: "OK, standby Michele." [I was] ready to do some really good storytelling. And every single time it was either, "Oops, timeout, we're going to commercial," or, "Someone just scored a touchdown. We're going to roll the replay." So you often leave with a lot of your stuff just on the ground not ever making it to air ... And it's disappointing but it's part of the job.
"It's a little humbling, it's a little embarrassing, but it's darn cool."

Michele Tafoya, on receiving a game ball from the Patriots in 2015
On her chemistry with broadcasters Al Michaels and Cris Collinsworth
Michele Tafoya: Al and I first worked together on an NBA game and we hit it off immediately. I can't pinpoint what it was but that's what chemistry is all about—you can't really pinpoint what makes it work ... And Cris was on the crew by the time I got to Sunday Night [Football] and Cris just knows how to work a room. He'd be a great president of the United States. I'm telling you he would. He's so smart and he knows how to describe things in a way that ... even my sister-in-law enjoys and she is not a football fan. We're really fortunate because we all really, really like each other. We love spending time together. We have our weekly dinner together on Friday nights and it just works.
On the upcoming game between the Patriots and Broncos
Michele Tafoya: If you look at it on paper you think, "Oh boy, there's going to be a lot of storytelling in this. It could be a blowout." But I think you have a really prideful group of defenders in Denver that want to straighten this out ... What I would be most nervous about [if I were a Pats fan] is Von Miller and company feeling really ashamed and really embarrassed about last week and coming out with some sort of energy that could be a little dangerous.
On the altitude in Denver
Michele Tafoya: Anyone who tells you elevation is not an issue is not being honest. I think the elevation does become an issue in some of these games for visitors and I think that's what makes this place particularly difficult to play in. As a crew, we'll get there Thursday night and all of us end up in the gym at some point in the hotel going, "Man, I'm exhausted." And it's because of that elevation. It's universal. And you can prepare all you want and hydrate all you want but I'm not sure that that's going to really cover everything for you.
On receiving a game ball from the Patriots in 2015 in honor of her 200th game on an NFL sideline
Michele Tafoya: I was so stunned and so overwhelmed by that. That was a really cool gesture by the Patriots ...[Stacey] James, the PR director for the Patriots, just does such a good job. He has got more challenges than the average P.R. guy. He's got the biggest star in the NFL on that team, you've got five Super Bowl wins with Bill Belichick, you've got so much attention and they have to juggle so much. And I think that's why I was so overwhelmed and touched by the fact that they recognized me with that game ball. I have that game ball proudly sitting on a shelf in my house just because, "Wow." It's a little humbling, it's a little embarrassing, but it's darn cool.
"He came up to me and he said, 'Man, I really like her and I'm scared. What do I do?' And I said, 'Tell her how you feel!'"

Michele Tafoya, on giving Kevin Garnett love advice
On whether she'd want to do play-by-play for NFL games
Michele Tafoya: People have asked me that. And, at this point, I don't think so. I love my role on [NBC Sunday Night Football]. I love our show so much for a lot of reasons. It's like a family to me. We've built it [with] blood, sweat, and tears ... and there's been a lot of learning and a lot of growing through all these years that I've worked with this crew. If Al [Michaels] suddenly got sick up there, I suppose I could run up and do it. But I love my role. So, to do play-by-play in a football game wouldn't be the same for me as being part of this show.
On her relationship to former Celtic Kevin Garnett
Michele Tafoya: I remember he told me about his true love Brandi, whom he ended up marrying. We were at a television party together and he came up to me and he said, "Man, I really like her and I'm scared. What do I do?" And I said, "Tell her how you feel!" So, I mean, Kevin and I have gone through a lot over the years. I was there in Boston when they won the World Championship and [did] that interview, which would have gone viral if viral had been a thing back then.
On why she has a lot of respect for Kevin Garnett
Michele Tafoya: He went from poor kid trying to prove himself to a rich kid who no longer had to prove himself, but he always played with the same intensity. That's what I always loved about Kevin. Both sides of the ball, no matter what the circumstances were, you never saw him be lazy out there. You never saw him take a play off. And that's what I've always admired about KG.