Patriots Dominate Hapless Broncos
22:34
Play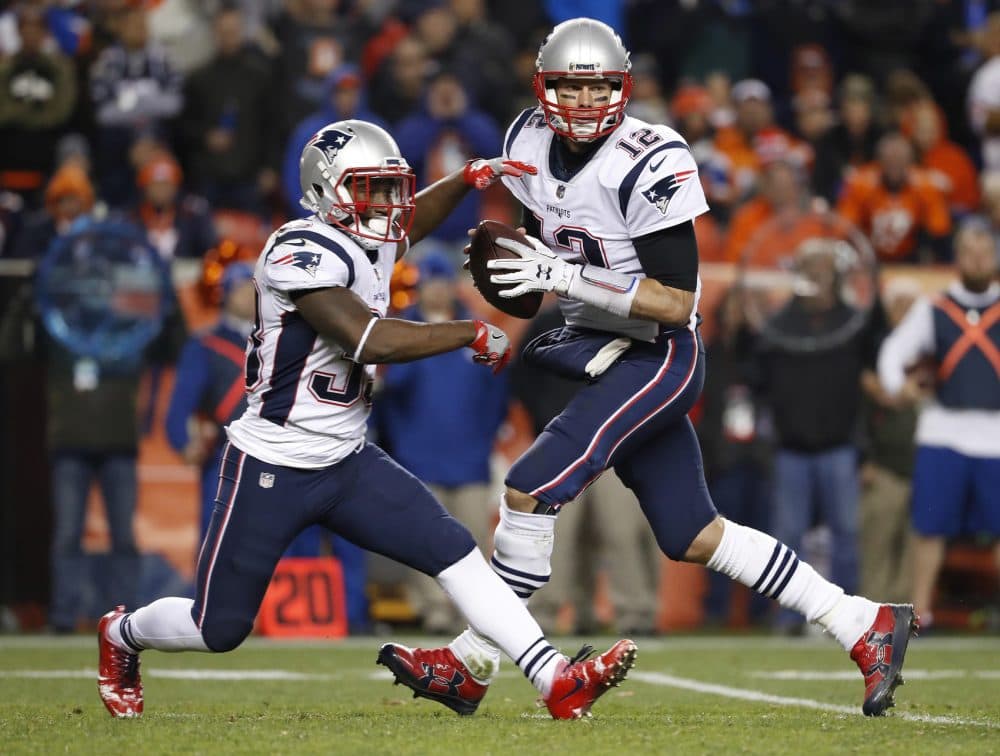 In today's episode of Season Ticket, host Chris Gasper (@cgasper) and NFL reporter Ben Volin discuss the Patriots' resounding victory over the Denver Broncos. Topics include huge plays on special teams, improved red zone offense, Martellus Bennett's return, Mike Gillislee's absence, strong play from the offensive line, and a peek at the AFC playoff race.
Guests
Interview Highlights
On how highly the Patriots value special teams
Ben Volin: We all know that Belichick puts more emphasis on that phase of the game probably than any other coach. And, it's funny, I was talking to Brendan King after the game last night. He's one of the [Patriots'] core special teams players. I said, "How much do you guys practice special teams?" He's like, "We practice it so much that sometimes guys stand around are like, 'why are we practicing this? How can this possibly come up in a game?'" And last night is why. Their attention to detail paid off in a big way last night.
Chris Gasper: [Belichick] is a former special teams coach. It's one of the ways he came into the league when he first got to the New York Giants and was there with [head coach] Bill Parcells. He was coaching linebackers and special teams. So, you know at his core, it had to warm Bill Belichick's heart to see the way that they played last night.
"It's just another case of Bill Belichick taking advantage of every situation that comes his way."

Ben Volin, on the Patriots brining back Martellus Bennett
On the Patriots defense
Chris Gasper: I think they're back to that bend-but-don't-break defense. Aesthetically, you're never going to look at this defense and say, "Ooh, that reminds me of the 1985 Chicago Bears or the 2000 Baltimore Ravens," but, the proof is in the pudding and the proof is in the points allowed—13.4 over the last five games. You do that with Tom Brady as your quarterback and you're going to win a lot of football games in the NFL.
Ben Volin: You know they're going to hit at least 30 points every night. And then the defense just has to be good enough. They don't need to be ballhawks and get after the quarterback every play. They just need to be good enough and steady in their assignments and not give up 75-yard touchdowns ... And, if they can keep the [opposing] team to 24 points or below, the Patriots have a pretty good chance of winning because, you know, it's pretty hard to keep Tom Brady under 24 points.
On Tom Brady spreading the ball around
Ben Volin: Tom Brady hit nine different receivers last night. It's good to see him spreading the ball around. He doesn't get locked in on any one receiver and getting the running backs involved—seeing Rex Burkhead and Dion Lewis carry the weight—was good for the Patriots because you need guys like that to step up and be able to carry a game when Brandon Cooks and Rob Gronkowski aren't being as dominant.
On Martellus Bennett being back with the Patriots
Chris Gasper: He got here early Friday morning. [He was] picked up on waivers from Green Bay where he had a tumultuous situation and acrimonious ending with the Packers. He has a torn rotator cuff [and] he told the Packers he was going to have surgery on it and that he was considering retirement. They decided to release him ... Belichick talked him into playing and there he is he's out there Sunday night with a torn rotator cuff. He plays seven snaps. He has three catches on three targets for 38 yards. He probably wasn't even on the scouting report. That's like the most Patriots thing ever.
Ben Volin: And it has a lot of people around the NFL, mostly fans, crying foul, "Here the Patriots go again stacking the deck and working behind the scenes to get [Bennett] back to New England." To me, it's just another case of Bill Belichick taking advantage of every situation that comes his way. No one twisted the Packers' arm; They didn't have to release him ... And if you're Bennett, it's a business decision. I think when he was with Green Bay and Brett Hundley [being] his quarterback and not Aaron Rodgers, he said, "Why am I doing this to my body? It's not worth it. Our season is done. I'm going to get surgery and shut it down." Then, when the Patriots come calling, that's when you scratch your chin and say, "OK, maybe I can put it off because it would be kind of fun to go chase another Super Bowl with Tom Brady and Bill Belichick."
"It had to warm Bill Belichick's heart to see the way that they played last night."

Chris Gasper, on the Pats' special teams unit
On Mike Gillislee being a healthy scratch for the Denver game
Ben Volin: It's not surprising because he hasn't been running the ball well at all. He's only at 3.6 yards/carry for the season. You want to be at 4.0 if you're a running back. He has not been good on short yardage running situations—3rd and 1, 4th and 1. And then on top of that he doesn't have the versatility as a pass catcher. And he doesn't have special teams value either. So, he's kind of a limited player in this offense and we all know how much the Patriots prize versatility.
On Marcus Cannon's injury and the Patriots' offensive line
Ben Volin: Marcus Cannon [is] dealing with an ankle injury right now and it looks like they might not get him back for this Raiders game either. So, another tough challenge coming up [for the Patriots offensive line]. But you have to give them a lot of credit for really improving as the season has gone along. They've done a great job neutralizing these great pass rushers [like Von Miller and Melvin Ingram].
On whether the Patriots are the favorite to win the AFC championship
Ben Volin: From my perspective, [they are], because I don't believe in the Steelers. We've seen this movie too many times where the Patriots just carve them up ... They've looked off all year. Le'Veon Bell had a really slow start. Ben Roethlisberger looks disinterested at times ... The Chiefs are still, I think, the [Patriots'] top competition overall, but they're really starting to slide now. They're 2-3 in their last five games ... Certainly, to me, [the Patriots are] starting to look pretty good for [the Super Bowl in] Minneapolis in February.