The Celtics Are Basketball Ballet And The Patriots Are Iceman From Top Gun
23:19
Play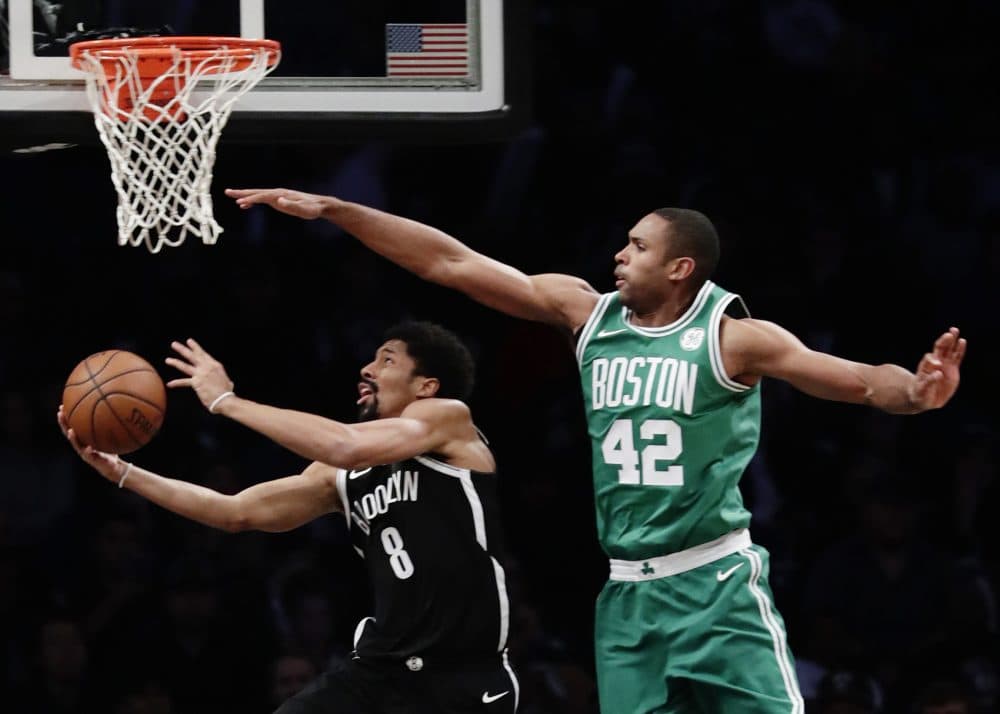 Today on Season Ticket, Host Chris Gasper (@cgasper) and Dan Shaughnessy marvel at the Celtics' 13-game win streak and preview the team's highly anticipated Thursday night showdown against the defending champion Warriors. Topics include Jaylen Brown's growth, Danny Ainge's roster-building prowess, Marcus Morris' toughness, Brad Stevens' coaching wizardry, their league-leading defense, and how the team stacks up against the Warriors.
Then, Gasper and Shaughnessy debate how ready the Patriots are to make another Super Bowl run and come up with a few new mantras coach Belichick should add to his current list of "Do Your Job," "Next Man Up," and "No Days Off."
Guests
Interview Highlights
On Al Horford being a key part of the Celtics' success
Chris Gasper: Can you say a guy on a max contract is an unsung hero? You hear the people talk about him as "Average Al" and there were people who derided him last year and said, "Jeez, this guy's not a max player." But he's really stepped it up since Gordon Hayward went down. And watching Horford and Kyrie Irving work the pick-and-roll and play off each other is just exquisite. It's fantastic basketball; It's like a basketball ballet out there for those two guys ... [Horford's] such a smart player; he knows how to play the game and he makes his teammates around him better.
Dan Shaughnessy: He's not a guy that lights up the box score every night, scores 30, that kind of thing. He does not attack the basket on a regular basis, which people love when he does do, but, as you say, complements the other players. If you're not paying attention, you could say, "Well, where'd Al Horford go? I didn't see him score." He's that kind of player but then all the people that are around it tell you he's doing the little things. Well, we're seeing him do those little things and big things this year and he has been an understated part of their success and I think folks are coming around on him in a big way.
"It's like a basketball ballet out there for those two guys"

Chris Gasper, on Kyrie Irving and Al Horford
On Jaylen Brown's growth
Chris Gasper: Another guy who has stepped up is Jaylen Brown. He's a much different player in Year Two than he was in Year One. He's a lot more confident with the shot, he's a lot more assertive.
Dan Shaughnessy: Right. And there was a complaint last year: Brown had stretches where he did not play, he just wasn't used. Stevens integrates the rookies slowly—that was the book on the whole thing. He was the third pick in the country and we were like, "Where is this guy?" Well, this year he is playing a ton of minutes. That confidence is there and he's playing like a 3-4-year veteran.
On Jayson Tatum's maturity
Dan Shaughnessy: Tatum, who knew [he could play like] that? The opposite of Jaylen Brown—his rookie year he has to play; He gets starting time big minutes. He made that corner shot last week [against Atlanta]—a game-ending, confident shot from the left corner. I mean, this guy plays like a 5-year veteran in the NBA and I'm shocked that he was so ready.
On the upcoming showdown between the Celtics and the Warriors
Chris Gasper: This is the game of the year so far in the NBA. The Warriors [will] come in riding a 7-game winning streak. In typical Warrior's fashion during the 7-game winning streak, their average margin of victory is 19.8 points. They got off to a slow start [but] they've definitely found their groove here at this point. It's gonna be a big matchup. Teams are gonna look at this around the league and say these are two of the best teams in the league right now. But I still believe that they are teams that are on two different planes. I mean, you're talking about the Warriors. They have won two NBA titles in the last three years, gone to three straight finals; They have Kevin Durant, they have Steph Curry, Klay Thompson and Draymond Green.
Dan Shaughnessy: They are not [at the Warriors' level], but it's gonna be a thrill ride tomorrow night ... The Celtics can win this game—[they're] playing at home; they've won 13 in a row—they can do it. But, on a regular basis, I don't believe they are there yet to play any kind of sustained series against a team like that. But, for one night, with the momentum they have, absolutely.
"They are the story of the NBA in this season, thus far."

Dan Shaughnessy, on the Celtics
On the Celtics' high ceiling
Dan Shaughnessy: There was always the notion that [last year's team] was limited. There was a ceiling there and they got absolutely everything they could get out of what they had, including Isaiah Thomas. This team's ceiling—we haven't seen yet. They're so young and the ceiling is much higher. They are the story of the NBA in this season, thus far.
On how the AFC is stacking up
Dan Shaughnessy: The AFC, in my view, does not even have six worthy playoff teams this year. For the Patriots, initially you worried about Kansas City. Well, they've lost three games. You worry about Pittsburgh, but if you watched Pittsburgh on Sunday they barely squeaked out a win against Indianapolis, which is not really a good team. There's just so much mediocracy in the AFC now ... And as I quoted Napoleon on Sunday, "Never interrupt your opponent when he's making a mistake," and that's the Patriots' mantra now, as much as "Do Your Job" or "Next Man Up" or "No Days Off".
Chris Gasper: I always say that Bill Belichick and the Patriots are like the character Iceman from Top Gun. They're just clinical and you're gonna get frustrated or you're gonna get into a situation where you feel like you have to do more than you would normally do and you're going to overcompensate and make some mistake and then they have you.
On concerns with the Patriots as they make another Super Bowl run
Chris Gasper: For me, I look at it and say there's still not enough pass rush ... I still worry if they get one of these upper-echelon quarterbacks like Roethlisberger, who has receivers, and they can't get to the quarterback, and they're just gonna sit back there and say, "Oh, we need [the opposing quarterback] to put together four 10-play drives to beat us," there are guys out there who can do it and we've seen it before.
Dan Shaughnessy: I agree with all that, but I'm gonna tell you, it just doesn't happen to the Patriots. They give up the yards between the 20s; They give up field goals and not touchdowns; They give up more yards per carry than any team in the NFL. It doesn't seem to bite them in a big way because teams don't take advantage of that; They can't finish off drives ... I just think there's no good team to do what you're talking about. There's a good quarterback like Roethlisberger, but there's not a team that can hurt them. There's no great teams in the NFL anymore ... So, Patriots fans should not be as cocky as they are. [Their team is not that great. But, all this other stuff—the demons that come in to haunt the other teams—it comes into play. I believe in it now.