The Hype Is Real: Celtics Topple Warriors In Most Impressive Win Of Season
23:50
Play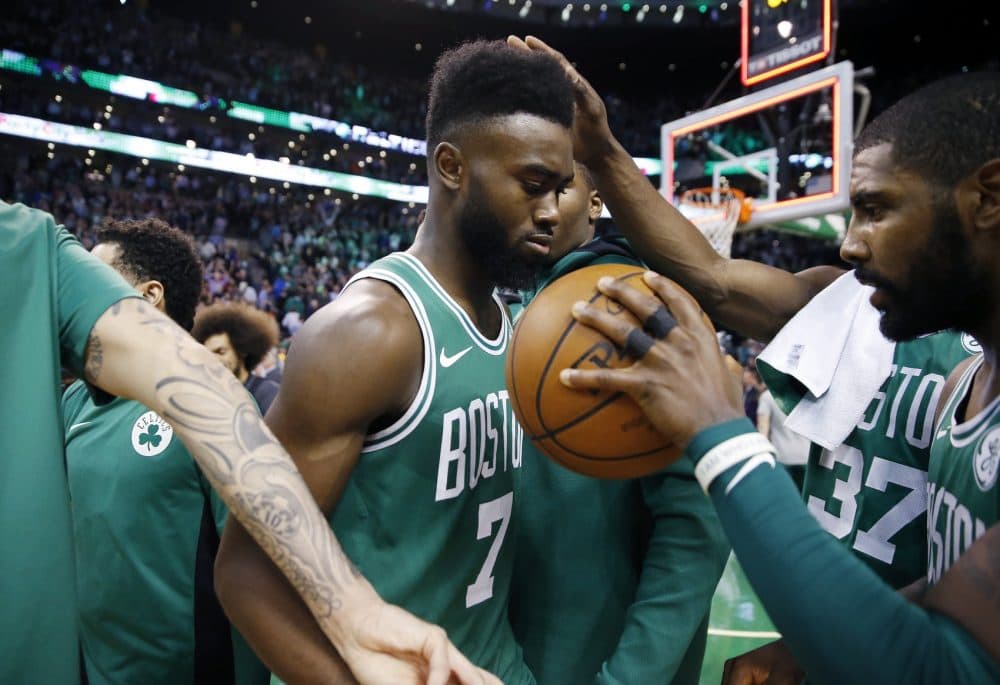 The Boston Globe's Chris Gasper (@cgasper) welcomes Celtics reporter Jay King to analyze the Celtics' 92-88 triumph over the Warriors in a clash between the two best teams in the NBA. They discuss the Celtics' suffocating defense, Jaylen Brown's gutsy game on the heels of personal tragedy, Marcus Smart's impact in spite of a woeful shooting night, and how quickly fans have embraced this year's team.
Guests
Interview Highlights
On how the Celtics defense bothered the Warriors
Chris Gasper: You look at Golden State—that's an elite offense and has been an elite offense for four years. I think they missed some shots they normally make, but the Celtics definitely bothered them. I compare it to, in the NFL, a quarterback who has a really ferocious pass rush coming at him and it speeds him up. And then, later in the game, he has open passes and he just misses because he's anticipating there's going to be a guy in his face. That's what I thought happened last night with the Celtics and their defense and the Warriors.
"It's time to take away all the asterisks. The Celtics' defense has been amazing."

Jay King
On how good the Celtics' defense is
Jay King: It was the first time since December 2016 [that] Steph Curry scored in single digits. You saw them lock up the Raptors and you saw him lock up the Hornets and you thought this defense could be really, really good. And then you see them against the Warriors and [it's] like, OK, it's time to stop saying 'it could be.' It's time to stop saying, 'this is just the early season.' It's time to take away all the asterisks. The Celtics' defense has been amazing throughout the first 16 games. Fourteen straight wins with no Gordon Hayward; their offense ranks 22nd in the league and they can't be beaten. It's crazy.
Chris Gasper: Holding Golden State to 88 points is immaculate, to be honest with you. But this was the sixth time this season the Celtics have held an opponent below 90 points. That matches their total from all of last year ... They're sort of the answer to Golden State's position-less offense is like [sic] position-less defense from the Celtics ... the Celtics turned this game into a rock fight. And this game was played on not only their turf at TD Garden, but also on their terms.
On Jaylen Brown dealing with tragedy
Jay King: The night before the game, Jaylen Brown's best friend passed away. A few hours before the game he didn't know whether he was going to play. He spoke to his best friend's mother, who inspired him to go out there and give it a shot. He played inspired basketball, probably his best game ever considering what he did defensively on Kevin Durant, considering the 22 points he scored in a game where points were really at a premium, considering everything he did to bring the Celtics back, not once but twice. He was just unbelievable. And I thought it was just as remarkable that he was able to talk about his best friend after the game. It was really remarkable what he did and the poise he showed. He's 21 years old and to deal with that and to deal with it the way he did was just unbelievable.
On whether Jaylen Brown or Jayson Tatum is more valuable to the Celtics moving forward
Chris Gasper: Let's say you had to make a trade for Anthony Davis or Porzingis or Karl-Anthony Towns and the other team says, "Give us Tatum or Brown." Which guy would you trade?
Jay King: I would trade Brown. Keep Tatum. I think he's more efficient. I think he's going to end up being a better offensive player. I think Jaylen Brown, athletically, there are very few players who rival him across the league. But Jayson Tatum is just so smooth. He's 19 years old. He can shoot. He does basically everything. I think he's going to end up being an absolute monster for the Celtics. Jaylen Brown has a chance too, but I think Tatum's just further along with his skill development. So, at this point, I would choose him.
Chris Gasper: I actually disagree with you ... I would take Jaylen Brown. The competitiveness, the way he rose to the occasion last night—you just can't teach that athleticism. Like, how often does Kevin Durant get his jumper blocked? ... Hopefully they can keep both guys. They look pretty good next to each other. It's a high-class hoops problems: who is better, Jaylen or Jayson? That's the type of problem you want to have.
"He played inspired basketball, probably his best game ever."

Jay King, on Jaylen Brown playing through personal tragedy
On how Marcus Smart compensates for his poor shooting by being good at everything else
Jay King: He's been ridiculously bad shooting the ball this year ... I think he's at 28.1% for the season, which is abominable! And, still, every time he's on the court good things happen. It's incredible how good he is at everything else to overcome how bad he has shot the ball this year.
Chris Gasper: It's really interesting because you wouldn't think, when you're talking about a professional basketball player, [that] you would say shooting is not really his forte. But it's not! And it's hard to look at [the box score] and be able to extrapolate his impact. You have to watch the game and see the plays he makes, those aggressive hustle plays.
On how Al Horford has elevated his game
Jay King: Three years ago he never shot three-pointers and now he's being asked to do that. It took him a little while to extend his range that far. If you look at his numbers, he's always been an elite midrange jump shooter. Career-wise, he's 47% for midrange, which is almost as good as anybody in the league. Well, now he's doing that from behind the arc and that has really raised his efficiency. It has made it tougher for teams to close out on him. It has made it easier for him to play-make for other guys. He has never played better basketball than he has this season. He's rebounding, he's defending every night, he's taking on great players. He shut down Kristaps Porzingis, held Giannis [Antetokounmpo] to one of his worst games of the season ... To me, he's been the MVP so far for the Celtics this season. I think he has just been awesome, awesome, awesome this year.
"It's almost like that era of basketball never happened."

Chris Gasper, on fans moving on quickly from the Isaiah Thomas-led Celtics
On the silver lining of Gordon Hayward's injury
Jay King: I think what we're seeing though is [Jayson Tatum is] too good to keep on the bench. Jayson Tatum, Jaylen Brown—those guys are just too good. I do think the the one silver lining of losing Gordon Hayward on opening night is that Jaylen Brown, Jayson Tatum, they're not just getting the minutes [but] they're getting more touches. They're getting more opportunities. They're getting chances to develop that they wouldn't have had if Hayward, Kyrie Irving, and Al Horford were all on the court. And I think that's going to benefit them next year when Hayward comes back and those guys have the chance to expand their games and do more things and guard better players and take on challenges that they wouldn't have been able to with Hayward in the lineup [this year].
On how quickly fans have embraced this Celtics' team
Chris Gasper: It is a little funny to me how quickly people have moved on from the Isaiah Thomas-Avery Bradley-Jae Crowder Celtics. I mean, [fans] were kicking and screaming when Danny Ainge broke up that team. There was a real emotional connection and bond between that team and the fanbase. And I'm shocked that we're only 16 games into the season and ... it's almost like that era of basketball never happened.
Jay King: I guess 14 straight wins will do that for you.