Bruised Bruins Approach Thanksgiving Benchmark
27:19
Play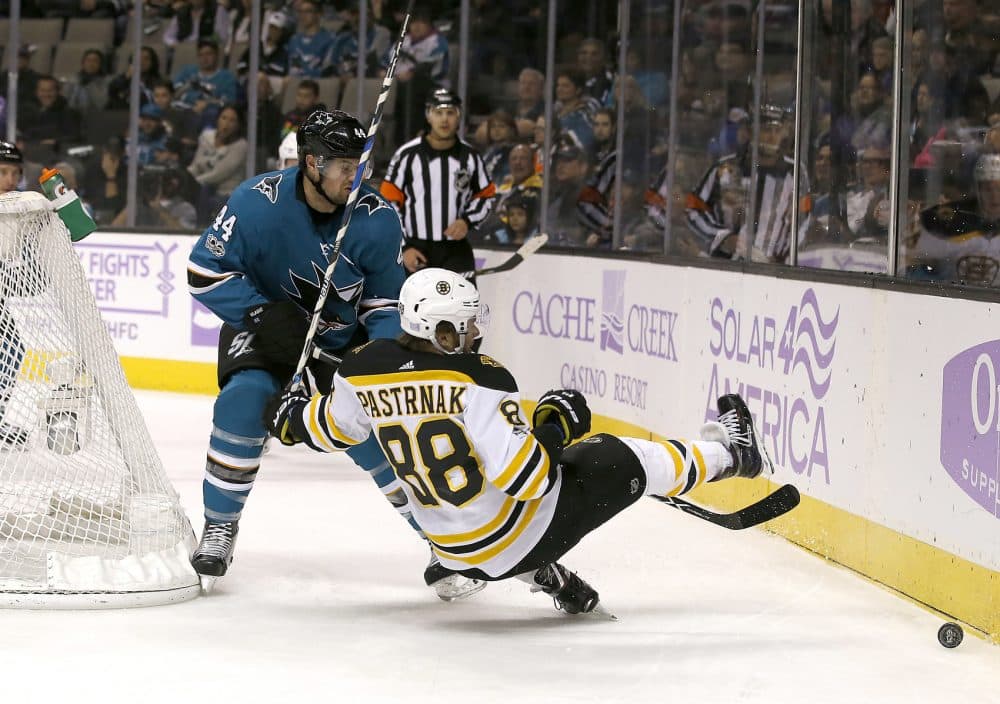 In the latest episode of Season Ticket, The Globe's Chris Gasper (@cgasper) welcomes Kevin Paul DuPont to talk about the least popular team in Boston at the moment, the Bruins. Topics include the youth movement of the NHL, owner Jeremy Jacobs' induction into the Hockey Hall of Fame, and the current state of the Bruins as they approach a key Thanksgiving benchmark.
Guests
Interview Highlights
On where the Bruins stand approaching Thanksgiving
Kevin Paul DuPont: Given what they've been through and now where they are—they're a game or two above .500 here—I think that's about as well as you could expect in certain aspects in terms of health, well-being, but I don't see them as a powerhouse in the East; I never did.
On the Thanksgiving benchmark in the NHL
Chris Gasper: There are Canadian teams and a lot of Canadian players in the league so we have to say "American Thanksgiving." But that is sort of a big mile marker in the NHL season for teams trying to make the playoffs.
Kevin Paul DuPont: Typically, American Thanksgiving is six or seven weeks into the schedule. If you're not above the DNQ line—if you're not in the mix here by American Thanksgiving—you're basically in trouble. It's not to say they're on life support but they're in trouble.
"I don't see them as a powerhouse in the East; I never did."

Kevin Paul DuPont, on the Bruins
On the decision to start goalie Anton Khudobin in favor of Tuukka Rask
Chris Gasper: The biggest thing right now is they need all the points you can get. That led into [coach] Bruce Cassidy's decision to ride the hot hand in net, going with backup Anton Khudobin in a couple of games on the West Coast and benching Tuuka Rask, who is not only the Bruins franchise goalie but he's one of the highest paid goalies in the NHL ... I know a lot of people feel like it's the right decision, and I think in the short term it is—but to me it speaks to how concerned the Bruins are about making the playoffs and they feel like, at this point in the year, they need every single point. Long-term, I don't see how this is helpful in terms of, "Do you want to alienate your franchise goalie?" And there's no way Anton Khudobin, a career backup, you can ride him to the playoffs.
Kevin Paul DuPont: If there's nothing going on and you get any glimmer of hope from any position, any player, anything, then you go with it and they did. I didn't see any choice. I've known Tuukka from basically day one here and I thought he took it very well. I think anyone who's been around it day-to-day and living it day-to-day has to acknowledge: this is a team that's been searching for something and here's Anton, a foothold at the moment. They went with him.
On the Bruins' youth movement
Chris Gasper: [General Manager] Don Sweeney and [President] Cam Neely have a plan. A big part of that plan was to integrate young players and prospects into the Bruins' lineup and they wanted to ... be able to not always rely on veteran guys and big contracts, which was something that happened a lot with [former General Manager] Peter Chiarelli ... Anders Bjork, Jake DeBrusk—I know that they have [Jakob] Forsbacka-Karlsson down in Providence—are they just throwing some of these prospects against the wall and seeing who will stick or have they identified specific guys that they feel like can be part of the next young core for this team?
Kevin Paul DuPont: I think with kids there's always throwing against the wall; there's always an element of that ... I think it is the right view [but] I don't know if it's going to work. And, frankly, given what the league is today in terms of the cap, [the Bruins] have paid big money to a core [of] four, five, or six players. And once you've done that, you really have no choice but to either augment with old veteran guys or bring in the kids. And I would say bring in the kids.
On David Pastrnak's contract
Chris Gasper: So, obviously, [the Bruins] are going with this youth movement direction and I think, ideally, a lot of these guys end up being like David Pastrnak—incredibly productive last year, one of their leading scorers this year, and they gave him the big contract in the offseason after a little bit of a contract stalemate. Has he lived up to that so far? How much of them being where they are, in terms of 24th in goals, is needing to get more out of somebody like David Pastrnak who got a big, big contract?
"He is extremely young but I don't doubt his skill level and I don't doubt his ability."

Kevin Paul DuPont, on the Pastrnak's struggles
Kevin Paul DuPont: I think Pastrnak is going to carry his weight here, in terms of production and money. That said, his road trip was not good ... He is prone to bouts where he doesn't shoot and if David Pastrnak isn't shooting, then what do you have? But I do attribute [it] to the fact that it's his fourth year in the league. He is extremely young but I don't doubt his skill level and I don't doubt his ability. I think he's going to be fine.
On if Bruins owner Jeremy Jacobs deserved to be inducted into the Hockey Hall of Fame
Kevin Paul DuPont: This is the case for Jeremy Jacobs in Boston that a lot of fans don't appreciate, in my estimation: If you look around the NHL, there have been a lot of franchises that have bankruptcy, haven't made payroll or in peril of [not] making payroll—are they going to move out of town? In the 42 years that he's been here, there hasn't been one day where anyone has thought, "Gee, this franchise can move, they're not treating the players correctly." They pay them, they've always been at the cap if not in peril of being over. Their biggest problem in terms of ownership/management in my estimation has been not paying the right players.
Chris Gasper: [Jacobs] does have a reputation of being parsimonious—being close [to a title] and needing that one more player and saying, "no, we already budgeted – this is what we budgeted, this is what we spent, this is what we're spending."