Streaking Patriots On A Collision Course With Steelers
23:06
Play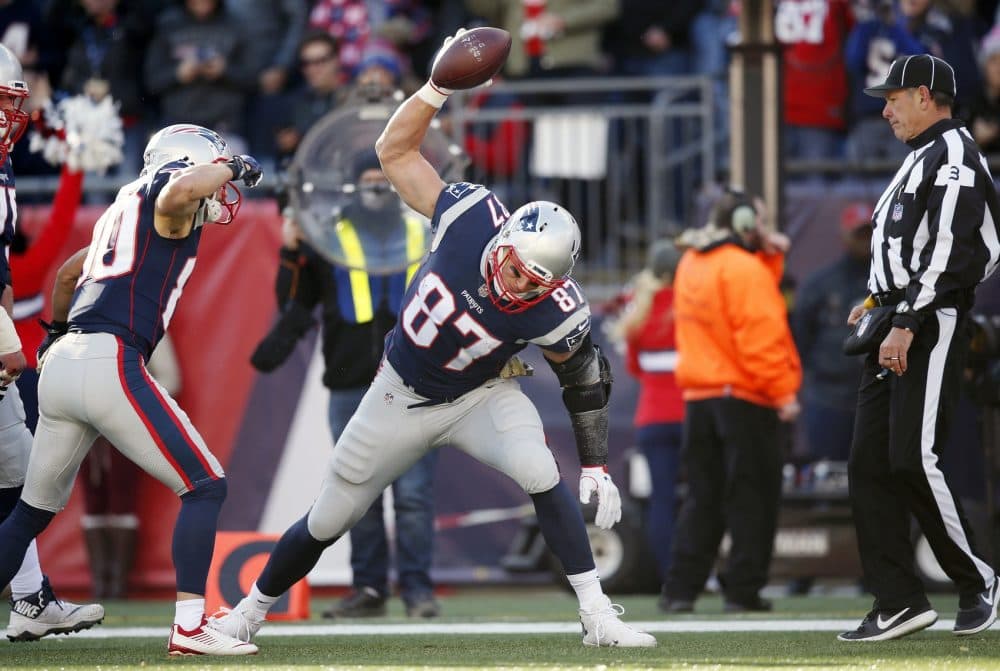 In today's episode of Season Ticket, host Chris Gasper (@cgasper) and NFL reporter Ben Volin dig into the state of the Patriots, including their victory over the Miami Dolphins—their 7th in a row—and Steelers coach Mike Tomlin's comments about his team's much hyped matchup with the Pats in Week 15. Also, former Patriots quarterback Jimmy Garoppolo makes a brief but triumphant debut for the San Francisco 49ers.
Guests
Interview Highlights
On the Patriots' divisional games lacking suspense
Chris Gasper: I feel like the NFL schedule makers tried to artificially inject some suspense into the AFC East, which is the least suspenseful division in all of professional football. They tried to do this by scheduling these division games for the Patriots at the end of the year, [but] that game yesterday just reinforced to me how wide the gap is between the Patriots—now winners of seven in a row—and the rest of the division.
Ben Volin: Look, entering the season I don't think we expected much competition for the Patriots [but] the Bills and Dolphins and even the Jets held on for a little bit, surprised us. They took their seasons probably to the halfway point, but here we are now, Week 12, and they are who we thought they were. The Patriots have a huge lead in the division and a huge lead in the AFC other than Pittsburgh. There are really no other challengers for the number one seed.
"They're going to have blood dripping from their teeth."

Ben Volin, on the Pats' rematch with the Dolphins in Miami in a few weeks
On the Patriots' main concerns facing divisional opponents
Chris Gasper: I'm a little bit worried ... that they could get dragged down to playing to the level of their AFC East competition, which is pretty low. And I felt like that was something that sort of happened to them a little bit yesterday. I mean, you had Ted Karras with the snap situation with Brady, when Brady was not paying attention. You had a bad interception by Brady. There were some miscues and there was some sloppiness in the game and I feel like the Patriots, whether they admit it or not, subconsciously know that they don't have to be as sharp to beat these other teams in the division.
Ben Volin: The thing I'm worried about with these division games is that they kind of turn into rock fights. And we saw that with the Dolphins yesterday. These are hard fought games, very physical, and the Patriots suffered a lot of injuries yesterday. Nate Ebner likely tore his ACL ... we saw Trevor Reilly go out with a head injury; Trey Flowers, I believe it was a rib injury; Kyle Van Noy went out with a leg injury. So these games, while they might not be competitive, are going to be hard fought and they're going to be very physical. And so I just worry about the Patriots emerging from these division games in good health and ready for the playoffs. Obviously, we all know they've already lost Edelman and Dont'a Hightower ... They just can ill afford to lose more players. So the Dolphins [game] in two weeks, that's going to be a tough one down in Miami. They're going to have blood dripping from their teeth; they're going to have a lot to prove.
On the biggest winners of the Pats season so far
Chris Gasper: It's Tom Brady. Brady is playing at an MVP level at age 40. Some people didn't think he could do that, [but he's] doing that without his best receiver, Julian Edelman. And Jimmy Garoppolo is gone and he now has a clear path to finishing his career here in New England. So, Tom Brady's my big winner so far of the Patriots 2017 season.
Ben Volin: Boy, you're really going out on a limb there picking Tom Brady. Where'd you come up with that one? My first one is Dion Lewis. Talk about a guy who's made himself a lot of money this year. He's entering a contract year. Started this season buried on the depth chart, fourth running back. Mike Gillislee was getting the majority of the carries and here we are now and he's the clear-cut number one back, rushing for 100 yards yesterday for the first time in his career. He's only 5 feet 9 inches and about 190 pounds, but boy does he run with a lot of power and, obviously, has those moves back from a couple of years ago. So Dion Lewis has been a big winner. Another guy I look to on the other side of the ball, actually the coaching staff, [is] Matt Patricia. We gave him a lot of heat earlier in this year when the defense was playing horribly and we certainly have to give him a lot of credit now with the defense not allowing more than 17 points over the last seven games ... You gotta love what Patricia has done with this kind of a ragtag defense showing the improvement, making the corrections throughout the season. That's what you want to see from a coach: can they evaluate their unit and then put the guys in the best position and show improvement throughout the year? And there's no question that the Patriots defense has improved tremendously throughout this season. He has certainly come on and been a big winner this year.
Chris Gasper: So, you really don't get two [choices], but I'll give it to you. You can do two. When you look at Patricia, I think that's a good one.
Ben Volin: For big winner, how about Don Yee, the agent? Brady is now secure as the Patriots quarterback for the next three years. He got Jimmy [Garoppolo] a landing spot in San Francisco. He doesn't have to worry about Jimmy overtaking Tom and kicking him out and Jimmy is about to get paid this offseason. So, Don is kind of a big winner in all this too, in orchestrating things behind the scenes.
"Good for him for not sticking his head in the sand."

Ben Volin, on Mike Tomlin's comments regarding the Steelers' upcoming game against the Patriots
On the 49ers not starting quarterback Jimmy Garoppolo
Chris Gasper: Honestly, I don't understand what's taking so long. He's clearly their best quarterback, their best hope of being relevant again, and they're protecting him. He has to be the guy. He did look really good [against the Seahawks].
Ben Volin: Kid's got some magic. Comes in the game, throws a touchdown. I think the Niners, obviously they know their season is lost ... I think maybe they're worried that the personnel on offense is so bad that they don't want Jimmy to get hurt ... I mean, Jimmy's set. He's going to be a free agent after this year and he's going to get paid whether he plays another down or not. So, frankly, the only thing that can happen to him is he hurts his value if he goes out there and plays poorly. If he plays well and they win a few games, they're still going to apply the franchise tag to him and he's still going to do well with the contract, but he's going to get that either way. So, if you're Garoppolo, I wonder if you're OK with sitting out the rest of the season considering how bad the Niners are. But they're definitely committing to him. He is their guy moving forward.
Chris Gasper: Financially, you're right. He's good to go. But, ultimately, if you're a competitor, which he is, ... you want to be on the field. He's one of those guys that when the lights come on he plays his best and, if you're the 49ers and you want to see the best of Jimmy, you've got to get him in some of these games. Plus, he's a mobile quarterback. But, it was fun to see him play. It really was [fun] just to see him out there.
On Steelers coach Mike Tomlin's comments to NBC's Tony Dungy hyping up their Week 15 matchup with the Patriots
Ben Volin: I like it! I mean, why not? It's good to see un-Patriot like teams. The Patriots are boring! They don't provide any hype. They don't sell the product. This is good. Mike Tomlin said, "[interviewer] Tony Dungy asked me not to use coach speak, so I didn't." And it's obvious to everyone. We all know, we've seen the standings: it's the Patriots and the Steelers and everyone else in the AFC. Everyone knows it's going to be a huge game with probably the number one seed on the line. So, Mike Tomlin's only acknowledging the obvious. Good for him for not sticking his head in the sand ... I like the fact that he's acknowledging the obvious and acting like a fan and not like, you know, a Patriots coach.