The Remembrance Project: Naimy Gabour Lees
03:23
Play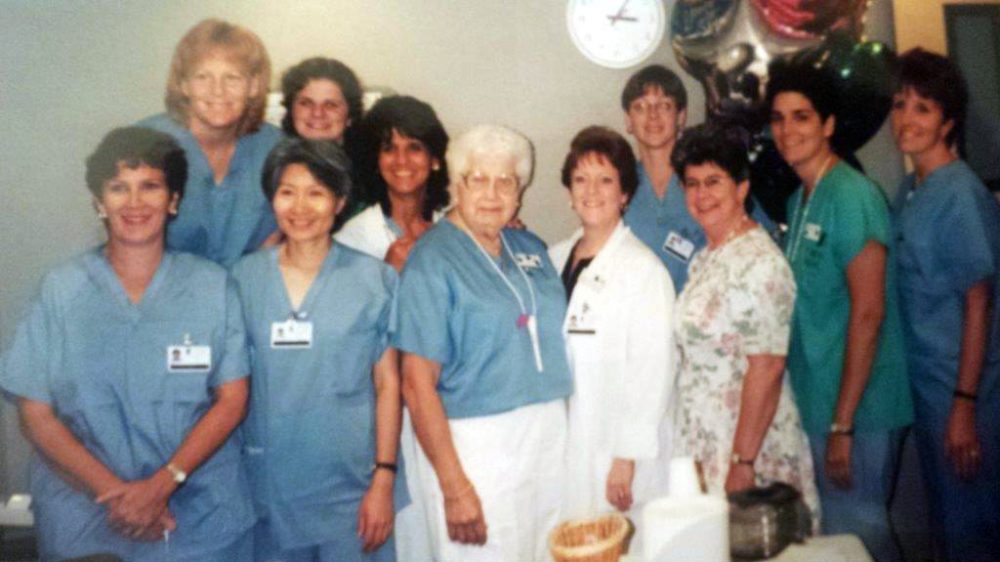 This article is more than 7 years old.
Naimy Gabour Lees died December 14 in Haverhill, Massachusetts. She was 93 years old, and had been treated in the Methuen Holy Family Hospital where she was an indispensible volunteer for 30 years. Staff she fretted over, baked for, sent birthday cards to, advised, consoled, lunched with, and loved would not have allowed any alternative.
She was born and raised by Lebanese parents in Methuen. When she married at 19, her mother wept through the ceremony; the man was 19 years older, and English.
Though Naimy wanted to be a nurse, life led her to the IRS. Twenty years of forms, two grown children, and a widowhood later, she retired, and promptly joined the staff of Holy Family in an uncompensated capacity.
She began in Central Supply — the sensible location for someone used to requisitions — but then, in a random blessed act, was reassigned to the Surgical Recovery Room, the PACU. Her passionate career took off at that moment.
Naimy came to work in white shoes, white pants, and hospital scrubs she hemmed with elastic from left-over oxygen masks. Volunteering one day a week turned into volunteering five. Pushing wheelchairs turned into gifting every patient with a St. Elizabeth of Seton holy medal. Keeping a ledger of dates and procedures turned into a second ledger with staff phone numbers and dates of their children's graduations and birthdays. Bringing a sandwich turned into fresh-baked macaroons for the nurses and anesthesiologists; specialists dropped by on days they knew a batch was coming. When stricter regulations prohibited volunteers in the PACU, staff snuck her in as a data-entry operator.
She was unsqueamishly curious about the medical end of her adopted business, and, being a lover of lives, yearned to see a baby born. Staff went through official channels, gowned her up, and let her watch a Caesarean delivery. Afterwards, the baby received a dollar on his birthday every year.
When Naimy grew too old to drive herself to Holy Family, she walked across the street to an auto-body repair shop and caught a ride. The men there took out her trash, plowed for her in winter, and zipped up her evening dresses when she was going to weddings and couldn't quite reach behind.
She gave a thousand kinds of expected and unexpected comforts, and the comforted gave back. When Naimy's daughter died, staff held a Mass in the hospital chapel followed by a luncheon. And when her son died, relatives in another state called Holy Family nurses in advance, so that she wouldn't be alone when she learned the news. Two of them were in her house, washing dinner dishes with her, when the phone rang. Afterwards, she continued to volunteer, but her soul, one nurse said, was gone.
Naimy bequeathed her bedroom set to that nurse.
---
Did you know Naimy Gabour Lees? Share your memories in the comments section.
---

The Remembrance Project

---

WBUR