The Man Willing To Weather Any Storm For His Beloved Nantucket
Resume
Since the whaling days of the 1700s, the Barneys of Nantucket — unpretentious Quakers — have lived on that stark clapboard island. Most were born there. William Hadwen Barney Jr. was an exception, but only technically.
"He didn't go to Nantucket until he was 6 days old," his granddaughter Libby Holman remembered. "And he always said, 'I'm not a Nantucketer, cause I wasn't born there.' And it was very much something that bothered him. And actually, he had a real chip on his shoulder about it his whole life."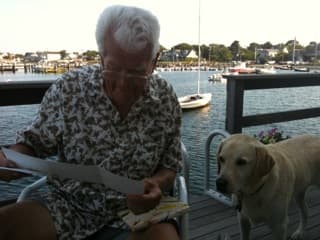 Libby knew her grandfather as "Poppy": a rugged man who refused to wear sunscreen or socks and hitched his shorts with nautical-themed belts. Nantucket was Poppy's life.
It started with summers and weekends. "Swimming off of the docks, fishing," she said, "you could dive down into the water right off of the jetties and pick up lobsters off the bottom of the ocean, just crawling along."
There were clams offshore, and bluefish off boats. The island brought him all good things. On a leave from the Navy, he was working as an officer on a German sub chaser. He met his wife there, proposed to her three days later, and married her a month after that.
Nantucket was like a tide over the next 70 years, drawing them back even as they followed the flow of Poppy's career across the country. He was salty and unflamboyant, fierce about family, yet never demonstrative.
"So you'd come in the room," said Libby, "and you'd get a little punch on the shoulder — 'How are ya!' — a big, firm handshake for my husband or my brother, a little peck on the cheek for me. You'd say, 'Bye, Pops, I love you,' and he'd say, 'Alright, see you soon!' "
In his 90s, poor health forced a choice between Florida or returning to Nantucket. Poppy and his wife knew the impractical choice; winters are terrible, medical care is poor, tax incentives are worse. It didn't matter.
"He just had to go home," Libby explained. "And if he wasn't born a Nantucketer, well, at least he would die one. If you're going to live in a place like that you have to be self-sufficient and confident and steadfast and weather a storm — and that's what my grandfather did."
He was the island, the island was him, from six days after birth to the end of his life.
The funeral was held outdoors.
"And it was a perfect day, Nantucket day," she said. "It was 55, 60 and windy and rainy and gray and foggy ... it was perfect for a salty, weathered man."
William Barney died last March in his Nantucket home. He was 95 years old.
---
To suggest a loved one for remembrance, email remember@wbur.org. 
This segment aired on September 14, 2016.