Douglas Stotz Lived A Large Life In A Small Town
Play
This article is more than 5 years old.
Douglas Stotz was raised in Gill, Massachusetts, a whisper of a town in the western part of the state. He and his wife were married for 58 years and raised three children — including daughter Kristine Stotz Langdon — without moving away from small-town Massachusetts.
"His family adored him," Kristine recalled. "And I don't use that term lightly. I adored him. But it was beyond that. It was the community around."
After college, Doug took over his father's business in Greenfield, Stotz Electric. He ran it until industry in that part of the state began to languish.
By then, with his support, his wife Frances — who goes by "Princy" — had gone back to college, begun her own career and become the breadwinner. Doug closed his business and became the breadwinner's spouse. Theirs was a marriage of equals.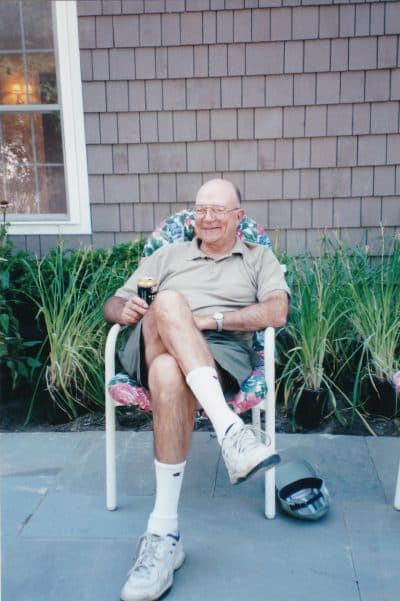 "He was side by side. And in many cases he was behind her," said Kristine. "And he didn't have a problem with that."
He followed her to meetings around the world.
"My dad would be the trailing spouse," Kristine laughed, "and he had zero difficulty."
Early retirement gave him more time for supporting everyone else. He would drive two hours to pick up a friend at the airport — or six hours to bring his grandson to a soccer match. He took it on himself to conduct a study of his church's heating system (he was an electrical engineer, after all) and found ways to save thousands of dollars.
In the 1970s, Doug was diagnosed with bipolar illness. Kristine remembered what happened afterwards.
"What I am impressed with and proud of is how my parents together dealt with this. And hey, it wasn't easy."
Doug and his wife faced it openly.
"They just made the most of that small town. And they've got an unbelievable network of friends. And during the years when my dad was suffering from bipolar disorder, having that community around them really made all the difference."
Decades later, when he needed dialysis, his greatest worry wasn't for himself. The local medical staff had no portico over their clinic entrance, and in bad weather, that meant rain and snow.
"My dad repeatedly talked to me about what can we do to get the dialysis center to put a roof over the employee entrance," Kristine said, still amazed. "That was the type of thing that was important to him, because these were the people who were taking care of him, and he was very grateful to all of them."
Doug died within a mile of where he had grown up, having lived almost 80 years in small towns, creating his beautifully large life.
To nominate someone for remembrance, please email remember@wbur.org.
This segment aired on December 13, 2017.