To Win 2 Grammys, Sarah Jarosz Had To Learn To Let Go
When Sarah Jarosz was getting ready to record her album "Undercurrent," the advice she was given was "do less."
"I was playing the songs [solo] for friends. I had a handful of people say, 'Wow, that's how I want to hear it on your record. Don't put a bunch of other stuff on it. It's more powerful if it's just simple,'" Jarosz recalls.
So when she and longtime co-producer Gary Paczosa set out to arrange the songs on "Undercurrent," they worked hard to rein themselves in. The result is quieter and more intimate than any of Jarosz's previous work. It has also made the musician, at the tender age of 25, a Grammy winner twice over, first for Best Folk Album and again for Best American Roots Performance for the track "House of Mercy."
Jarosz, who performs a sold-out show at Narrows Center for the Arts in Fall River on Thursday, March 16, has held the golden gramophone in her sights before. She was first nominated in 2009 for one of the tracks on her debut album "Song Up In Her Head," and received two more nominations for her 2013 album "Build Me Up From Bones."
"I think having been there twice before and not winning, I was a little bit used to that moment — the award coming up and your name not being called," Jarosz says. "The whole moment was very surreal."
Given that context, the accolades heaped upon "Undercurrent" do not represent the breakout of a young talent so much as the fruits of maturation. Jarosz, the only child of two school teachers who grew up near Austin, Texas, in the small town of Wimberley, got started early. "I never remember having a babysitter growing up," she says. "My parents would just take me to see live music with them always, from the time that I was really small and falling asleep at concerts."
She picked up the mandolin at 9 and began hitting the weekly local bluegrass jams and attending music festivals around the country. The mandolin virtuoso Chris Thile, who was then gaining fame as a member of the pop-grass trio Nickel Creek, became her mentor, inviting the teenager to sit in with the band whenever they performed in town. "I would go home from that and just feel on top of the world and not want to do anything but practice and get better," Jarosz says.
By the time Jarosz, then a senior in high school, set out to record "Song Up In Her Head," she had enough clout to land a deal with Sugar Hill Records and attract a star-studded cast of bluegrass elites, including Stuart Duncan, Jerry Douglas and Thile. From there she might have easily leapfrogged into a full-time career, but opted instead to move to Boston to attend the contemporary improvisation program at New England Conservatory. "It really, musically, got me out of my comfort zone because I had focused so much on bluegrass and folk and acoustic music up until that point," Jarosz says of her time at college. "I got to NEC, and I was suddenly learning jazz standards and doing free improvisation ensembles and klezmer music ensembles and taking a 16th century counterpoint class."
"Undercurrent," which is Jarosz's fourth full-length album, marks a shift for the young singer-songwriter. Most of the songs were written during a transitional post-college period, after Jarosz had moved to New York City and was living on her own. "It was the first time I'd had a second to just stop and not be in school, not be on the road for a little bit," she says. "It was really the first time in my life that I had some solid introspection." (Not that she was completely at loose ends — over the past few years Jarosz has, among other things, toured internationally with fellow Americana heavyweights Sara Watkins and Aoife O'Donovan in the harmony-laden trio I'm With Her and made numerous appearances on A Prairie Home Companion.)
Jarosz, always preternaturally poised, has never seemed to reveal herself overmuch in song, a master of the lyric that feels deeply but speaks generally. Yet she notes that many of the numbers on "Undercurrent" are tinged with sadness. "A long relationship had just ended," she says of the time following college. "It felt like the end of one phase and the beginning of another. So it felt all at once exciting, but the end of anything is melancholy."
To capture that melancholy, Jarosz had to resist her musical instincts. She had always admired songwriters with instrumental chops — Thile, Tim O'Brien, Gillian Welch — and felt that her own considerable skills on mandolin, banjo and guitar were a source of strength. But "Undercurrent" called for something different. "I feel like, songwriting-wise, it's the first time I tried to actually take a step away from that [approach], in a sense, and simplify things on a songwriting front. And not necessarily feel pressure to prove that I can play a cool mandolin solo in the song," she says.
Though a majority of the tracks on "Undercurrent" were co-authored, the ones that stand out are Jarosz's alone. On "Take Another Turn," she spins regret and loneliness into poetry; on "Jacqueline," she communes lovingly with the ghost of the late first lady, who used to take walks along the reservoir near the singer's Manhattan apartment. On the eerie "Everything to Hide" Jarosz delivers a dark, country radio-worthy punchline, and has perhaps never been more vulnerable than on "Early Morning Light," where the end of a relationship reveals the tentative road to something new.
Jarosz performs these songs by herself, with nothing but the gentle thrum of a finger-picked guitar to carry her along. Like most expressions of solitude, these are marked by loss. For Jarosz, there is also confidence to be found in letting some things go.
Follow The ARTery on Facebook and Twitter, and sign up for our upcoming newsletter.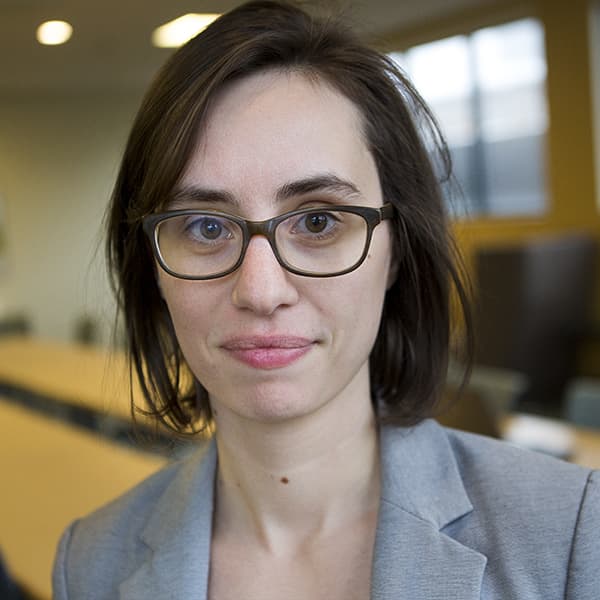 Amelia Mason Music Reporter/Critic, The ARTery
Amelia Mason is a music critic and reporter for WBUR's The ARTery, where she covers everything from indie rock to avant-garde to the inner workings of the Boston music scene.