'The Bad Batch' Trudges Along — Visually Stunning, But Incomplete
I've long had a perverse fascination with follow-up films. The projects directors make right after their breakthrough success often are their most personally revealing, and usually turn out to be their most recklessly ambitious. There's a kid-in-a-candy-store quality to sophomore efforts like Spike Lee's "School Daze" or Quentin Tarantino's "Pulp Fiction" — the sense of a young filmmaker dizzy on possibilities and trying to stuff the movie with everything in his imagination just in case he doesn't get a chance to make another one. It's a mentality that leads to either gloriously unhinged moon-shots like Paul Thomas Anderson's "Boogie Nights" or baffling head-scratchers like Steven Soderbergh's "Kafka."
Ana Lily Amirpour's "The Bad Batch," the follow-up to her terrific 2014 debut "A Girl Walks Home Alone at Night," falls into the latter category. It's got vision and atmosphere to burn, yet at the same time feels strangely hollow and incomplete. The movie trudges along on its own, stubbornly druggy wavelength, distending and distorting scenes in the style of Alejandro Jodorowsky's psychedelic 1970s Westerns, with more than a bit borrowed from George Miller's "Mad Max" films if they were slowed down to a crawl.
Set in a maddeningly unspecific future dystopia, "The Bad Batch" stars British model Suki Waterhouse as Arlen, whom we meet as she's being expelled by government forces into an arid desert wasteland. Apparently, criminals unfit for society are dumped out here (I think it's Texas) and left to fend for themselves. It's a jungle out there, and it's not very long before Arlen is abducted by a vicious tribe of cannibals living in an airplane graveyard. She loses a couple of limbs to their dinner before a daring escape gives us the stunning image of Arlen dragging her ravaged body across the badlands on a skateboard.
So far, so great. Indeed, the first 20 minutes of "The Bad Batch" could probably stand alone as a killer short film. It's when she goes wandering in the desert that the movie gets as lost as she does. Despite the presence of a one-armed blonde heroine pitted against some nasty patriarchy dudes, this is hardly "Fury Road."
I really liked Amirpour's "A Girl Walks Home Alone at Night," which was about a chador-wearing, skateboarding lady vampire meting out justice in modern day Iran. And I would have liked it even more if there were less of it. "The Bad Batch" has a similarly languid pace and overly generous running time, except with less for the viewer to hang onto. Our heroine hasn't been written sharply enough and Waterhouse simply lacks the screen presence to keep us invested in Arlen for long beyond those early, immediate, physical struggles. Like the winking smiley face on the butt of her denim short-shorts, she's a design triumph in search of a character.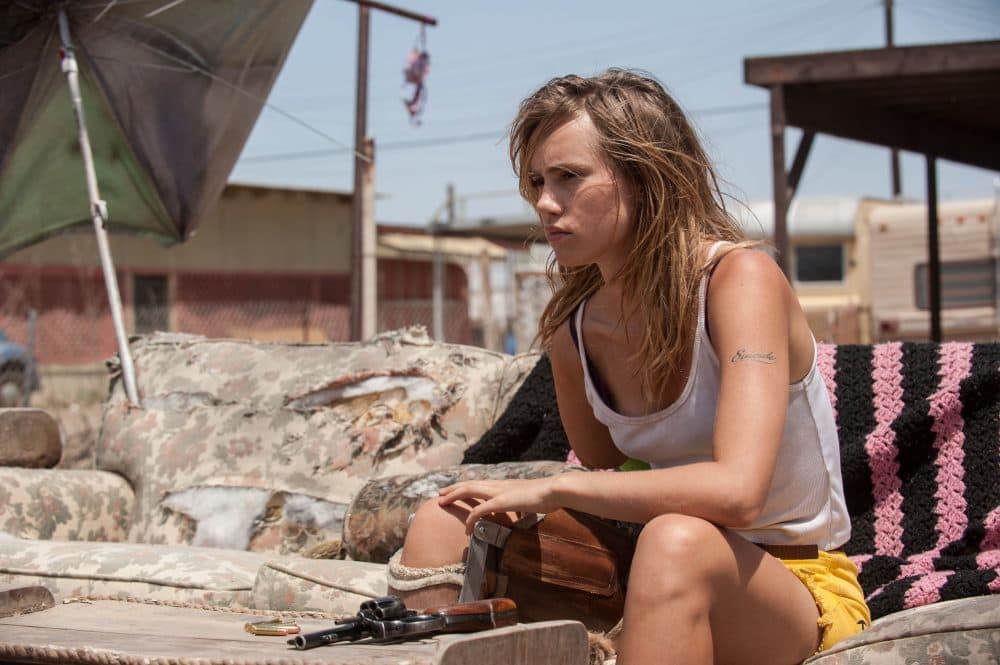 An unbilled and unrecognizable Jim Carrey shows up as a mute hobo with a shopping cart, while Giovanni Ribisi does that thing he usually does where he mutters unintelligibly. The ever-shirtless Jason Momoa exhibits an impressive mountainscape of musculature, but his hunky cannibal falls into a weird relationship with Waterhouse that's confusingly underdeveloped, neither novice actor having the chops to convey the motivations behind Amirpour's cryptic conceits.
A bit of levity finally arrives in the form of Keanu Reeves, stealing the show as a cult leader who calls himself The Dream. Founder of a desert oasis city known as Comfort, he struts around surrounded by an army of pregnant, uzi-toting concubines. (They all wear T-shirts that say "The Dream Is Inside Me" over their baby bumps.)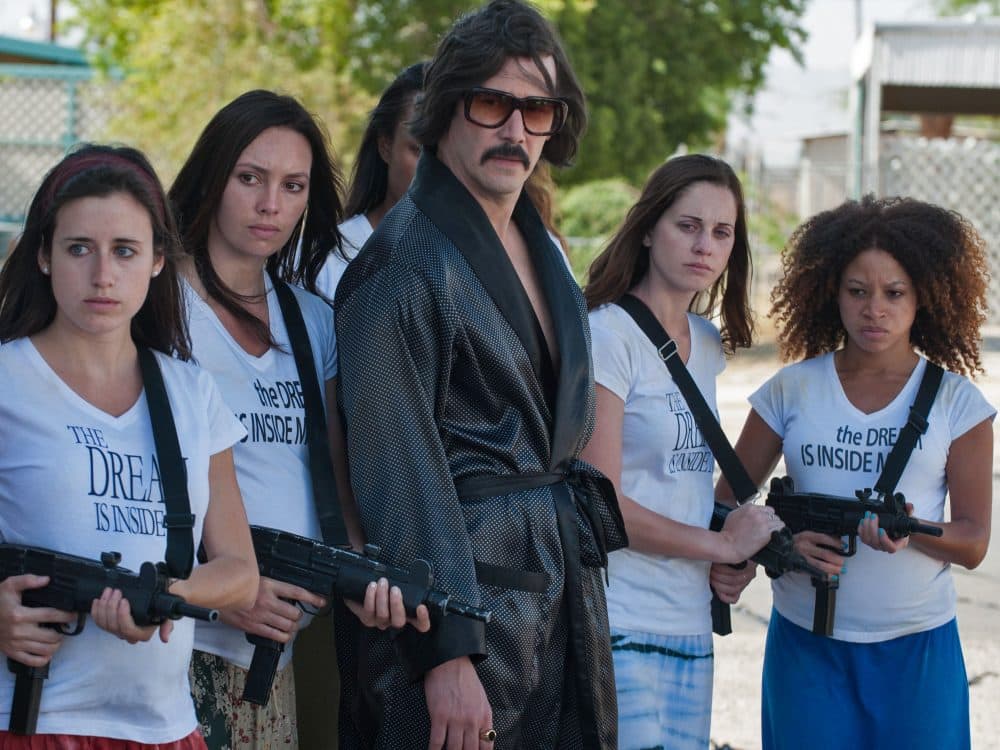 Rocking a silk bathrobe, a Tony Clifton mustache and giant Robert Evans glasses, Reeves plays the part as Tina Turner's Auntie Entity from "Mad Max Beyond Thunderdome" by way of Hugh Hefner. He delivers vapid, nonsense speeches from atop a giant neon boombox, while his peasant subjects all rave on until the dawn. He's quite a character, and it's incredibly disappointing that Amirpour has no idea what to do with him after that amazing introduction.
(It's amusing to note that, with this film following his bit part in last year's "The Neon Demon," Reeves is developing a nice little side niche as "That guy you wish had more screen time in the artsy-fartsy cannibal movie.")
Gorgeously shot in scalding yellow hues by cinematographer Lyle Vincent, these vast expanses and junkyards are always visually stunning, but the movie still feels like a first draft. Amirpour picks up characters and ideas, only to drop them a few minutes later and go chasing after something else. "The Bad Batch" is the kind of oddity that arrives early in promising careers, leaving the viewer bewildered but nonetheless eager to see what comes next.
---
Here's the trailer:
Sean Burns Film Critic, The ARTery
Sean Burns is a film critic for The ARTery.