Forecast: Powerful Nor'easter Drops Heavy Snow Across Mass.
3:45 p.m. Update:
The center of the strong nor'easter will track northeast and away from the area Tuesday night. A cold northwesterly wind will be left in its wake. Lots of clouds will linger through Wednesday, with the chance for an afternoon snow shower.
Weak high pressure will be in control Thursday and Friday, with a return to some sunshine but with temperatures still below normal.
Another storm approaches Saturday with another chance for some snow across southern New England.
---
Tuesday night: Any rain or mix ending as some light snow before midnight, then partial clearing. Lows 20-25.
Wednesday: Some early sun, then mostly cloudy. Chance for an afternoon snow shower. Breezy with highs near 30
Wednesday night: Becoming mostly clear. Lows 15-20.
Thursday: Partly sunny and breezy with highs around 30
Friday: Mostly sunny with a high of 34.
Saturday: Becoming cloudy with the chance for light snow. Highs in the upper 30s.
Original Post:
A major nor'easter is expected to bring heavy snowfall to New England Tuesday. There will be significant accumulation throughout Massachusetts, with the snow building quickly from mid-morning into the afternoon.
The National Weather Service has issued a winter storm warning for the Boston area that is in effect until 5 p.m. Tuesday. A blizzard warning has been issued for western, central and northeastern Massachusetts from 8 a.m. until 8 p.m., while a high wind warning for the Cape and Islands is in effect from 8 a.m. until 6 p.m.
In the evening, precipitation will change to rain from Greater Boston to the South Shore, cutting back on the number of inches those areas may receive. But, before the changeover occurs, it is likely up to 10 inches could fall in Boston with higher totals north and west of the city.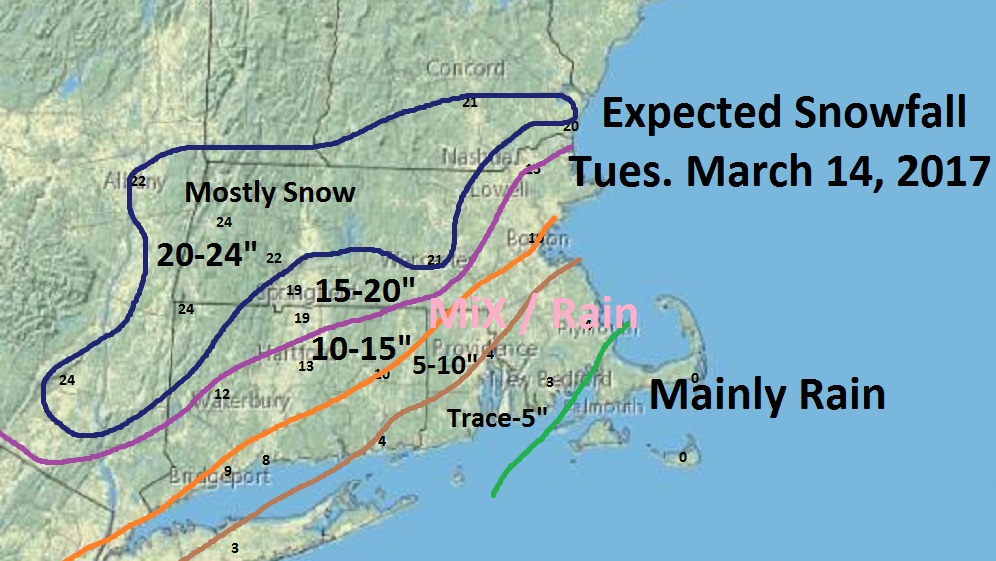 Worcester, the Berkshires and the northwest hills of Connecticut will bear some of the worst of the storm in this region, with totals approaching 2 feet of snow before the storm winds down Tuesday night.
Most areas will have significant accumulation, ranging from 1 to 2 feet of snow over much of southern New England. Lesser amounts will likely be found along the South Shore and the Islands where precipitation is expected to mix with or change to sleet and rain for a while Tuesday afternoon.
Increasing northeast winds will likely cause blizzard conditions in some places, including Greater Boston, during periods in the height of the storm. There is also the possibility of some coastal flooding during high tide early Tuesday afternoon.
Any rain or mixed precipitation will end as light snow by midnight, as the storm quickly departs to our northeast.
Meteorologist Dave Goldbaum is in for WBUR's David Epstein.