Kanye West's "Power" is the rapper/producer's first solo release since his infamous run-in with Taylor Swift at MTV's Video Music Awards, which instantly transformed him from "the artist we love to hate" into simply "that guy everybody hates." But anyone expecting humble apologies is in for a surprise, as this comeback offers more defiance than contrition.
Over a bombastic sample -- taken from "21st Century Schizoid Man," by '70s progressive-rock icons King Crimson -- Mr. West proclaims of himself "no one man should have that much power," in a chorus derived from Spike Lee's Malcolm X biopic. He lashes out at Saturday Night Live for daring to mock him, with all of the megalomaniacal fury that makes mocking him so irresistible. Kanye has always balanced his cartoonish ego trips with an eagerness to bare his insecurities, though, and in "Power" he also owns up to struggling with self-doubt: "reality is catching up with me/taking my inner child, I'm fighting for its custody." Now he just has to hope that fight is one his audience still cares to watch.
The idea of the "comeback" song is not one that's entirely new to pop, although the timeframe between exit and comeback has become somewhat compressed in the 140-character age. (Elapsed time between the Video Music Awards run-in and the day "Power" first leaked online: eight months, 15 days.) And comeback singles aren't always successes; the road back from pop oblivion is littered with the likes of the Spice Girls' "Headlines" and MC Hammer's "Pumps And A Bump." Two recent examples of comeback singles show two different approaches.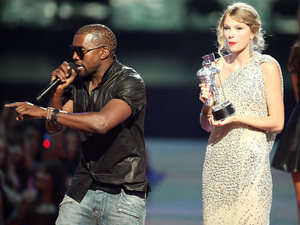 Rihanna's "Russian Roulette" was the first single from her 2009 album Rated-R, and it dealt head-on with her time spent away from the spotlight. The song, co-written by her frequent collaborator Ne-Yo, is a lament about the consequences that rise out of the game of love -- although its violent imagery caused many to think of her domestic-violence incident with Chris Brown, which occurred just a few months prior. Its video debuted on 20/20 in November, strengthening the song's ties to the narrative that she had become older, wiser, and sadder about matters of the heart as a result of the incident in February.
Kelly Clarkson's "My Life Would Suck Without You," which led off the push for her 2009 album All I Ever Wanted, represented her re-embracing of pop after her "difficult" third album My December, which was marked by label-politics-related struggles she had with Sony Music head Clive Davis, thanks to her insistence on penning a lot of the album's tracks herself. Written by Max Martin and Dr. Luke, who had collaborated with her on her genre-spanning 2004 smash "Since U Been Gone," it didn't directly address her previous struggles. But it was pretty much an announcement that she was still able to embrace big, happy hooks -- and it vaulted from No. 97 to No. 1 on the Billboard Hot 100 during its first two weeks on the chart.
Pop Off is a conversation between music writer Maura Johnston and Jay Smooth (of Illdoctrine.com) about pop music that occasionally airs on Morning Edition. You can hear more of their discussion about Kanye and comebacks in the Culturetopia podcast. If you're just joining us, you can hear and read more from Pop Off, including pieces about Justin Bieber, Nicki Minaj, Usher, Eminem and Lady Gaga.
Copyright 2016 NPR. To see more, visit http://www.npr.org/.
Copyright NPR. View this article on npr.org.
Transcript
RENEE MONTAGNE, host:
Kanye West is still trying to live down being rude to teenage country and pop star Taylor Swift. At last year's MTV Award Show, she was giving her acceptance speech and he jumped on stage to declare that the award should have gone to Beyonce.
(Soundbite of cheering and applause)
Mr. KANYE WEST (Rap Artist): Yo, Taylor. I'm really happy for you, I'm going to let you finish, but Beyonce had one of the best videos of all time.
(Soundbite of cheering and booing)
MONTAGNE: Kanye West immediately became the butt of jokes. He cancelled his tour and he slipped out of the public eye for months. Now he's just released his comeback single, "Power."
Jay Smooth and Maura Johnston of our Pop Off Team, are talking about Kanye West's complex pop star persona.
Mr. JAY SMOOTH (Host, Illdoctrine.com): So it looks like Kanye West is back after his banishment from the pop kingdom.
Ms. MAURA JOHNSTON (Music Writer): But Im not sure if other people will be as endeared to the fact that he is ready to reclaim his throne in such a bombastic way.
(Soundbite of song, "Power")
Mr. WEST: (Singing) No one man should have all that power, the clocks tickin, I just count the hours. Stop trippin, Im trippin off the power...
SMOOTH: He's definitely getting back to his business as usual. But for Kanye West, his usual business is this grandiose megalomania, so I guess it may come across a little awkward.
JOHNSTON: Yeah, do you - I mean do you think people need to have their apologies, you know, reiterated over and over again? You know, I mean he sort of apologized in the wake of that MTV incident; which personally, when I saw it happen live, I actually thought it was just a sort of wrestling thing, where he was just, you know, doing the run-in - which is the time-honored wrestling tradition where the heel always runs in and messes everything up.
SMOOTH: Right. But he happened to pick Taylor Swift, who is this sort of innocent, squeaky clean girl next door, who would never harm a fly. So when he ran up and grabbed the mic from her and she looked totally dumbstruck and heartbroken, it looks like the captain of the football team is picking on one of the freshmen.
JOHNSTON: See, I actually think that he has a different place in the high school pantheon of pop. I see him as more of like the really, really smart kid who cries in the lunchroom, and who everyone is like, did you see that kid crying in the lunchroom. And then the one grand gesture that he makes to prove his cool backfires.
SMOOTH: His one grand stroke to impress the prom queen...
JOHNSTON: Exactly.
(Soundbite of laughter)
JOHNSTON: Beyonce.
SMOOTH: Beyonce.
JOHNSTON: Yeah.
(Soundbite of laughter)
(Soundbite of sample from King Crimsons "21st Century Schizoid Man")
Mr. GREG LAKE (Singer, King Crimson): (Singing) 21st Century Schizoid Man.
JOHNSTON: You know, sampling King Crimson, who is this British rock band from the depths of the classic rock era, is a statement in itself. It says: Im ready to take the biggest, most grandiose statements and re-appropriate them for myself.
SMOOTH: He is pop music's 21st century schizoid man...
JOHNSTON: He is.
SMOOTH: ...I mean you could say, so it was a good choice. But are people ready to accept his schizoid self after his last bout of antics?
JOHNSTON: I dont know if they are. I think people really, right now, want their celebrities to be not that multifaceted. Because that way it's easier to fit them into the storylines. In the classic narratives, duplicity or, you know, even just having two faces, is the sign of the villain.
SMOOTH: Right.
JOHNSTON: Right?
SMOOTH: Right, I mean to a certain extent, being conflicted can be compelling and draw people in. But it's usually easiest if you have a persona thats easily identifiable: Im the good guy; Im the sweetheart; Im the rebel...
JOHNSTON: Im the brain.
SMOOTH: ...I'm the brain; Im the villain; Im the nerd.
JOHNSTON: Right.
SMOOTH: And Kanye has a few of those elements wrapped into one, and he kind of alternates between them. So it might be a little trickier for him to get back on track with a balance that was always difficult to maintain, showing these different sides of him.
(Soundbite of song, "Power):
Mr. WEST: (Singing) Im letting everything go...
MONTAGNE: That's Jay Smooth and Maura Johnston from our Pop Off Team.
This is MORNING EDITION from NPR News. Im Renee Montagne.
MARY LOUISE KELLY, host:
And Im Mary Louise Kelly. Transcript provided by NPR, Copyright NPR.