A Sportswriter's Love-Hate-Love Relationship With LeBron James
08:15
Play
"I think as a young boy, I kinda went dark," Scott Raab says. "My love for Cleveland sports teams actually outweighed my love for anything else in my life."
Raab's love for Cleveland's teams was enduring. It endured the Raab family's move from Cleveland to California in 1960. It was fueled…perhaps jet-fueled...by one of his heroes, Jim Brown, who led the Browns to the NFL Championship in 1964.
"Cleveland was still a thriving metropolis, certainly nobody's idea of a punchline city in the early 1960s," Raab says. "And the Browns were a landmark NFL franchise — not the clown car that they have become."
The Decision
Following that championship, Raab's love for Cleveland sports teams endured a great many disappointments involving not only the Browns, but the Indians, and the Cavaliers. And then:
On July 8, 2010, when LeBron James announced in a preposterously silly spectacle on national television that after seven championship-free years with the Cavaliers he was moving on to the Miami Heat, Raab's love morphed into epithet-fueled fury. He'd been working on a book about the Cavaliers and James…
"When he walked away from Cleveland without a ring and with that hour-long special, then it became a different kind of book. Kind of written out of a cumulative rage," Raab says.
Raab titled the book "The Whore of Akron."
"Yes, it was angry and vulgar," he says. "'The Whore of Akron' certainly went against my agent's advice, which is based on the fact that lots of books are sold in big box stores like Costco, and they're not necessarily gonna put out stacks of books with the word 'whore' in the title, so that young folks with their parents shopping can say, 'What does that word mean?'"
For Raab, James came to embody not only the many disappointments Cleveland fans had suffered, but the city's fall from whatever grace it could claim when its citizens were employed to its rusty, diminished present. Raab wrote that Cleveland needed saving, and that LeBron James was the man for the job.
"I wanted him to be our Moses and I was absolutely open about that metaphor in 'The Whore of Akron,'" he says.
Homecoming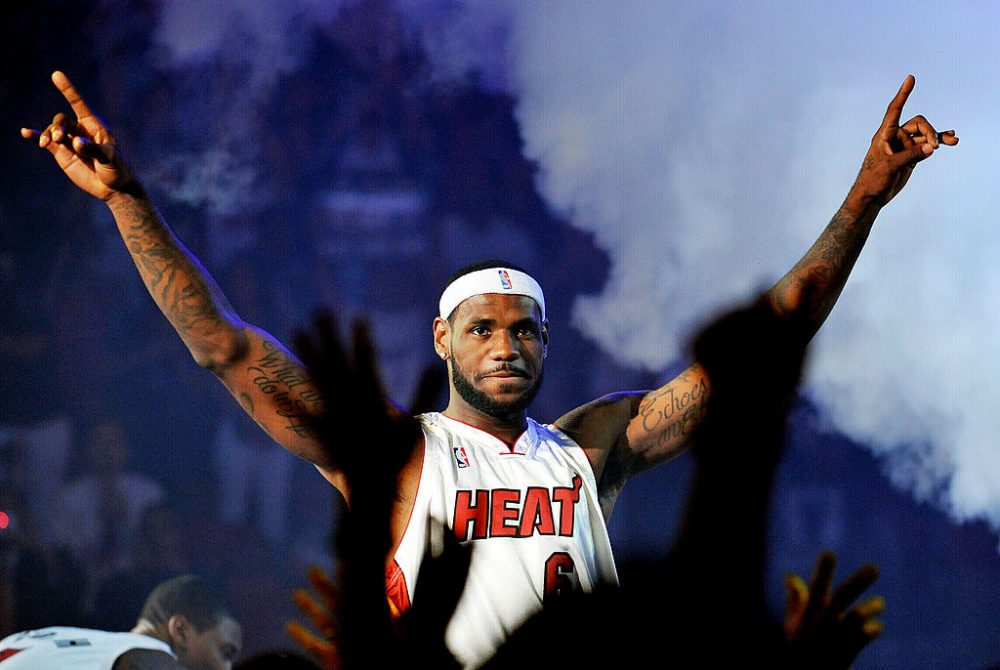 After playing for two championship teams in Miami, LeBron James surprised Scott Raab. He decided to return to the Cavaliers.
The bad blood between ownership and prodigal player dried up and blew away on a breeze off the Cuyahoga River. Raab wasn't so fortunate.
"Once LeBron returned, I hoped for a chance to, if not apologize, at least show up and — and apologize, frankly," Raab says. "You know, I reached out to people in public relations, people who've worked with him, and never ever received a reply. And I totally understand. You write a book like that about a guy, and there may be no coming back."
"No coming back" might have provided an appropriate final summation of Raab's relationship to LeBron, the Cavaliers, and even the city of Cleveland…if Raab hadn't continued to be not only a fan, but a writer driven by curiosity about where the story might go next. He hoped, like everybody rooting for Cleveland, that the return of LeBron James for the 2014-15 season would produce a championship. Immediately. It didn't.
But it almost did. The Cavs lost in the finals to the Golden State Warriors, but that meant they were close enough for Scott Raab to regard LeBron James more charitably. And there was more to it than that. James established college scholarships for 1,000 Akron third-graders who'd promise to stay in school. He sent cupcakes to neighbors inconvenienced by the media trucks he'd attracted.
"When LeBron came back, he talked about a calling beyond basketball. So when he came back, I really felt hope had returned. I unfairly slagged him for not being Moses and guess what? He comes back as sort of a Moses figure," Raab says.
Raab was a writer deep into a story that might turn out to have a terrific ending. How could he quit? Never mind that he couldn't get a press credential. Never mind that he was living in Glen Ridge, New Jersey, rather than Cleveland. He was determined to follow the Cavs as they tried, under the leadership of LeBron James, to take that final step.
And Raab was compelled to do that by something more potent than mere fandom. He regretted that he'd said awful things about a basketball player who was also, among other things, a father…because as a father himself, Raab so fervently valued his relationship with his own 17-year-old son. Raab's father had suffered from bipolar disorder, and the grandparents who helped raise him were prone to knocking each other around.
A Father-Son Bond In Cleveland
Raab decided he'd see as many Cavaliers games as possible, no matter that it meant driving from New Jersey to Ohio a lot, and he asked his son to come along.
"The one through line of our relationship – me and my boy – turned out to be Cleveland sports," he says. "And so the opportunity just to travel with him, just hitting the road — I drove out with my father before. When we moved to Los Angeles from Cleveland in 1960, we drove Route 66 most of the way, once we caught it in Illinois. And that for me became the entirety of my childhood memory of being with my dad."
Raab was determined to be a better father than his father had been. So for him, the 2015-16 Cavaliers season had become doubly significant: He would be making amends for what he'd said about LeBron James…insofar as that could be done. And he'd be bonding with the son who'd be leaving home soon for college and the world beyond.
But there was a complication. Scott Raab saw no reason to let anything get in the way of regular trips to Cleveland, but his son had responsibilities.
"He's just a good guy," Raab says. "My wife and I were saying last night – he's studying for a physics and calc test – we've never had to say, 'Have you done your homework?' So when it came time to go, 'You know, if we stay an extra day, we can see the Browns,' he was, like, 'I gotta get back. I have my AP exams.' Whatever it was. And you know he was like an alien life form to me in that way. At the age of 17 or 18, I was in the Sullen Loners' Club, to the extent that there was such a club. Actually I was the Sullen Loners' Club."
The Wait Is Over
Raab understood the risks in the commitment he and his son were making. Did further heartbreak loom? The return of LeBron James to Cavaliers was one thing. Actually bringing a championship to the city was something else entirely. Raab was aware of the potential for failure on the part of the team. It's in Cleveland. But…
The Cavaliers not only won the 2016 NBA Championship. They won it after falling behind in the finals, 3-1, to the favored Warriors. Was Cleveland redeemed? It felt that way, at least to Scott Raab.
"With my son on Father's Day in a sports bar in Cleveland, watching on TV, the emotions were overwhelming in the best possible way," he says. "It still feels great. I had to go back and re-watch and pay special attention to the last couple of minutes of Game 7. I have never seen that sequence without choking up. I'm absolutely thrilled about it."
Thrilled…and relieved. Because when LeBron and Cleveland won, Raab could step to the shelf in his study and put another book beside "The Whore of Akron." The new book would be about a winner, and Raab would be proud to have his kid check it out, and the book's title is "You're Welcome, Cleveland: How I Helped LeBron James Win A Championship And Save A City."
"You know, I've gotten some blowback from people telling me how pretentious and delusional I must be, as if that's a serious title," he says. "So just for the record, I did nothing to help LeBron James. I don't necessarily think Cleveland needed saving, anyway. I'm just a guy who's along for the ride, who's trying to have a few laughs, figure out a few things and hopefully entertain and delight a reader."
Sure. That's easy for Scott Raab to say now. Cleveland won.
This segment aired on April 1, 2017.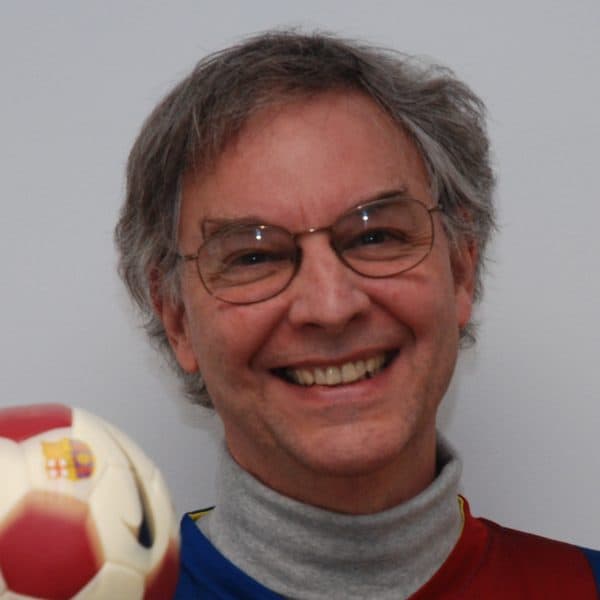 Bill Littlefield Host, Only A Game
Bill Littlefield has been the host of Only A Game since the program began in 1993.