Photos: 130 Snow Globes Make For A Big Exhibit Of Tiny Little Winter Wonderlands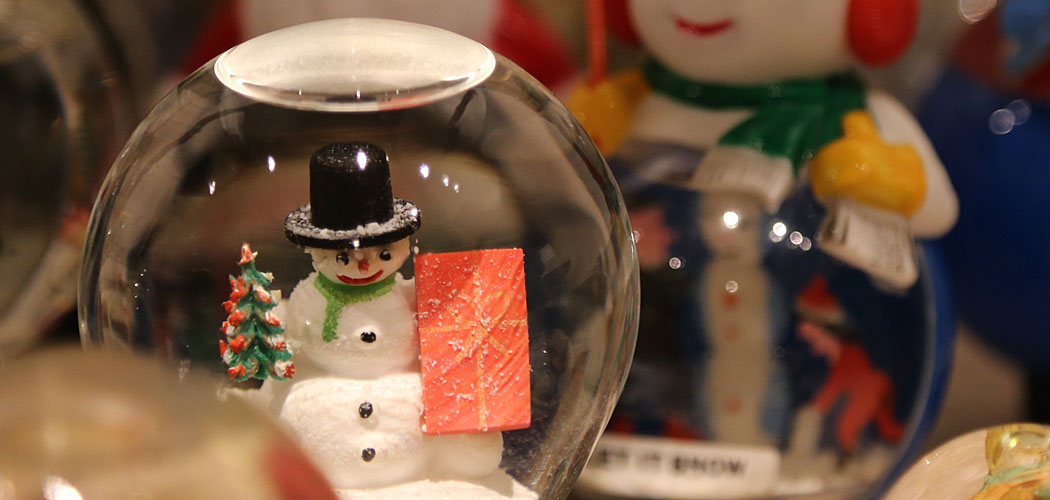 "They're little worlds that are fun for people to look at and shake up," says Julia Courtney, curator of "Let It Snow," an exhibition of snow globes—and 19th century Japanese prints, but we'll focus on the snow globes—at the Springfield Museums' D'Amour Museum of Fine Arts in Springfield through Jan. 4. "One of the biggest complaints we have of the show is that there's no opportunity to handle them."
The earliest snow globes seem to have been made in Europe in the 19th century. In particular, they attracted attention at world's fairs in Paris in 1878 (including one snow globe depicting a man with an umbrella) and in 1889 (globes depicted the brand new Eiffel Tower, which debuted at the fair).
"The idea was out there, but that was the first time they were really mass-marketed and given away," Courtney says.
There are 130 or so snow globes in the Springfield exhibit, drawn from three anonymous collections. Most are of recent vintage, but Courtney says some date to the 1950s and '60s. How to recognize the older ones?
"Typically the vintage ones are really simple, black base, round glass globe and one figure in the center," Courtney says. Another way to tell: "A lot of the vintage ones, the water has evaporated."
"The later globes that are plastic and fashioned with a plug at the bottom, those can be refilled," Courtney says.
A snow globe with a soldier figurine dates to the World War II era, Courtney says. "For some reason, people really latched onto snow globes in that time. They were new to the U.S."
One of the earliest U.S. snow globe manufacturers was the Nancy Sales Company, Inc. (Nanco), founded in 1937, outside of Boston, Courtney says.
"In the late '40s, early '50s, snow globes had hit the market. They were really popular. They'd started with World War II, then transitioned to holiday ones," Courtney says. And in the late 1940s, she says, snow globes began being manufactured as travel souvenirs.
"Snow is sort of magical and I think that's the attraction of snow globes," Courtney says. "It's this little, magical world and you, maybe, have entire control over it."
Greg Cook is co-founder of WBUR's ARTery. Be his friend on Twitter @AestheticResear and on the Facebook.