Boston Ballet Caps Season With A Classic Balanchine And Comical Robbins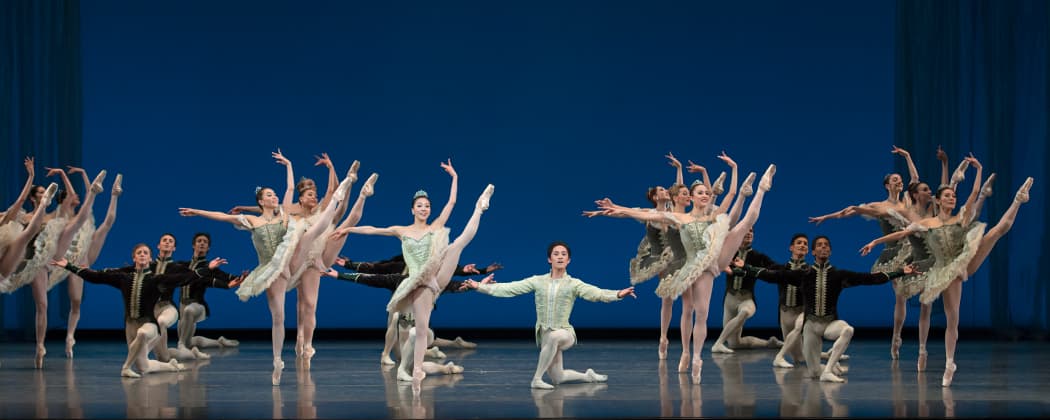 This article is more than 5 years old.
The Boston Ballet ends its 52nd season with "Thrill of Contact," an engaging and varied quartet of dances at the Opera House through May 24. A familiar favorite — George Balanchine's "Theme and Variations" — opens the program, and the colorful Jerome Robbins' farce "The Concert (or, the Perils of Everybody)" ends the show. In between are two shorter, and a bit less ambitious pieces: William Forsythe's "The Vertiginous Thrill of Exactitude" and Jeffery Cirio's "fremd."
The elegance and formality of the Balanchine piece sets a regal tone, commenting on the longevity of his legacy as well as the staying power of this company. "Theme and Variations" is a portrait of an archetypal night at the ballet: ballerinas in tutus lined up before an eggshell blue background under a crystal chandelier. For this 1947 piece, Balanchine envisioned the sterling Russian ballet tradition and evocative, resonant Tchaikovsky scores he grew up with. The Boston Ballet brought "Theme and Variations" into its repertory in 1987. In its spirited performance — led by Misa Kuranaga and Jeffrey Cirio — the cast of 26 vaunt the company's strength, proficiency and flourishing health.
Next in chronology (though last on the program) is the Jerome Robbins piece, which premiered at the New York City Ballet in 1956. With its Boston Ballet premiere, "The Concert" delivers ageless humor in a circus of sweetly-wrought episodes. The Saul Steinberg set is a stage-wide comic picture of a theater and audience, and in the opening moments, the company's longtime principal solo pianist Freda Locker dusts the onstage grand piano before she begins to play. The comedy rolls on with characters who may hug the piano, or chew a cigar and read a newspaper, or arrange and carry dancers like dolls. An umbrella episode rife with copycat psychology illustrates what glorious props unfurled umbrellas can be. And a burlesquey push and shove sequence spoofs the hard discipline of ensemble dancing. The closing dance of battling butterflies is one of the dance world's most charming moments.
The two shorter pieces add choreographic diversity to the program, as well befits a troupe that boasts 69 dancers of 19 nationalities. William Forsythe's "The Vertiginous Thrill of Exactitude" premiered in Frankfurt in 1996, but is new to the Boston Ballet's repertoire. Meant as a display case for several traditions of classical dance, it echoes Russian story ballet entertainments of Marius Petipa, the understated and refined style of Danish master August Bournonville and the inimitable precision and speed of George Balanchine's technique. It's woven together harmoniously to passages of Franz Shubert's Symphony No. 9 in C-major, in no small part due to charismatic, fluid performances by Kathleen Breen Combes, Erica Cornejo, Misa Kuranaga, Bradley Schlagheck and John Lam.
And finally, the premiere of a first-ever mainstage dance by principal dancer Jeffrey Cirio, which Cirio explains is inspired by the German spoken-word artist Olaf Bender and his explorations of the word "fremd" of being "foreign, alien, strange or different." There are evocative passages throughout this piece, with the outsider intensely danced by Altan Dugaraa. The other six in this fine cast interact mainly in couples, sometimes in easy sync and sometimes in brittle disagreement, but mostly emphasizing the aloneness of the outsider. As Cirio's career progresses he'll doubtless spread out and claim all the space on a stage as big as that of the Opera House. As it is now though, "fremd" is a piece for a much smaller stage — like the one at Jacob's Pillow — with movements often concentrated on the upper body.
It's laudable for the Boston Ballet to bring new choreographers to its stage, and a happy event when opportunity can be given to its own dancers, as is the case with Cirio. It would be even more remarkable if this wonderfully diverse company were able to break from a male-dominated tradition that stifles creativity by shutting out half the world's talent. Like other top U.S. companies, the Boston Ballet features just one or two works by women each year, and those are by the most established of choreographers. Why not offer more works choreographed by females, especially young and adventurous artists, a la Cirio?
One little hope for next season is that the pre-curtain message by artistic director Mikko Nissinen be dropped. While it's understandable that he wants to solicit subscriptions and provide information pertinent to the company's well-being, there must be another more appropriate forum. This is an overly long announcement that poorly sets the stage for a sophisticated, accomplished troupe.
Sharon Basco is a journalist, critic and public radio producer.
Sharon Basco Contributor, The ARTery
Sharon Basco is a a journalist, critic and public radio producer.