Photos: Boston Dyke March, The Radical Cousin Of The Gay Pride Parade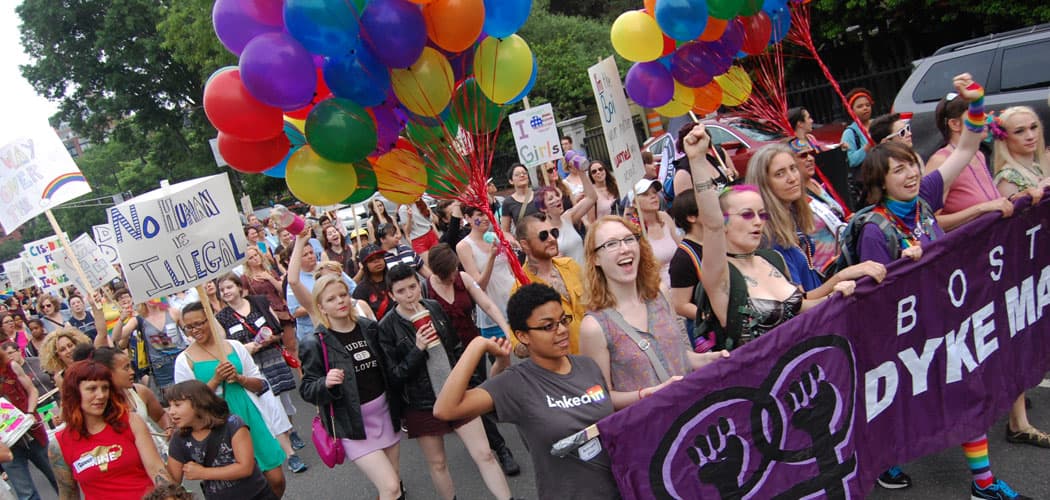 This article is more than 5 years old.
"We're going to leave this park soon to show this city our queer best," emcee Alicia Vida Ortiz said from a stage at the Parkman Bandstand on Boston Common last night as she readied the hundreds gathered for the 20th annual Boston Dyke March. "This march is political. This march is fun. It can help you meet hotties. … Social justice is sexy."
The Dyke March is the more radically activist, more punk cousin of Boston's gay Pride Parade, which begins at the corner of Boylston and Clarendon streets at noon Saturday as part of the city's 45th annual Pride week events from June 5 to 14 this year.
"We're here, we're queer, we're fabulous, don't f**k with us," Dyke Marchers chanted as the column of people followed around the edges of the park, went west along Commonwealth Avenue, then back east along Boylston Street to the Common for a rock concert. "Hey, hey, ho, ho, homophobia has got to go!"
"The Dyke March is completely grass roots, it's noncommercial, and it's radical," says Jo Trigilio, who has been helping organize the event each year since 2000. "We're interested in intersections. We're not a single issue march." Sexism, racism, classism, homophobia. "We just are about the intersections of oppression."
"I think we focus more on politics. It's a march, it's not a parade," Trigilio says. "It's not that this isn't a celebration, but we're always focused on political aspects."
"The Boston Dyke March is for everyone," the group's website proclaims. "Lesbians, dykes, queers, bi-women, boychicks, tomboys, grrrls, lesbian moms, lesbianas, femmes, butches, trans women, androgs, trans men, gay girls, bois, womanists, fat dykes, sorority girls with pearls who are sleeping together, dykes on bikes, lesbian crones, African American lesbians, rural dykes, goddesses, genderqueers, poly girls, amazons, hippy chicks, lipstick lesbians, Asian dykes, lesbian avengers, dykes in wheelchairs, wise old lesbians, leather dykes, babydykes ... and you."
And men. "We're all gender inclusive since 2000," Trigilio says. "Instead of trying to figure out who can come, we welcome everyone. Because it's a politic. Anyone who's interested in social justice is welcome to come."
Greg Cook is co-founder of WBUR's ARTery. Follow him on Twitter @AestheticResear or on the Facebook.