Drones Are Changing How We See — And Think About — Our World
07:56
Play
This article is more than 5 years old.
WBUR's Curt Nickisch contributed reporting for the audio version of this story.
DANVERS, Mass. — One of the places where the future of drones is being decided is in a long, low nondescript industrial park building in this suburb northeast of Boston, just off Route 1. It's the headquarters of CyPhy Works, designers of "revolutionary robots" of the flying variety.
"Drone" has been the common term for mini, remote-controlled government surveillance fliers or military attack craft. But as these "unmanned aerial vehicles" have become cheaper to buy and easier to use, they've begun to take on an added connotation of something, well, wondrous: A flying camera that takes us places we've never been before, giving us a bird's-eye view of our neighborhood or taking us into the waves with surfers. CyPhy, which is developing drones for military operations as well as consumer fun, straddles this divide.
Inside, the company is the sort of engineering shop that doesn't waste time with decorating. One conference room is named for a "Star Wars" character, but otherwise this is an ad hoc warren of interchangeable cubicles, drop ceilings and quick metal shelving filled with electronic parts. The décor signals that all attention is on the drones and the people here are too practical and too much in a hurry for anything else.
When I first visited in May, the company was in the midst of a Kickstarter fundraiser for its new consumer LVL 1 drone. They eventually collected $882,478 in pledges from 1,514 backers. The lightweight flier looks like a crab abstracted into rigid white plastic. Six arms reach out with six tilted, black rotor blades. Mounted into the body is a camera about the shape and size of an asthma inhaler.
Consumer drones -- like the popular Phantom manufactured by China's DJI — have democratized the market thanks to a key technology called GPS-stabilization that eliminates many of the complications of flying. (Though it can sometimes still be a challenge to simultaneously pilot and shoot video.) CyPhy says the LVL 1 is designed to be easier still — controlled by swiping across your smartphone, with the machine doing even more of the flying for you.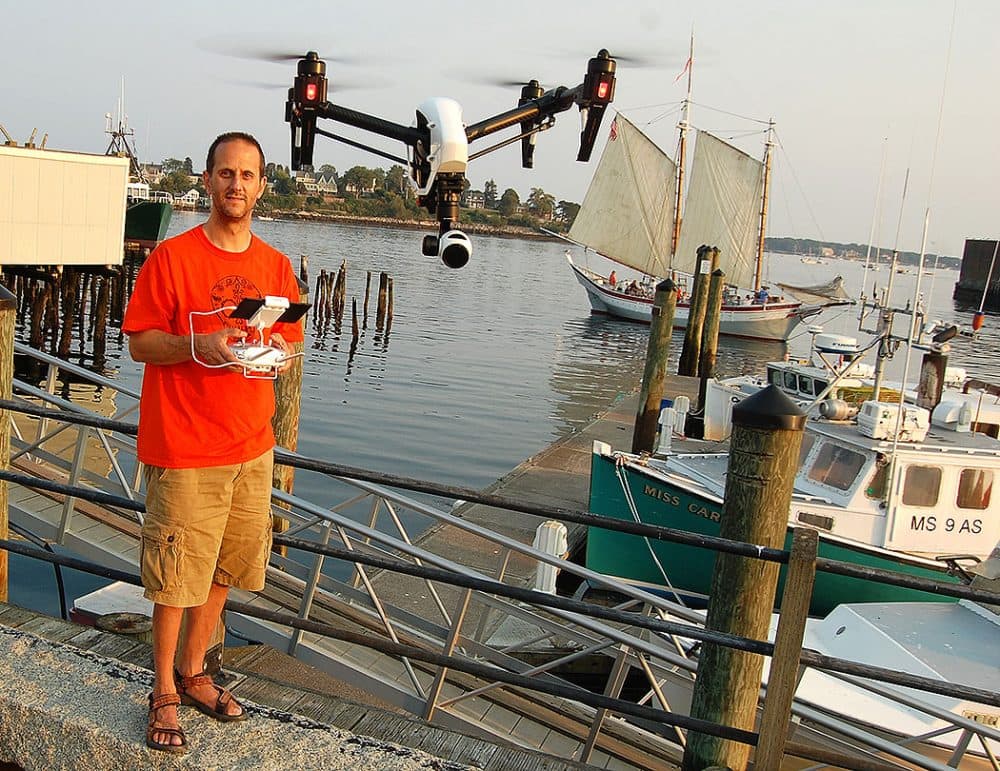 "You'll be able to see the live feed on your phone so you can frame the shot you want it to be," explains CyPhy aerospace engineer John Aleman. "We want people to focus on controlling the camera, not driving it. That way everybody can use it."
"That's going to mean there's more of them out there," CyPhy CEO Helen Greiner adds.
Transforming How We See The World
Already civilian camera-drones are proliferating. In March, a Watertown resident found a drone emerging from the melting blizzard snow and posted the find to Craigslist. "I am amazed at how many people have lost their drones and have contacted me about my previous post," the person wrote in an update.
All these drones are opening up new adventures and inspiring stunts that might have been impossible to do before -- or at least to document. And the new technology is bringing surprises as well. Last October, a man posted video of a hawk knocking his drone out of the air above Cambridge's Magazine Beach.
In April, a graffiti artist going by the name KATSU used a customized drone to (illegally) scrawl paint high up on a Manhattan billboard that had been thought inaccessible to taggers. A video posted to YouTube in March, shows a bicyclist riding high up along a cliff in (according to the post) Sedona, Arizona. People have brought back astonishing footage from flying drones into fireworks and active volcanoes.
Video by video, drones are transforming how we see the world — and this new view is changing how we understand the world.
"It's not a fad," says Randy Scott Slavin, founder of the New York City Drone Film Festival. "Flying cameras are here to stay for sure. Because the perspective they get is great."
A Historic First
The final episode of CBS's television crime drama "The Mentalist" that aired last February will go down in history not for its melodramatic plot, but for its drone shot. Filmmakers have been free to use drones while working in other countries -- like the flying car scene in the 2002 film "Harry Potter and the Chamber of Secrets" or footage documenting skiing and snowboarding at the 2014 Winter Olympics in Sochi, Russia. But the Federal Aviation Administration has prohibited the use of drones for most civilian commercial work in the U.S. since 2007. At least that was the case until last September, when the Hollywood drone company, Aerial Mob, founded about three years ago, was one of six firms that won an exception for drone shoots on sets closed to the public.
"We knew the time would come when the FAA would start approving drones for commercial purposes," Aerial Mob's chief marketing officer Tony Carmean says. "If we could be the first, we would be able to make a name for ourselves. And that's exactly what happened."
Late last year, Aerial Mob deployed a drone -- flown by a pilot and separate camera operator plus assistants — on an outdoor California set to shoot "The Mentalist" scene. In it, FBI agents gather near a crime scene at the edge of a forest. The camera drifts up over some trees, along a bit of road, then down toward a ravine, where the killer they're hunting is hiding.
It's only about 20 seconds long, more straightforward and staid than what's come to be the classic drone shot of gorgeously zooming up-up-and-away -- which is already becoming something of a cliché. But the Motion Picture Association of America hailed it as historic, the "first time a major studio has utilized a [small unmanned aircraft system] to film on a U.S. production."
"It's one continuous shot," Carmean says. "You can't do that any other way."
Now other companies are hoping for FAA approval. Unmanned Aerial Systems Development, based in Holliston, applied for its own FAA exemption last spring, says partner Jeffrey Adams. They hope to become the go-to firm for "high-grade aerial cinematography" in this region. As they waited, he says, they turned down paying work.
"We're really in a holding pattern as far as commercial opportunities, but as far as testing and planning, we're pushing ahead with that," Adams had said.
Then in August, the company reported that their approval from the FAA came through. Adams says they're trying to move ahead quickly with projects for local cinematographers and directors of photography, and are aiming to develop show reels that will demonstrate their capabilities.
An advantage of drones for filmmaking is their versatility. "Drones can go from a dolly to a jib to crane shots all in one motion," Aerial Mob's Carmean says. Which means less gear, quicker set-up and cheaper cost. Drones are replacing helicopters. "It gives you and opportunity to get in close to the subjects with less obstruction" and less danger, Adams says.
"Creativity is the big selling point for film production," Carmean says. "[For a promotional video,] we flew through the front door of a golf course clubhouse and out their back door. You cannot get that shot any other way. We've flown them through the infrastructure of bridges. They're going directly through the beams of bridges."
A Drone Film Festival 
In March, several hundred people packed into the Directors Guild of America Theater in Manhattan for the inaugural New York City Drone Film Festival. It was founded by commercial director Randy Scott Slavin, who fell for drones when he got a Phantom a few years back. "I would shoot everywhere I went. Every time I went on vacation, I would shoot," he says. "Before I knew it, I started showing it to some of my director friends and they were like, 'Shoot for me.'"
Slavin attracted buzz in spring 2014 for his "Aerial NYC" video, hovering around Manhattan bridges and skyscrapers, plus a fly through the Washington Square Arch.
"When things like that happen to me, I submit them to film fests, but there were no film festivals," Slavin says. So he launched his own -- and got coverage from The New York Times, The Washington Post, Vice and others. "Drones just happened to be scorching hot."
The three-hour screening of 35 short films featured a daredevil bicyclist bouncing down a mountain, an erupting volcano, skiing stunts, turquoise beach paradises and more. Much of it was set to soothing or triumphant electronic dance music. Winners included a flight through the city of Chernobyl abandoned since the nuclear plant there melted down in 1986, airplanes coming and going from a Mexico City airport, a Busby-Berkeley-style music video by the band OK Go and a gag video imagining Superman flying around wearing a GoPro camera.
"I've always likened it to people's desire to fly. We see Superman and we see birds and we want to do it too," Slavin says. "The drones also speak to people's youth. … It makes you feel young."
Transforming Public Perception
A week after the New York Drone Film Fest, Sean Tierney hosted the Boston portion of International Drone Day in the parking lot at his office at Neoscape. A few dozen people ventured into the cold in South Boston for flying, demos and videos.
Tierney was an early drone adopter. About five years ago, he constructed his first, crude quadcopter from parts he ordered via the Internet. And began crashing it. "The learning curve a few years ago was much steeper than it is now," he says.
"It's very kind of solitary and boring to stand in a field and hold a controller," he says. So a couple years back, he launched a meetup. At first, just a couple people came. "The membership is up to 100 people now," he says.
Like the Drone Film Festival, International Drone Day's underlying aim was to transform the public perception of the machines. "The purpose of International Drone Day is to show the world that drones are good, and can be used for many good purposes," the Boston invite said. "Movie making, search and rescue, police work, architecture, inspections, emergency response and for just having fun."
"We've always been relegated to one or two ways of seeing the world -- on the ground looking up or being up and looking down. This kind of puts us in the middle," Tierney says. "People see these places all the time, but you don't see it from that perspective. … It's a new way to see things you've seen all your life."
Drone, of course, has been a dirty word -- or at least a complicated one -- identified with surveillance and anonymous bombing campaigns of America's war on terror. Civilian recreational uses have begun to change how we see drones, to take away some of that stigma.
But surveillance and military applications remain key to drone manufacturers' business models. CyPhy CEO Helen Greiner was co-founder of iRobot in Bedford and, as the bio on her company's website says, she guided it "into its position as a global leader with the release of the Roomba, the PackBot and SUGV military robots. She built a culture of practical innovation and delivery that led to the deployment of 6,000 PackBots with our troops."
CyPhy is developing PARC or "persistent aerial reconnaissance and communications," a six-rotored drone with a gimbal-mounted camera beneath. It's always connected to the ground via a microfilament that allows it to be powered indefinitely. Greiner describes these tethered drones as another form of surveillance camera for military outposts or construction sites.
"We have been breaking records for endurance," CyPhy engineer Aleman says. "That one, we've been flying it for weeks in a row. Our goal is to do continuous operation."
Meanwhile, drone enthusiasts imagine a future where the machines are ubiquitous -- and more innocuous. "Six or seven years from now, there's going to be thousands of these in the air," Aleman says. "There may be some time in the future when they may be so common that they'll be like birds."
Drone boosters talk of search and rescue drones ("The great advantage of flying platforms is you can go over any obstacles," Aleman says), cleaning drones, drone crop dusters and fish-finders and power line inspectors.
They picture delivery drones buzzing along aerial highways spanning the country, stopping here and there at designated landing pads at our homes and offices. "Outside, when you get above the treetops, there's this whole airway that is just waiting for the drones to do things like drone delivery," Greiner says. "It's that instant gratification. You order something today, you get it overnight. With drone delivery, you order it and 30 minutes later, you get it. That's as close to teleportation as you're going to get in our lifetime."
"It could be a noisy world," Tierney says. "In many respects, these things are not quiet." But Aleman says, "These vehicles, when they are 10 meters away from you, you can barely hear it. One hundred meters away, you can barely see it."
"It's going to require a ton of acceptance in society," says Jeffrey Adams, of Unmanned Aerial Systems Development. "That's going to take time."
'There's Something About Flight That Really Inspires'
Already bits of this drone future are becoming reality. On the plus side: After the blizzards here last February, the city of Somerville hired the local aerial videography firm Above Summit to check roofs for dangerous amounts of snow. On the minus side: At a Memorial Day parade in Marblehead in May, a camera-drone reportedly bumped into a building and then crashed down onto a man's head. Last November, a Modesto, California, man, apparently concerned that a drone was snooping, allegedly blasted it out of the sky with a shotgun.
The growing prevalence of drones is demanding new etiquette and new regulations. Cape Cod National Sea Shore and Loon Mountain in Lincoln, New Hampshire, have prohibited drones. The Burning Man festival in Nevada put limits on the number of drones the festival allows.
"I personally have faith in people," Aleman says. "Then again I'm an engineer. … There are going to be so many good uses that that's going to outweigh the bad ones."
At CyPhy in Danvers, Aleman guides me to a large, low-ceilinged room where he shows how the LVL 1 can hover in the air. Along the back wall are the LVL 1's cousins. The drones stand on the white speckled tile floor like giant spiders, each a yard across, balancing on tall spindly legs with cameras dangling below.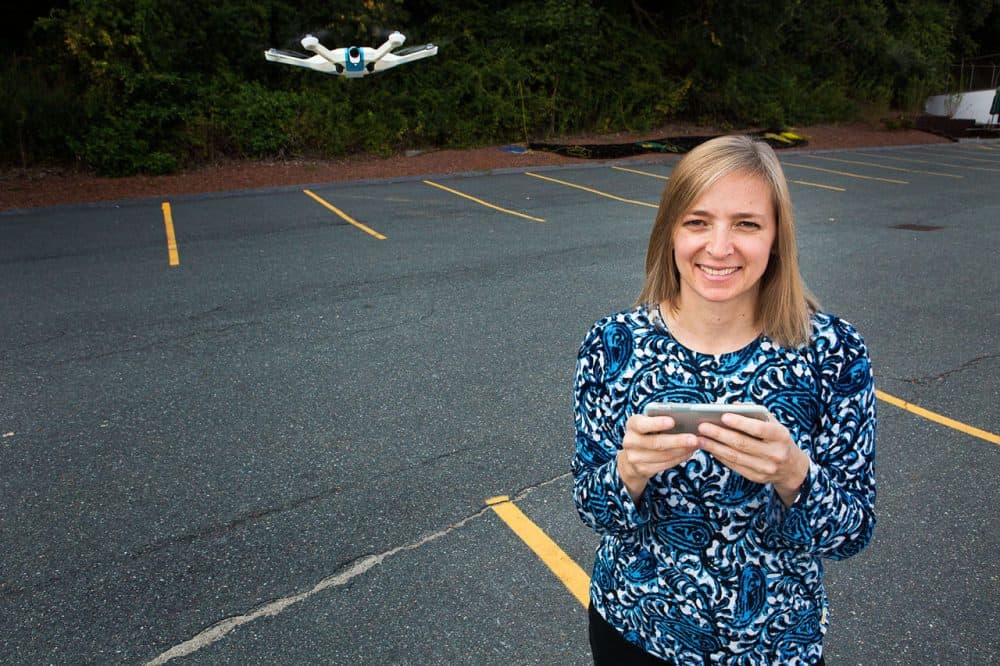 "You can get the whole view," Greiner tells me afterward. "With the drone, you can kind of see everything that's going on. You're just seeing the world the way a bird sees. It's not the way we've always seen it."
Like traditional aerial photography, drone footage looks down from above to reveal the patterns of human society, our ant farms of roads, farm fields and repeating rows of buildings. Drones can go places that had been out of reach or too dangerous. They dazzle us with the wonders of the world, and rejigger our sense of our place in it.
"There's a lot of kids that wish to be astronauts when they grow up," Aleman says. "There's something about flight that really inspires humans to do more."