As Pope Francis Debuts A Rock Song (Really), We Explore 500 Years Of Papal Tunes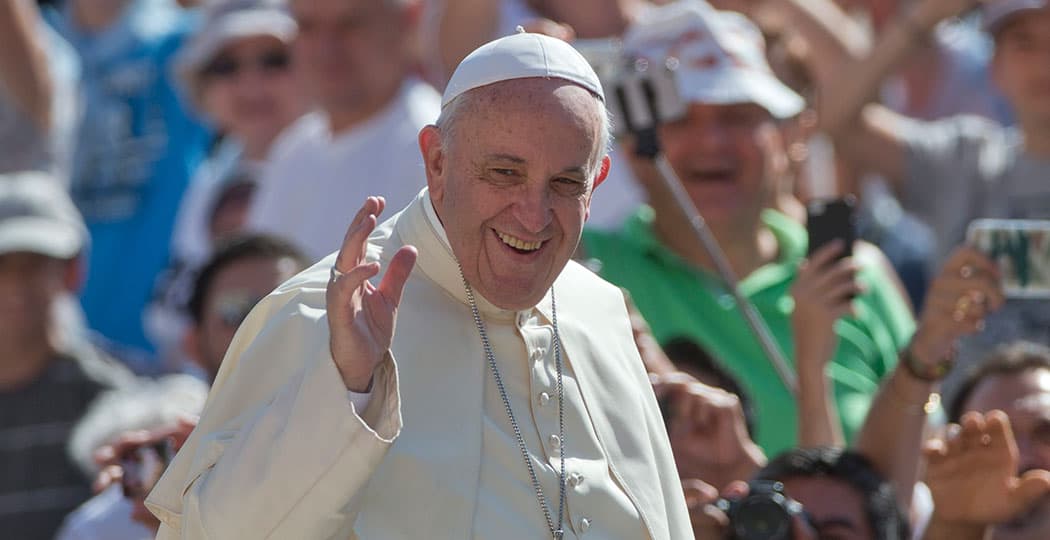 This article is more than 3 years old.
When it was announced on Sept. 25 that Pope Francis would release a prog-rock album titled "Wake Up!," the world reacted with genuine interest. A track from the album, "Wake Up! Go! Go! Forward!," was premiered by none other than Rolling Stone. Coverage of the announcement ranged from gracious to delighted. "The Pope just surprised everyone with a hot new mixtape. Really," GQ Magazine tweeted dryly.
Never mind that "Wake Up! Go! Go! Forward!" is the stuff of easy parody. Prog-rock isn't exactly sexy right now. (And in this irony-heavy era, neither are exclamation points.) In "Wake Up! Go! Go! Forward!," a guitar thrums theatrically and, along with a bevy of horns and liberal cymbal crashes, builds to a triumphant crescendo before dropping into silence. Like a Spanish-accented Yoda, Pope Francis' croaky voice emerges from the void: "Wake up. Wake up."
The song is a bizarre musical potpourri that would likely be dismissed by the music press were the pope not its star. Yet, as the SoundCloud comments show, many listeners clearly find reason to be endeared. This, after all, is the pope who struck a more sympathetic tone toward the gay community. This is the pope who has spoken passionately about the need to combat global warming. This is the pope who cracked up when he spotted a baby swaddled in papal robes and sporting a peaked mitre on her head. This is the Cool Pope.
Though some would disagree. Albums in the vein of "Wake Up!" are anathema to composers like Ralf Gawlick, an associate professor of music at Boston College, the Jesuit-founded Catholic school. "In the past, particularly up into the 18th century, the church was instrumental in commissioning not only art and sculpture but also, significantly, new musical works " he says. "This tradition has been largely abandoned."
To Gawlick, "Wake Up!" and its ilk exemplify the sorry state of Catholic liturgical music. Gregorian chants and masses by Mozart and Haydn have given way to the current trend: new-age compositions rendered on recordings with synths and drum machines and in services with guitars and pianos. Meanwhile, stately church organs sit silent.
"There is obviously a judgment value here," Gawlick admits. "Unfortunately, in vogue are saccharine pop settings of ancient sacred texts — such as the Latin Mass Ordinary or the Psalms — that have been with us for centuries."
Gawlick echoes an opinion widely held among musical aficionados in the Catholic world. The rift began in the 1960s when the Second Vatican Council convened, penning a series of sweeping documents that precipitated a sea change in Roman Catholic doctrine. Many of the reforms were initiated with an eye toward making the church more accessible and modern. Consequently, Catholic liturgical music began to show the influence of pop and folk rock. To some, it rang the death knell for traditional and contemporary classical music in the church. And it led to the rise of the pop-minded pope album. (Or is it the pope-minded pop album?) "Wake Up!" follows in the synth- and string-laden tradition of Pope John Paul II's 1999 devotional album "Abbà Pater" and the 2009 recording by Pope Benedict XVI "Alma Mater: Music From the Vatican."
Here follow some of the best—or worst, depending on your viewpoint—songs performed by, written by, or otherwise involving popes.
• "Cena Sans Plus" by Giovanni de' Medici (1475 – 1521), who later became Pope Leo X, performed by Ensemble La Morra. Pope Leo X was a great supporter of the arts and a lover of music, and even tried his hand at composing.
---
• "Missa Papae Marcelli" (1564) by Giovanni Pierluigi da Palestrina. When this piece was performed for Pope Pius IV, it so moved him that he abandoned a proposal to banish music from the church altogether. (The crisis was prompted by concerns that the sanctity of church music was being sullied by the inclusion of folk tunes in masses.) Although "Missa Papae Marcelli" was not written or performed by a pope, it did convince a pope that music was an important part of worship, so pointy hats off to Mr. Palestrina.
---
• Pope John Paul II sings "Pater Noster" in Chicago, 1979. There is something sweet and moving about the pope leading a congregation in song.
---
• "The Mystery of Man," from "Sarah Vaughan Sings the Poetry of Pope John Paul II" (1982) by Sarah Vaughan. There are many examples of Pope John Paul II's early poems put to music, but more often than not a little big-band schmaltz is just the ticket. Vaughan sings it gorgeously. (Another nice example in the genre of musical John Paul II poetry is a piece by none other than Ralf Gawlick, titled "Zrodlo," an excerpt of which you can hear on his website.)
---
• "Abbà Pater" from "Abbà Pater" (1999) by Pope John Paul II. Normally classical-world-new-age fusion isn't my cup of tea, but Pope John Paul II wins points for actually singing. Fast forward to the 3:19 mark.
---
• "Sancta dei Genetrix," from "Alma Mater: Music From the Vatican" (2009) by Pope Benedict XVI. The orchestral compositions on this album are lush, soothing and largely designed to lull you into a state of tranquility so that the pope's recitations may float by unnoticed. This piece stands out because it is ominous and tense. (Although by the time Benedict gets going around 2:40, the music has turned warm and inspirational again.)
---
• "Wake Up! Go! Go! Forward!" from "Wake Up!" (2015) by Pope Francis. Points deducted from the pope for not singing. Points awarded for the sheer audacity of pairing prog-rock melodrama with papal gravitas.