At 40, She Returned To School, Lost Her Dog, Got A Cartoon In The New Yorker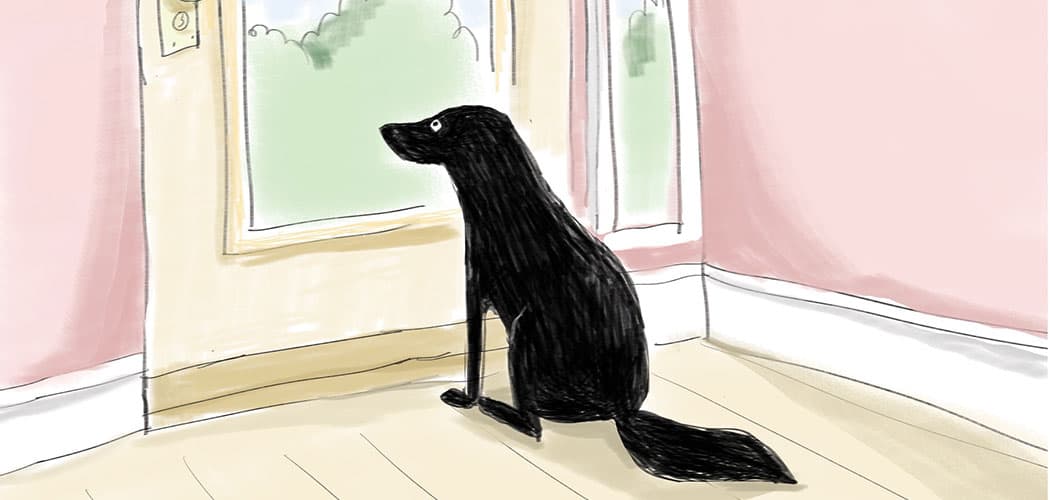 This article is more than 3 years old.
A few years back, Mitra Farmand was given an assignment in a class at The Center for Cartoon Studies in White River Junction, Vermont. "We had to draw a cartoon from a dream," the Brookline artist recalls. "And I was dreaming about my dog a lot because she had just died."
She sketched several panels of a dog, not exactly her dog Gracie, who was a little white dog, but a larger black dog doing doggie things — drinking at her bowl, chewing on a bone, chasing a ball in a park, sticking her head out the car window. Recently Farmand redrew it, and turned it into a little book that she thought of calling "Gone," "but I thought I didn't want to give away the ending," so instead just called "Dog."
However, I'll give away the ending of the 20-page book here — the final scenes are empty rooms where the dog previously barked and played and hopped about. What you feel is the sad-sweet silence of her absence.
"Animals are in our lives a brief time," Farmand says, "and then they're gone."
Farmand is one of more than 100 cartoonists, most of them from around greater Boston, whom you can meet at the Massachusetts Independent Comics Expo—or MICE as it's known to its friends—at Lesley University Hall, 1815 Massachusetts Ave., Cambridge, this weekend, Oct. 17 and 18. Admission is free.
Most comics conventions are dominated by retailers and publishers and (sometimes) Hollywood companies flogging their latest tights-and-capes epics. What sets MICE apart is that it is focused on the artists and writers making—and often self-publishing—their own comics. To support that cause, the convention awards five creators $75 grants each year to help complete or enhance the printing of their work. Farmand was one of this year's winners ("very validating," she says), and you'll find her book "Dog" at the convention. The prize is more about the gesture, than the money; a way of signaling the event's continued dedication to its do-it-yourself roots.
"It's people following their dreams," Farmand says of MICE, "and doing something unprofitable, a lot of times on the side. It's great to be around people following a dream, doing something they love."
Farmand was about 40 when she went back to school to study comics four years ago. She'd majored in art for a while when she was in college a couple decades previously, but got intimidated by the talent of her peers, so she went in a different direction.
"I was working at a bank on financial data and I had been drawing cartoons for 10 years, maybe 8 years, something like that," Farmand says. "It's like a midlife crisis. What am I doing? And where am I going? It's like I have this paycheck and I'm OK going into an office for 20 years. I've been doing that thing. Maybe I should do this thing I loved."
So she enrolled at The Center for Cartoon Studies and studied drawing and met cartoonists—while still holding down a day job—until her graduation in 2013. Mostly her comics are single-panel gags, the sort of thing you find in The New Yorker. "It's fun to hopefully make people laugh," Farmand says.
In fact, she explains, "I've been going to The New Yorker for two years. They have a meeting each Tuesday." Instead of just submitting her cartoons by email, she traveled down to meet with the comics editor in person. He'd shuffle through her stack of 10 or so cartoons and maybe set a couple aside for further consideration. "I did that for two years, going to New York, and I finally got one in."
Her New Yorker cartoon appeared in the June 22 issue. It shows a pack of goofy wolves standing on a hillside costumed in sheep skins—wolves in sheep's clothing. The punch line: one wolf asks, "Now what?"
"I got the $75 grant and that was amazing, and The New Yorker, so I've accomplished some things. So I've accomplished two things," Farmand deadpans. "The future is bright."
---
Greg Cook is co-founder of WBUR's ARTery. Follow him on Twitter @AestheticResear or on the Facebook.