Build Your Own 'Star Wars' Lightsaber At A Somerville Makerspace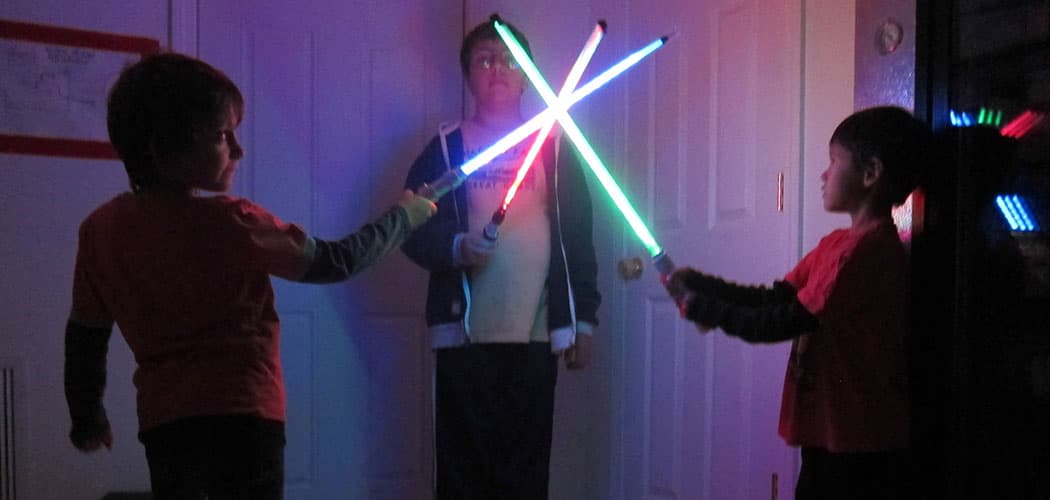 This article is more than 4 years old.
"It's an elegant weapon for a more civilized age," explains Dina Gjertsen of Parts and Crafts, channeling Obi-Wan Kenobi, the old Jedi knight in "Star Wars."
She's talking about building lightsabers. Yes, "Star Wars" lightsabers! Which Parts and Crafts, the family makerspace (think tinkerers' workshop) in Somerville, will help you construct during their "Lightsaber Build Party" from 1 to 3 p.m. Saturday, Dec. 19. The cost is $30, plus $10 for each additional laser sword if the Force runs strong in your family. Those wishing to take part in the hands-on engineering project are encouraged to sign-up in advance, but drop-ins are usually able to be accommodated, Gjertsen says.
"They're tougher than the ones in the store so you can actually bang them against each other," Gjertsen says. "It is a clear polycarbonate tube that's a lot harder than acrylic. That's why they're better."
Inside the 2-foot-long blade is "a strand of LEDs wrapped in bubble tape" to light the AA-battery-powered saber up blue (the color of Luke Skywalker's lightsaber), red (the hue of Darth Vader's, Kylo Ren's and other Sith baddies' swords) or green (the color of Luke's second lightsaber, as well as Yoda's blade).
"We get the most blue. But some people definitely want red, which is determined to be the color of the Sith," Gjertsen says. "Green is less popular."
Is she concerned about these futuristic laser blades falling into the wrong (young) hands? "I will keep an eye on the kids who ask for red," Gjertsen assures me, "lest Somerville become overwhelmed by the dark side."