Afro Flow Yoga Dances Into Diversity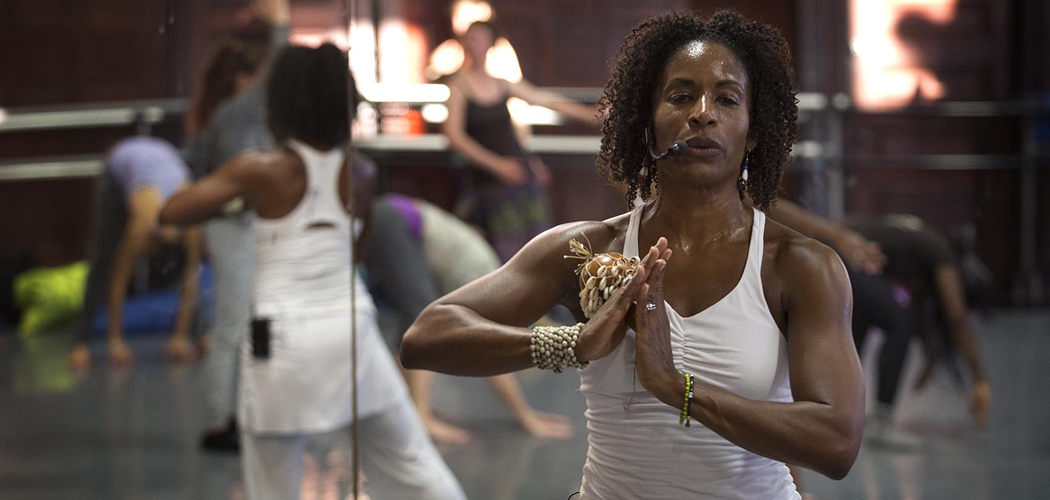 This article is more than 5 years old.
It might seem that combining yoga, often satirized as exercise for the elite, and dances of the African diaspora, which generally have more community-centric roots, are an unlikely mix. Yet Leslie Salmon Jones, an Ailey-School-trained dancer, has artfully mixed the two in Afro Flow Yoga, a unique yoga-meets-dance class set to live African percussion and music at The Dance Complex in Cambridge.
Salmon Jones, now a vibrant and beautiful health and wellness coach (among many other interrelated social and artistic fortes), notes that participants have probed whether the class is a "black or a white thing." Still, she maintains that the two practices, when bridged together at their roots can unite harmoniously, create artistic appeal and act as vehicles for individual and social change.
Salmon Jones first made the connection between yoga and dance during her days at the Ailey School, where yoga was a requirement for dancers there. "Yoga became a really great practice in non-judgment … when you're at a place like Alvin, it's very competitive. Yoga really kept things in perspective and kept me extremely grounded in the professional dance community," she tells me.
She also found these tools to extend into the social realm. More than just a tool for individual awareness, she maintains that yoga can be used to "confront social imbalances. … It can be used as a tool to make sure we are bringing more awareness to the pitfalls we've fallen into as a society. It's a great opportunity for healing and a path to dispel and diffuse behaviors that create resistance and separation."
Afro Flow Yoga has been going strong at the Dance Complex in Cambridge now for four years, and also takes place regularly at The Ailey Extension in New York. Salmon Jones has also used the class to promote health and diversity efforts at yoga studios, businesses, community centers and churches — including a sponsorship with MassHousing involving free classes throughout various Boston neighborhoods.
The class begins in a large circle of women and men of all different backgrounds, shapes, sizes and dance levels with Salmon Jones leading at the center. She sits in front of a self-made altar containing an array of personal tokens including healing crystals, candles, shells, pieces of earth from various travels, and gifts from students set on top of a sarong-like fabric. The rumbling of gentle yet assertive drums, tambourines, bells and other African instruments played by Leslie's husband, Jeff Jones (often accompanied by other musicians), provide the groundwork to move in the background.
The class continues with a half hour or so of Vinyasa yoga and then transitions into dancing, before winding down with more yoga and meditation.
There are moments in class that transition from yoga to dance and vice versa where the line between the two practices dissolves, making yoga and dance indistinguishable. Here, the practices take on both a meditative function and an expressive one — in both movement and mentality.
This structure of the class that at times blur yoga and dance, while respecting their boundaries, at others translate into the social dynamics of the class that sees and respects different art forms, peoples and cultures separately, while also acknowledging their interconnectedness. These qualities mirror Salmon Jones' Canadian upbringing, where she says different cultures are viewed and treated more like a mosaic than a melting pot, as commonly referenced in the U.S.
While Salmon Jones notes that both yoga and dance have always been intimately intertwined for her: "Both going across the yoga mat and the dance floor have both always been connected to my spiritual self," she says. She first got the vision to combine the two practices while on an extended journey to Africa and Jamaica. While the purpose of the trip was to connect with her ancestral roots after the death of her father, it ultimately inspired her to also connect to the roots of yoga and dance.
"I was really feeling a lack of connection to the roots of particular artistic expressions," she tells me. "It's like a cultural amnesia, like when you see people doing African drumming and dancing without acknowledging their foundation."
She describes her vision of combining yoga and dance at this time like a "spiritual download." She maintains that the yoga and dance taught at Afro Flow are guided by root principles that complement or parallel both practices, namely awareness, non-judgment, inclusion and community.
She describes the power of combining yoga with dance in that it allows for both individuals and communities to unite.
"One of the beautiful things about African dance and drumming is that it really resonates on a cellular level with many people. African diasporic dances are tribal, ritual based and rooted in community. So it's a very inclusive environment; there is a feeling that everyone is welcome … yet yoga is a very individual and internal process; when you step off the mat, it can shift your awareness when you are walking down the street," she says. "With the combination of dance, this gives you the opportunity to practice in a safe environment and in a community with others."
Over tea at her house in Allston (which she has fittingly nicknamed "Ancestorville," as it has been in her husband's family for decades), Salmon Jones illustrates the power of "safe spaces" at Afro Flow in supporting social justice motives; she notes the story of one of her students who had initially come to her class with the "light purpose" of "getting out of her German body." What the student obtained from class that day though, was far deeper than she had intended when she first stepped foot into the studio. The class happened to fall on a U.N. holiday — The International Day for the Elimination of Racial Discrimination — so Salmon Jones tailored the class so that it not only provided a unique, expressive arts experience, but a place where individuals could talk freely and openly about their struggles with race and racism.
The woman who came into class that day ended up discussing her Nazi ancestors in the class, which had been taboo in her family to talk about for as long as she could remember. "She had a lot of fear, shame and guilt bottled up in her, but no one to talk about it with. … It was like she was in hiding," notes Salmon Jones. The class gave her the safe space and the resources to continue doing this work.
Central to the work done on the U.N. holiday, was the idea that "we all have an oppressor and oppressed in us," as Salmon Jones puts it — both of which can be damaging when unexamined, and yet also have individual and social transformative powers when acknowledged and worked through mindfully. She notes this work has, in part, been inspired by her own personal family history that includes both European and African ancestry.
The Afro Flow crew is planning an event called Racial Healing, which involves a combination of Afro Flow, film and "interplay" along side activist Katrina Browne, whose work involves educating white people about the history and responsibility of slavery through "tracing the trade."
---
Micaela Kimball is a sociologist and journalist with a passion for dance. She's currently working on an independent project that considers the role of music and movement in immigration experiences with The Boston Institute for Nonprofit Journalism.