Big And Small, Loud And Soft, 'Lobster Girl' And 'Carousel' Seek Alternate Ways To Musical Bliss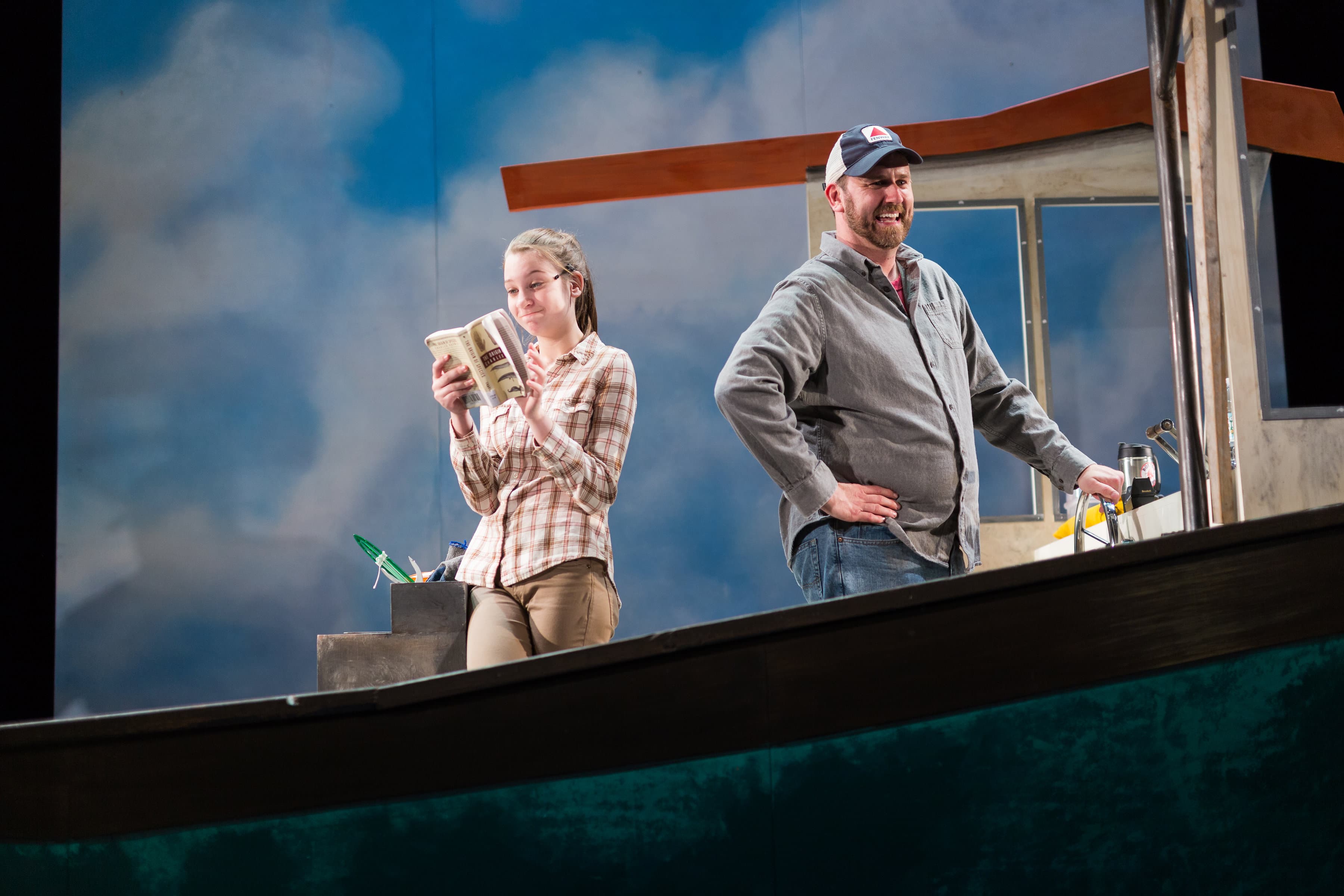 This article is more than 4 years old.
Like opera, musicals are typically about big emotions. The characters don't always have to be larger than life, but they definitely have all the feels. Unlike with straight plays, there really isn't much opportunity for suspension of disbelief — not when a new song and dance breaks out every few minutes. The audience is always aware it's watching a highly stylized version of reality.
The methods of storytelling, though, can play up this sense of unreality, or craft a more sober frame without sacrificing the emotional release that everybody came for. Two musicals on Boston stages right now scope out territory near both ends of that spectrum — the sprawling Technicolor of "Carousel" (seen at Reagle Music Theatre in Waltham) and the much more tightly focused "Lobster Girl," making its world premiere at Stoneham Theatre.
The Reagle's production is big and brassy, with lovely production numbers featuring the choreography of director Rachel Bertone, who summons the heft of a 66-person cast. "Lobster Girl," with its cast of five — for most of the show, there are three actors onstage — aims for a much more subtle impact, though one that's, in the end, more relatable and emotionally resonant.
"Carousel," a greatest hit of Richard Rodgers and Oscar Hammerstein II, is much loved, for some reason. I confess to being immune to its charms, and am utterly bewildered by opinions like that of New York Times critic Charles Ishwerwood, who just last year called it "one of the greatest" musicals in the canon. Even an otherwise effusive review in the Times of a 1966 production allowed that it gets "logy and oversentimental." Today, it is impossibly problematic.
The male lead, Billy Bigelow, is introduced as a con man who scams young women out of their purses and their reputations; within minutes of his entrance, he's threatened to "slap" three separate women, and when he repeatedly tells one to "shut up," it lands as a joke. Among them is Julie Jordan (Jennifer Ellis, heard in glorious voice) who promptly sacrifices her job to stay within his orbit. "You look up at me with that little kid's face, like you trust me," Billy says creepily to Julie while seducing her. Later, when the two are newlyweds, he hits her (offstage), and yet we're still meant to root for them to stay together.
The trouble here isn't that a period piece presents antique cultural mores (in this case, those of seacoast Maine in 1873) faithfully, but that it fails to engage with those outdated attitudes, and makes the audience complicit in affirming them implicitly. We're meant to get teary-eyed when she declares her love for her abuser, who is mostly presented as despicable, and later to feel he's been redeemed when he returns the sentiment.
Even if we could put that aside — and we shouldn't — the piece is just weirdly shaped. As it stands, it wouldn't make it out of the workshop stage today. A long overture ("Carousel Waltz") carefully establishes a sense of place that is immediately jettisoned a few scenes later, when we abruptly end up at a mysterious spa where a bunch of sailors we know nothing about are singing about something or other. The ostensible lead, Julie, is absent for long stretches — particularly unfortunate for the Reagle production, since Ellis is such a great asset. The odd choices are exemplified by the second-act curtain raiser, when instead of crafting a big number around the vivid scene of a Maine clambake, the authors show their characters lounging around after the event, singing "This Was A Real Nice Clambake." I guess we missed the invite.
And, fatally, the story feints toward a tragic arc before an abrupt swerve into the supernatural, suddenly adopting a cutesy plot device that lands us, without warning, in "It's A Wonderful Life" territory. This is the stuff of unintentional comedy, and obliterates any emotional currency earned earlier. The coup de grâce comes when Billy strikes his daughter, but she feels it as "a kiss." Instead of a poignant example of his tragic flaw, the act somehow signifies Billy's redemption. Huh?
OK, now that I've committed heresy, more about the Reagle production. Bertone, with dual director-choreographer duties, was given a big opportunity, and she nails it. The material is problematic, but this performance isn't.
That opening "Carousel Waltz" may be the most complicated bit of business, with much of the immense ensemble flowing on and off stage in the guise of various carnival employees and attractions, and it is utterly charming — a showpiece for 18-piece orchestra (conducted by Jeffrey Leonard) and the wardrobe budget. (Costumes were rented from Costume World Theatrical.) Scenic designer Richard Schreiber augments naturalistic sets with an enormous, pastoral backdrop.
Original dances are credited to Agnes De Mille, and I can't report how much of the bittersweet ballet performed by the Bigelows' daughter is preserved from the original choreography, but Kyra Christopher performs it with grace. Bertone shows a deft hand choreographing big show-stoppers, and "June Is Bustin' Out All Over" and "Blow High, Blow Low" will delight fans of the golden age of American musicals.
The role of Julie asks more from Ellis as a singer than as an actress, and her bell-clear soprano here is embroidered with classical fringes. She's a delight, as usual. Ciarán Sheehan brings an appropriately brusque physicality to Bigelow, leaning into the character's offensive traits while also conveying his indecision when called upon to do a foul deed; Sheehan gives us just enough of a shred of sympathy for Bigelow. He, too, sings like a bird. (Leigh Barrett, who as Nettie gets to sing the sentimental favorite "You'll Never Walk Alone," joins them as the three Equity members of the cast.) Dan Prior is a fun Enoch Snow, and Jessica Kundla is sweet as Julie's friend, Carrie.
"Carousel" may be written by Rodgers and Hammerstein, but it's in "Lobster Girl" that "Oh, What a Beautiful Mornin'" (from "Oklahoma!") gets taken for a quick spin. The opening lines are something of a nervous tic for Hank, a lobsterman from Cape Ann. Stoneham Theatre's founder and producing artistic director, Weylin Symes, wrote the story and book; music and lyrics are by Steven Barkhimer. Symes directs.
Things get a lot quieter in the journey down the coast from 19th century Maine to contemporary Cape Ann. Here, the opening number is performed solo, by William Gardiner as Ol' Joe, a white-bearded fisherman who, in Hank's somewhat-meta description, provides "local color." The two-piece orchestra provides subtle backing for songs that are very much geared toward character development, but tend to lack memorable melodies.
In fact, Symes' intention with the piece appear to be more aligned with a straight play; none of the actors seems to be primarily singers, and their work with the songs is creditable, but just so. But the character work is strong, and the actors achieve great rapport.
"Lobster Girl" is a domestic drama on the waves. Hank is taking Cora, the 13-year-old daughter of his girlfriend and maybe-fiance, for an afternoon of lobstering. It's a test drive of their relationship. Along for the ride is Hank's helper, Jake (a likable Felix Teich). Cora's mom, Nancy (Ceit Zweil), hovers on the edges of the story as something of a killjoy; as the character is written, I'm not sure there are deeper nuances for Zweil to find.
As Cora, Brigit Smith (who indeed is 13) delivers a crisp, well-measured performance, and it sits at the heart of the production. She has ready access to the poses of adolescent withdrawal and sarcasm, but never overplays her hand or ventures into caricature. There is nothing showy about this performance; it is subtle, in all the right ways.
Bryan T. Donovan too delivers an appealing performance, as Hank. He hits the expected notes — over-eagerness to entertain Cora, occasional bewilderment at how exactly to do that, and doubt about his ability to be a father figure — but, again, it feels very natural and unforced. Yet we don't ever really smell the salt on the clothes of this showtune-quoting dude, or of his well-educated first mate. (Nor do we hear it in their accents.) The book could have taken some more care to place Hank in his situation, to make lobstering more than a random occupation that conveniently lands Hank and Cora in a confined space for several hours.
It's also worth noting that, though a good day's catch includes just six or seven lobsters, there's no awareness shown of the acute economic pressures facing lobsterman and New England fishermen these days; I suppose that's matter for a different show.
There's a running gag with Ol' Joe that belongs more in a farce than a piece that otherwise has its eye on achieving emotional truth; it gets laughs, but muddles the tone. Katy Monthei's set design is delightfully whimsical, but also reflects what seems to be a shortage of clarity of purpose on the part of the director.
To its credit, Symes' story takes great pains to avoid treacle or Afterschool Special moments, even if it eventually consents to a group hug; at the point when we expect Hank and Cora to get closer, Hank instead becomes a lot less sympathetic than he had been. (This, and the chemistry between actors Smith and Teich, means that the teenager actually seems to bond more with Jake than with Hank.) Topically, this isn't unfamiliar territory, but it's handled with admirable restraint. Still, things build toward an unambiguous conclusion that seems to better reflect the mechanics and demands of theatrical storytelling than the reality of what might actually happen in this situation.
Though this is its official world premiere, "Lobster Girl" doesn't feel entirely finished. But it's an intriguing chamber musical, and delivers the sort of wholesome entertainment also offered by "Carousel" — it just takes a very different route to get there.
"Carousel" plays at Reagle Music Theatre through June 19. "Lobster Girl" can be seen at Stoneham Theatre through June 26.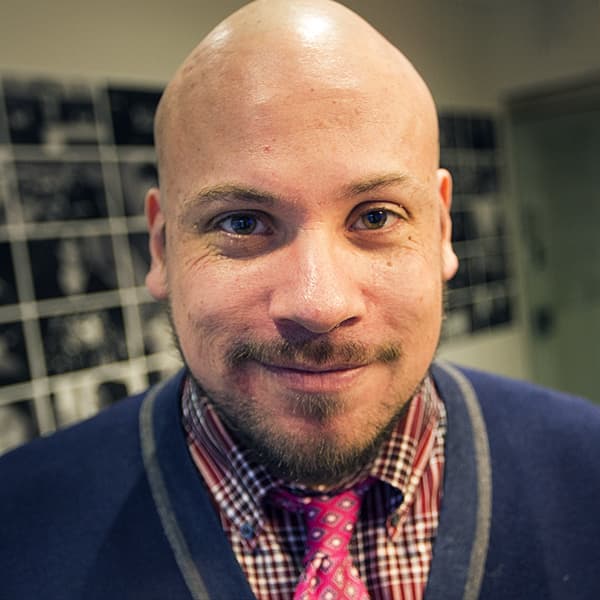 Jeremy D. Goodwin Contributor, The ARTery
Jeremy D. Goodwin was a writer and critic for WBUR's The ARTery.