Bob Dylan's 'Trouble No More' — Salvation In A Box Set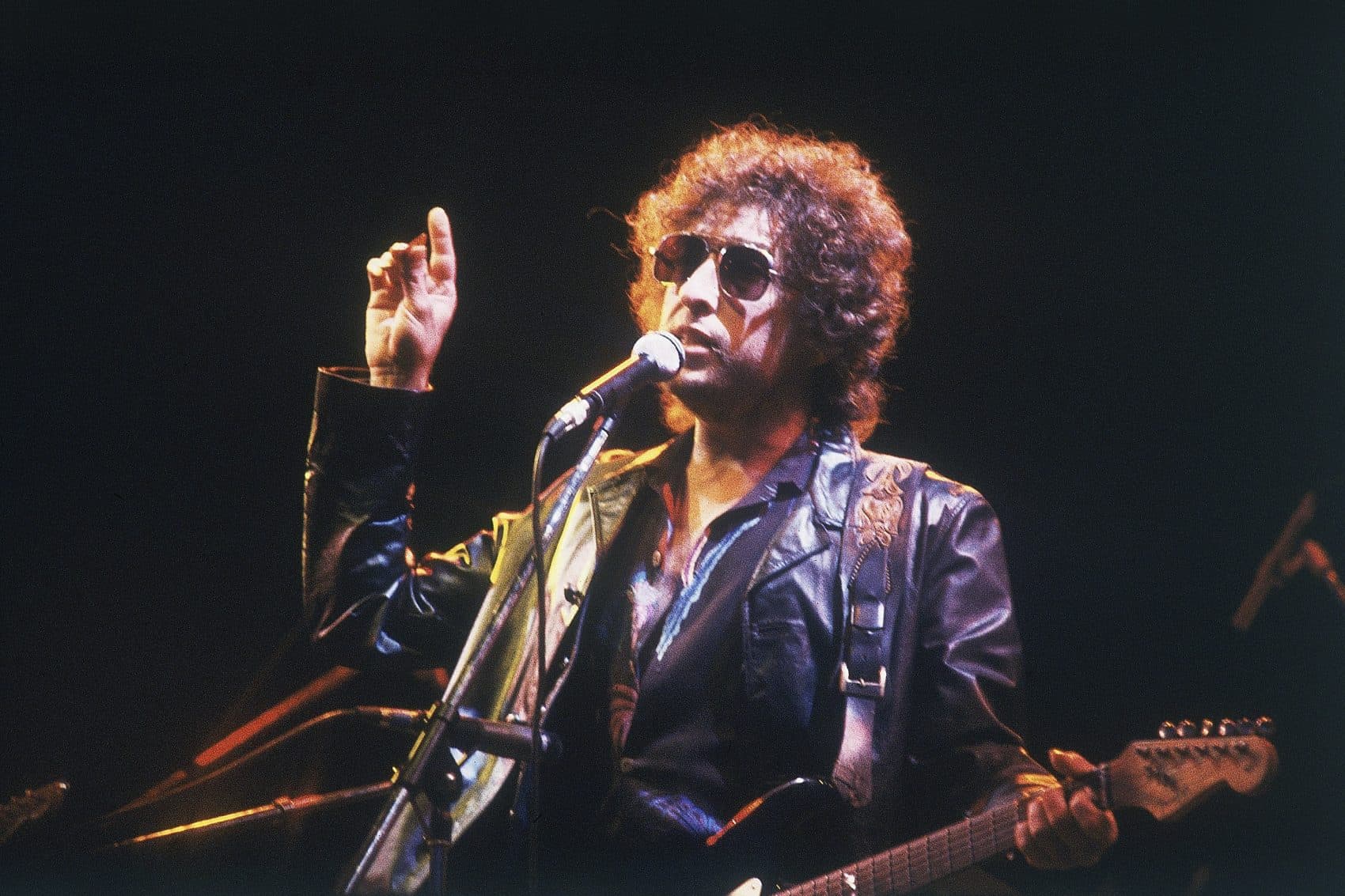 This article is more than 1 year old.
"Bob Dylan is taking a slow train to Portland," says the mellifluous radio voice, announcing Dylan's January 1980 show at the Paramount Theatre in Portland, Oregon. Then we hear from a disgruntled audience member who'd heard a show earlier in the tour.
"I was kinda disappointed," the guy says, with a pitch-perfect accent for the era. "I wanted to hear rock 'n' roll. Rock 'n' roll! I heard Bob Dylan singing gospel. I didn't come here to hear sermons. I coulda went to church, man."
This radio spot has been preserved for posterity on "Trouble No More," the latest in Sony's Bootleg Series of releases illuminating the previously hidden recesses of Dylan's career. Previous entries in the series have illuminated such crucial phases in Dylan's career as the landmark recordings of the mid-1960s, the Basement Tapes and the Rolling Thunder Revue.
But "Trouble No More" may be the most valuable of them all. It documents, in exhaustive detail, the most controversial — indeed, the most reviled — phase of Dylan's career: His conversion to evangelical Christianity and the wealth of gospel songs that he wrote, recorded and performed between 1979 and 1981. No other chapter in Dylan's musical evolution — not even "going electric" in the '60s — elicited such feelings of betrayal and resentment across his customarily loyal fan base.
His conversion began on stage during his lengthy, wearying world tour of 1978. One night in San Diego, Dylan looked down and saw a silver cross someone had thrown on stage, which he reached down and put it in his pocket. The following night in Tempe, "I wasn't feeling too well. I knew I needed something," he would later say. He looked in his pocket and saw that cross.
Later that night in his hotel room, Dylan found himself in the presence of Jesus. "I felt my whole body tremble," he later told a reporter for The Dominion, New Zealand newspaper. "The glory of the Lord knocked me down and picked me up." Within weeks he'd changed the lyrics of "Tangled Up in Blue" to incorporate a reference to the Book of Jeremiah, and before the end of the year, he was immersed in Bible study and writing his first songs in praise of the Lord.
Until this release, virtually the only access we've had to Dylan's gospel music has been the three studio albums he made during this era: "Slow Train Coming" (1979), "Saved" (1980) and "Shot of Love" (1981). Few, if any, Dylan fans hold them as their favorites; most have agreed with Penn Jillette, magician and longtime Dylan devotee. "I didn't give him a chance," Jillette writes in one of the set's liner notes. "I wouldn't give him a chance. I couldn't face a Christian Dylan. I wouldn't open my ears, let alone my heart."
The near-unanimity of this critical stance stacks the odds heavily against "Trouble No More," which in turn makes its success all the more triumphant. The Deluxe Edition of the set contains eight CDs (and one DVD) of material, the first two of which contain a cross-section of choice live performances of the songs that easily best their recorded versions on the "born-again trilogy" of records. If there is anything that gospel music needs to succeed, it is the intensity, the soul, the vitality — the sheer aliveness of live performance. Freed from the airless confines of the studio, Dylan's apocalyptic visions ("Slow Train," "Ain't Gonna Go to Hell for Anybody," "When You Gonna Wake Up?"), grim admonitions ("Gotta Serve Somebody," "Cover Down, Pray Through") and his exaltations ("Saved," "Solid Rock," "What Can I Do for You?") come to life with an intensity that is almost frightening. (Those two CDs are available separately for those disinclined to purchase the full set, and they offer an ideal snapshot of the Dylan's music-making during this era.)
In addition, his bands of this era reveal themselves to be among the best Dylan has ever led, including Muscle Shoals regulars guitarist Fred Tackett and keyboardist Spooner Oldham, drummer Jim Keltner and as many as six background singers, all delivering Dylan's message with an urgency not exceeded in any other phase of his career. The Deluxe Edition contains two discs worth of rarities so that you can eavesdrop on Dylan tinkering with his songs in fascinating ways. Altogether, the set contains no fewer than seven versions of "Slow Train," and you can hear it evolve from a tentative shuffle to an energetic blast of rhythm and blues.
But it is Dylan's own voice that is the best vehicle for his newfound attitude, and it is the biggest surprise of "Trouble No More." Dylan is furious at the world's hypocrisy, incredulous at its refusal of God, on fire with the promise of salvation, awed by the presence of the Lord. (He is also, in later performances, alert to more worldly concerns, as in "Lenny Bruce" and "Caribbean Wind.") In every performance, his voice has a strength, a conviction and, yes, a rough tonal beauty that he had rarely marshaled before, and never would again.
I suspect that Dylan's conversion experience had a lot to do with where he found himself on that 1978 tour. He'd spent nearly a year playing bloated arrangements of his greatest hits to large audiences, and he'd done it, in large part, for money. ("It costs a lot to get divorced in California," he grumbled to a reporter in May of that year.)
A little more than a year later he was back on the road, but with renewed purpose. For a long stretch, he refused to play the songs that had made him famous. Instead, he took stages in small theaters to deliver a message — about the crooked and the straight, this world and the next, the saved and the damned. Audiences protested, they walked out, they demanded "the old Bob Dylan." He couldn't have cared less. No longer would he serve Mammon; he was now literally doing the Lord's work. (Eventually, he began incorporating his older material into his shows, and the deluxe edition contains a sizzling 1981 show in London that shows his past and present playing off one another in fascinating ways.)
Dylan is, of course, still on the road, and the latest iteration of his "Never-Ending Tour" arrives at Agganis Arena on Nov. 16. His public stance as a Christian is long gone, as are the songs of that era, at least for now. See him today, and you are likely to hear matchlessly smooth arrangements of the Great American Songbook sung in Dylan's agreeably raspy voice. He can still put on an excellent show. But he will never recapture the power that fired him through the performances collected in this set. More than his reputation was at stake. Night after night, standing in front of an audience that was alternately rapturous, indifferent and hostile, he sought salvation in a handful of songs.
---
Bob Dylan performs at Agganis Arena on Thursday, Nov. 16 at 7:30 p.m.
---
David Weininger writes the Classical Notes column for the Boston Globe, where he also contributes features and reviews. He's also written for WBUR, the Boston Phoenix, Gramophone, and BBC Music Magazine.