The Equation In Nora Theatre Company's 'Proof' Boils Down To A Dysfunctional Family Drama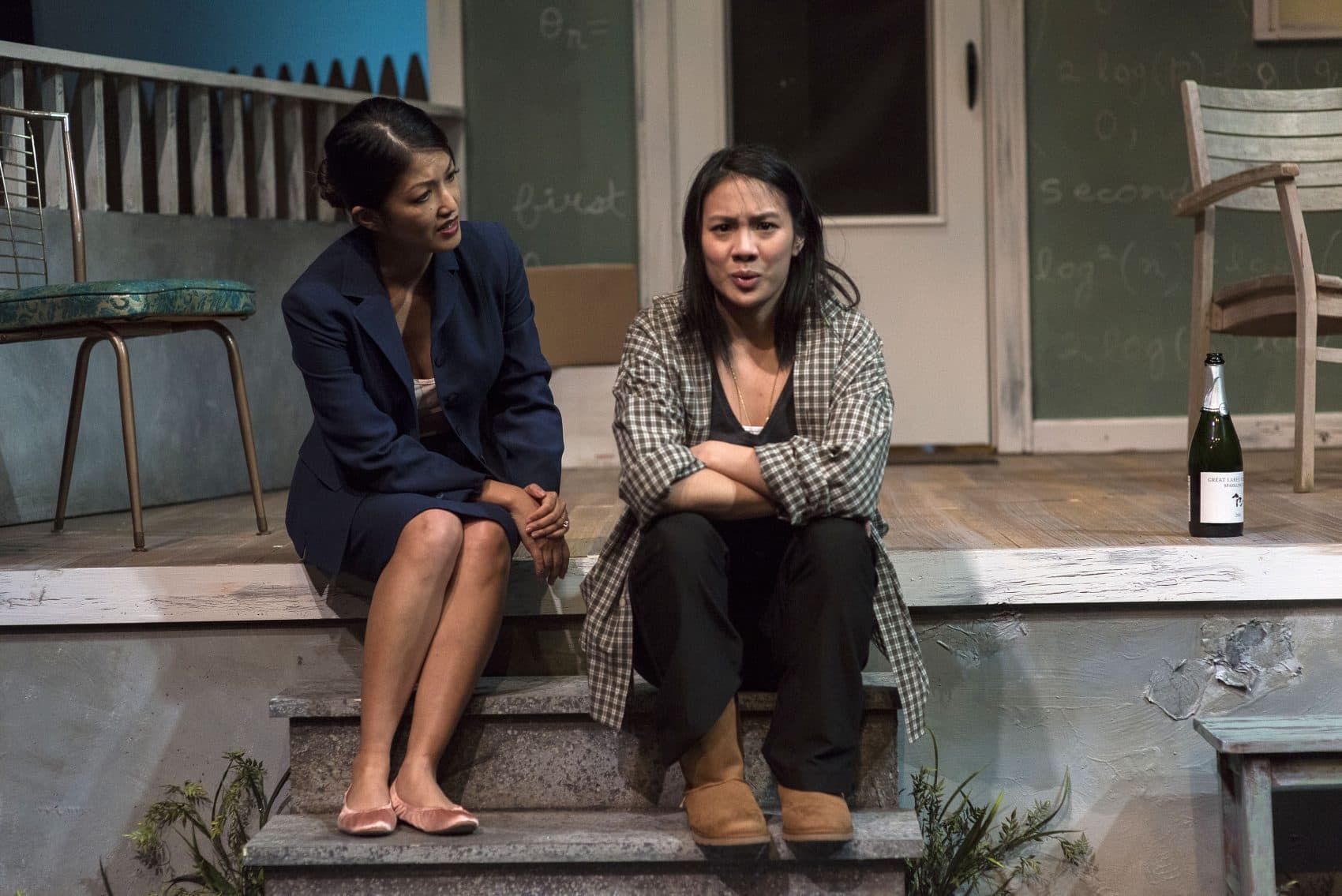 This article is more than 3 years old.
"Proof" may be about math geniuses, but you don't have to be one to get it. As for the book-sized equation of the title, playwright David Auburn doesn't pretend to get it. His characters wrestle over a notebook ostensibly containing a mathematical proof as elegant as it is groundbreaking. But against Chekhov's famous advice regarding an onstage gun, the heady contents don't get fired off.
So if your math expertise consists of knowing where you can buy a $4 calculator, don't be intimidated. The Nora Theatre Company revival of the 2001 Pulitzer Prize winner, at Central Square Theater through Feb. 18, may be a Catalyst Collaborative @ MIT production (which means it has at least one foot in math or science), but the play is at its core a dysfunctional family drama on top of which the contemplation of inherited genius, accompanied by the taint of madness, sits like a cherry.
Nonetheless, Auburn's best-known play, which also became a 2005 film, is very well made: a dramaturgical model of what mathematician G.H. Hardy (a character in Central Square's 2014 staging of "A Disappearing Number") describes as a good proof, combining "a very high degree of unexpectedness" with "inevitability and economy." Certainly Auburn's story hatches more than one surprise on its way to solving a mystery (and a life). And director Michelle M. Aguillon's production for the Nora is likewise well constructed.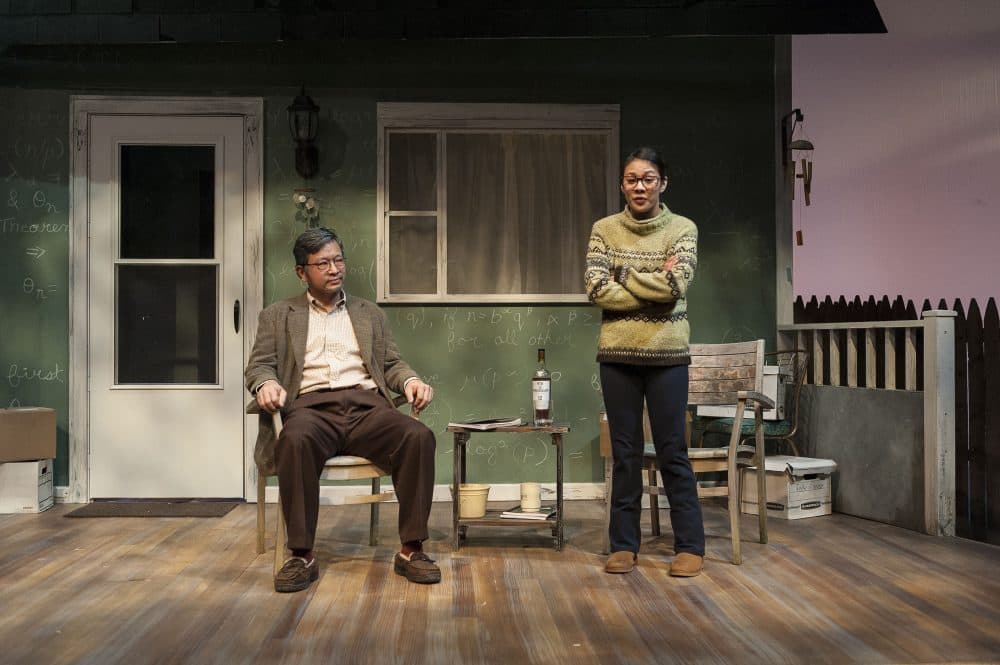 For the Nora, the story of brainy sisters processing the death of their unstable mathematician dad has been customized for Asian actors. So is that a potentially offensive cliché? (Auburn did not write the play's family as Asian.) I admit that I flinched when I first read about the casting, and Nora artistic director Lee Mikeska Gardner, who is white, admits in a program note that she worried it might play into stereotype. So the Nora honcho turned to Asian colleagues, including director Aguillon, who, having polled advisers ranging from her mother to her cast, reached the conclusion "that the way families process and grieve the death of a parent is universal.
Here, younger sister Catherine has sacrificed her education to remain in the family's Chicago home taking care of her off-the-rails dad, whose illness she fears she has inherited along with the prodigious abilities of his youth. (It is more than once emphasized that mathematics is a young man's — and less frequently a young woman's — game.) The more collected Claire became a currencies analyst in New York and paid the bills. Complicating their skirmish following the death of dad Robert is one of Robert's University of Chicago acolytes, Hal Dobbs, who is on the scene to cull through the shattered genius's papers in search of mathematical pearls that might have made it through the fog of the older man's decline and be found among his scribblings.
Unexpectedly for the depressed Catherine, who is 25 and suddenly relieved of her caretaking duties, romance ensues, leading to trust, then mistrust and the revelation of a possibly revolutionary proof — along with the question of whodunit. Meanwhile, Claire, who is looking to sell the deteriorating house and move her sister to New York, and Catherine have more baggage to sort through than just the suitcases that will accompany them to the Big Apple.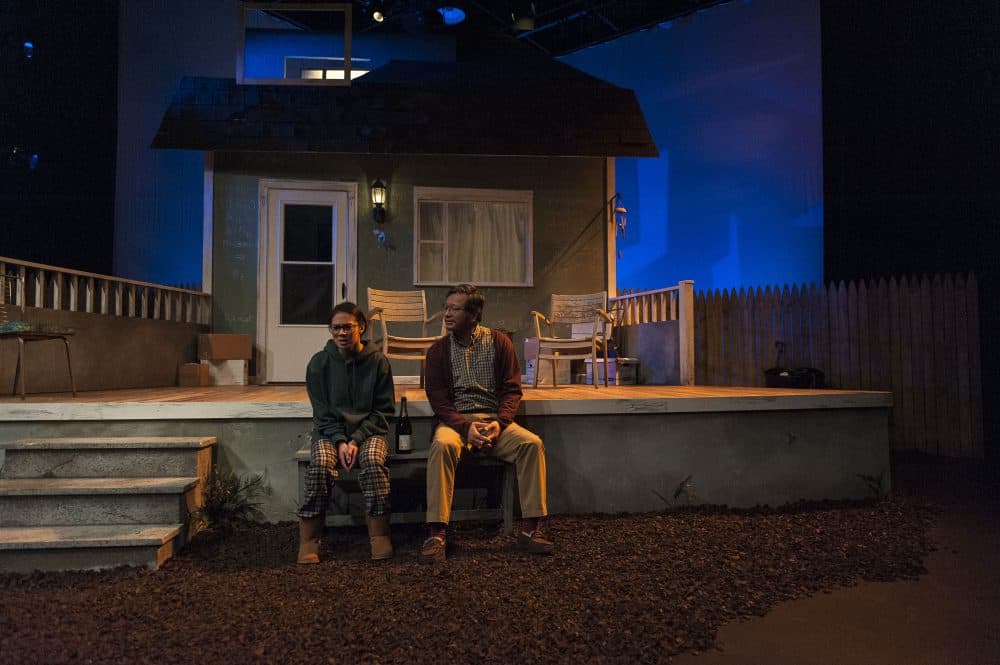 The play unfolds on a ramshackle back porch occupied by stacked boxes and some basic outdoor furniture. In Janie E. Howland's compact set, the structure includes the glimmering window of Catherine's upstairs bedroom and is surrounded by a bleak sea of wood chips. On the decaying steps, Cheryl Daro's trim and composed Claire — in her business suit and slippers, legs primly crossed — looks like some gorgeously groomed bird in a nest of flotsam.
The heart of the piece is the bright if bereft and dysfunctional Catherine, whom a contained Lisa Nguyen imbues with an apt mix of feistiness and scathing submission. And she matches Avery Bargar's amiably condescending Hal in the deployment of the math-geek jokes that help to ameliorate the play's mordant situation and passive-aggressive family sparking.
For his part, Hal, who is ambitious but not gifted, is the drummer in a band of musically impaired wonks whose repertoire includes a number called "i" (for imaginary number) that finds them playing nothing for three minutes. He's pretty chill about how silly that sounds. And Bargar's confident, beer-swilling characterization both gives a winking nod to the nerd typing and at the same time defies it.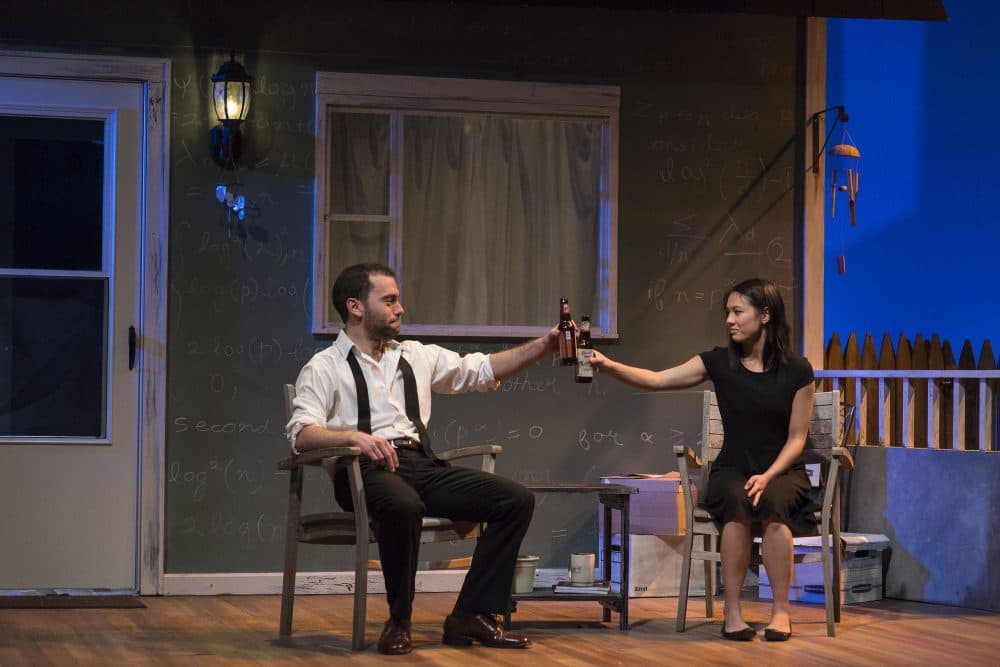 Perhaps the most difficult role in the play is that of Robert: loving father, arrogant professor, frayed genius reduced to framing fractured weather reports in mathematical formulas. Michael Tow, the most familiar of these actors to area audiences, does not completely solve the problem of this shadowy figure, but he does capture the pathos in a broken man who sometimes still perceives himself to be hot stuff.
Given the mission of the Catalyst Collaborative @ MIT, it was probably inevitable that "Proof" would turn up on the heels of Michael Frayn's "Copenhagen," which demonstrates physicist Werner Heisenberg's Uncertainty Principle in human terms, and Tom Stoppard's dazzling "Arcadia," which century-hops among literary and mathematical discoveries. Frankly, I wasn't sure we needed to see this pat if deft play again. But Nora makes a good case, if not exactly a proof, for it.
---
"Proof" plays at the Central Square Theater through Feb. 18.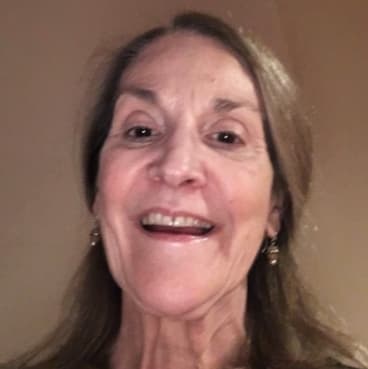 Carolyn Clay Theater Critic
Carolyn Clay, a theater critic for The ARTery, was for many years theater editor and chief drama critic for the Boston Phoenix.