Sweet As Ever, 'Waitress' Comes Home To Boston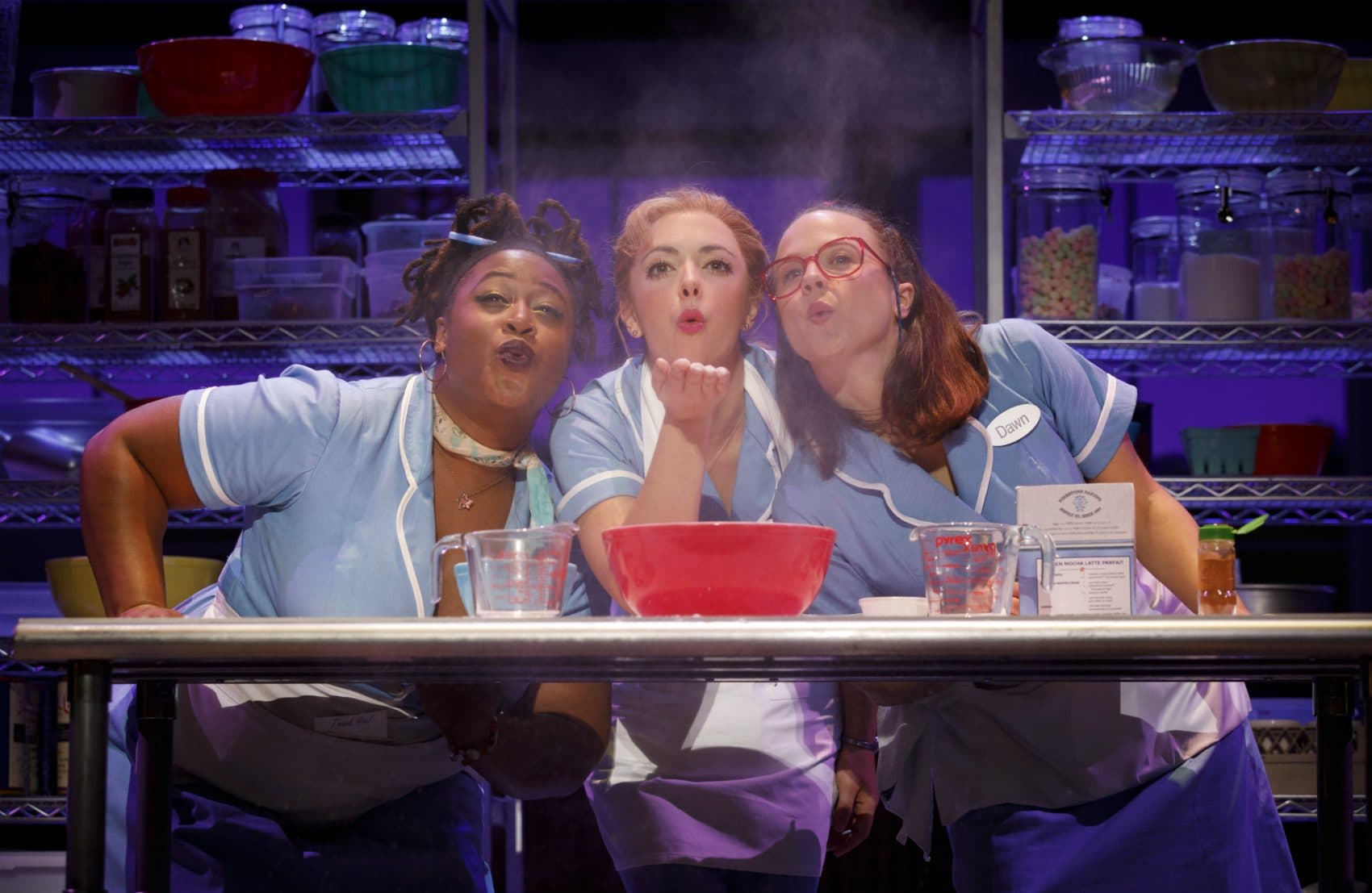 This article is more than 3 years old.
Broadway in Boston serves up another slice of the delicious musical "Waitress," playing at the Opera House through March 4. The play, which is based on the 2006 film by Adrienne Shelly and boasts songs by Sara Bareilles and a book by Jessie Nelson, originally premiered at the American Repertory Theater in Cambridge under the direction of Diane Paulus. Now, after a stint on Broadway, "Waitress" is back as part of a national tour.
Jenna (Desi Oakley) is the star of Joe's Pie Diner. She's more than a waitress; she's also the creative force behind the diner's ever-changing menu of creative baked goods. When life becomes too stressful, she slips into a pastry-themed fantasy place where her troubles suggest their own consolations, with strawberries, chocolate, spices and various other ingredients standing in for emotions like love, lust, fear and frustration.
She draws a lot of inspiration from her unhappy marriage to the abusive Earl (Nick Bailey), and her inventions reflect this, with names like "White Knuckle Cream Pie." You understand at once, because Jenna's is a white-knuckle sort of existence. A couple of scenes into Act I, learning that she's pregnant ("I do stupid things when I'm drunk, like sleep with my husband"), Jenna responds with a whole new creation: The savory and beer-laced "My Eggs Have Betrayed Me Pie."
This is a story where women turn to the bonds of sisterhood to sustain themselves, and the diner's triumvirate of memorable female characters is rounded out with the romantically frustrated Dawn (Lenne Klingaman) and the worldly, imposing Becky (Charity Angel Dawson). These ladies have got to look out for each other, because the men in their lives are certainly no great shakes; the diner's gruff manager and cook, Cal (Ryan G. Dunkin) is a grouchy presence, always blustering but easily put in his place, and the diner's owner, Joe (Larry Marshall) is the sort of old-school male who regards the tragedy of a long-ago girlfriend's miscarriage as "a close call." The best of the lot is Ogie (Jeremy Morse), a fellow Dawn hooks up with online and meets for a "five-minute date." In that short span he manages to bore her to tears, and yet when he shows up at the diner, eager to further their nascent relationship, he transforms from "stalker elf" to soul mate in a show-stealing turn by Morse (who, alone among the cast, originated his role). Still, if these two peculiar people weren't such good fits for each other -- they share a love of Revolutionary War reenactments -- you wonder at the ways in which Ogie's instant obsession might go wrong.
Then there's Jenna's new gynecologist, Dr. Pomatter (Bryan Fenkart), a twitchy, nervous sort. He's charming in a goofy, lost boy sort of way, but he's also awkward and uneasy in his own skin. "I'm off sugar," he apologizes when Jenna offers him her Marshmallow Mermaid pie, and it's probably a good thing; who knows what would happen if he were caught up in a sugar rush?
We find out the answer to this, as it happens, and it's that Dr. Pomatter and Jenna launch into a wildly inappropriate affair. Jenna's drawn to Dr. Pomatter's kindness, while he's smitten by her sweet disposition. The play's book doesn't really account for their overwhelming attraction — the film didn't, either -- but this is one of a number of ways in which Bareilles' contributions kick the story up a few notches and take the show to an entirely new and more successful level that the movie never reached. From the first tickles of temptation, accompanied by the song "It Only Takes A Taste," to the "Bad Idea" of their first assignation (in Pomatter's office, no less), to the passionate, semi-confessional strains of "You Matter to Me," we're conducted on a musical -- and grippingly emotional — journey right along with the illicit lovebirds. Yes, they're in the wrong — he arguably more than she — but they're both incomplete people, and in each other they find an answer, if only for a while.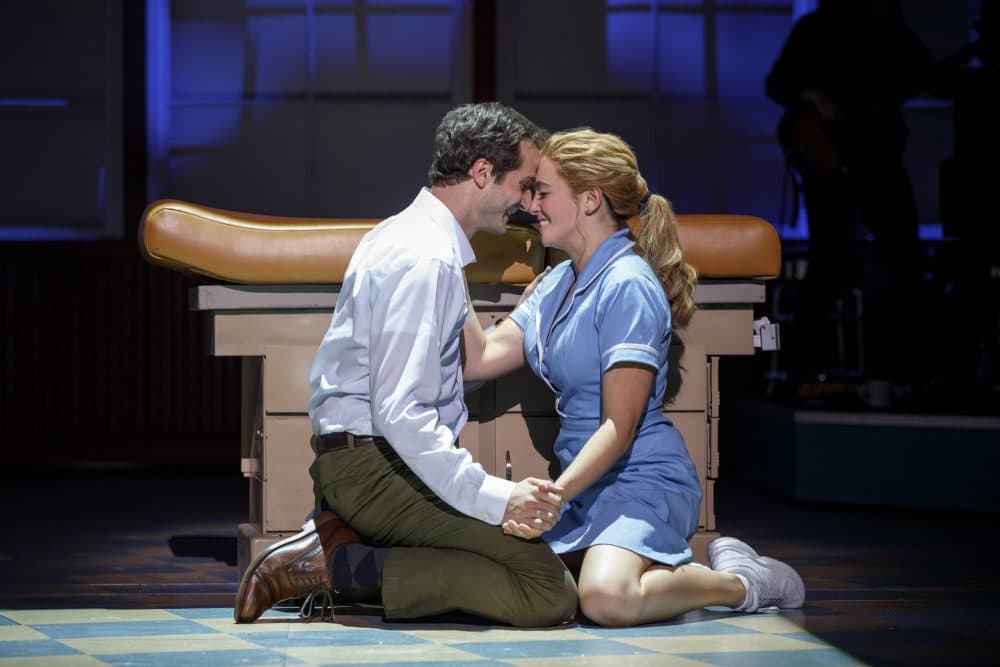 Bareilles works her magic all over the show. Starting with a short list of simple ingredients -- the lyrics, "Sugar, butter, flour," and a handful of notes she returns to time and again -- she builds a whole catalogue of ballads and anthems, dipping into various styles as she works. To love "Waitress" is to love its cast recording.
This show is very much like one of its own confections — a sweet and enticing creation, like whipped cream and chocolate poured into a shell made of less tasty stuff like domestic abuse and rampant sexism. The fact that Shelly herself was the victim of murderous male violence underscores her story's themes, and it's enough to send a chill down one's spine.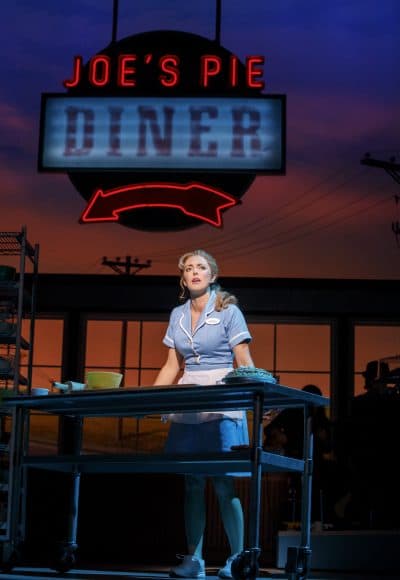 Every minute of this production shimmers. That said, you never quite forget Jenna's circumstances, and the play hints at unpleasant things happening offstage. One character suffers in a sexless marriage to a presumably closeted gay person; another is tasked with changing the diapers of a disabled spouse. Thank the gods, then, for pies and pop music.
Almost all the cast and some of the design team (most notably, choreographer Lorin Latarro) may be different in this touring production, but in many respects this is much the same show that surprised and delighted audiences at the A.R.T. Paulus is still in the director' chair; Nadia DiGiallonardo still serves as music supervisor; and Scott Pask's set design is back with its uncluttered and airy feel, which helps the show to expand into and fill up the larger space of the Opera House with ease. Pask's minimalistic design work also allows the story to breathe: No ceiling, glass or otherwise, obscures the wild blue above the cast's head. For pie-making dreamer Jenna, the sky's the limit.
---
"Waitress," via Broadway in Boston, is at the Opera House through March 4.
Kilian Melloy Theater Critic
Kilian Melloy is a contributor to WBUR's The ARTery.