Joiri Minaya Reclaims The 'Gaze' Of Female Bodies At UMass Boston Exhibition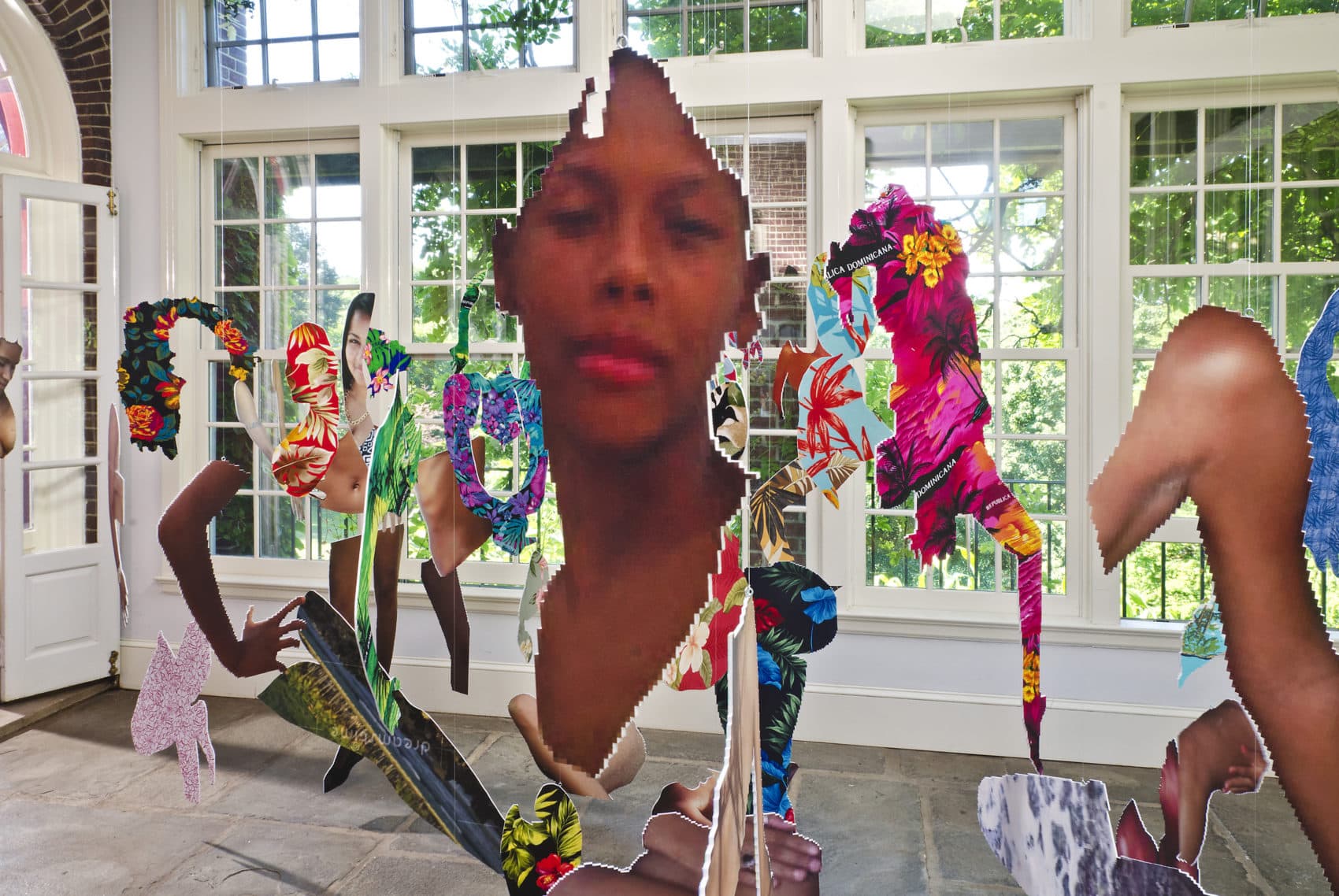 A bare arm, a shoulder, a thigh, a calf and a torso all swing seductively from the ceiling. On the reverse side of each pixelated body part, mounted on PVC board, is another image — a print of the type you might see on a Hawaiian shirt. Palm trees, flowers, sunsets, and even a pineapple undulate gently along with all that bare skin, creating one tantalizing tropical flurry.
The installation now on view at UMass Boston's University Hall Gallery, part of the exhibit "Gazing Back," is called "#dominicanwomengooglesearch." It's a compilation of some of the pictures artist Joiri Minaya found online when she decided one day to google the term "Dominican women."  If you try it yourself, you'll find photo after photo of scantily-clad brown women, sometimes on the beach, sometimes not, striking alluring "come hither" poses.
Minaya, who herself is of Dominican heritage, decided to embark on her Google adventure after being constantly asked about her accent. Her internet search exposed something she always knew: that Dominican women, the "exotic" other in the English-speaking world, are largely depicted as tropical temptresses available for one's vacation pleasure.
It is a paper doll way of existing, a life lived at the behest of the male gaze. But by deconstructing and blowing up the internet images and allowing them to move freely and recombine in the air as they see fit, Minaya has, in effect, engaged in an act of liberation. She has pried these women free from someone else's ogling eyes.
"I think there's an aspect of obfuscation or negation ... in the pixelating," she says. "When you break it down in pieces, it becomes kind of object and it's no longer something pleasing, or it's no longer what you expect."
"I try to install it in a way that as you walk around it, different bodies begin to form and deform, and that to me is kind of an escape from one way of representing the body," Minaya says.
Escape and defiance of that one way of representing female bodies is the subject of "Gazing Back," which is open through May 4. It's Minaya's first solo exhibition in Boston, and includes installation, sculpture, photography, video and performance. At the heart of it all is a bold attempt to wrest tropical identity from a North American and European narrative, to flip power dynamics and, she says, to take the gaze and "turn it upon itself, mainly by seeming to fulfill its expectations, but instead sabotaging them, thus regaining power and agency."
And so, in reclaiming the gaze, not only does Minaya present her "air collage" installation of cut-out Dominican women, but also a series of photos, videos and fabric works that tackle the same subject.
In a series entitled, "I can wear tropical print now," Minaya presents shirts printed with flowers and palm fronds that she found in a thrift store in Detroit. Each shirt, set against more patterned fabric and framed, has been embossed with a phrase or words. On one shirt we can just barely make out the word "opacity," a reference to French writer Édouard Glissant's idea that oppressed people have the right to keep their identity and culture to themselves, to not be completely understood, and to simply exist as different.
Another shirt is emblazoned with the words "decorative, fleeting, interchangeable, disposable." In much smaller lettering at the bottom of the shirt are phrases that you might almost miss. One reads, "like taking selfies with poor but smiling, unrelated brown kids." The other, "like contacting a girl online to date during a vacation." A different shirt is printed with the words "Lack of Self Consumes Others."
"The Hawaiian shirt was kind of like the prototype for 'tropicalness,' global 'tropicalness,' or contemporary tropical aesthetics," Minaya says. "You have these ideas about the tropics forever, or since Europeans were exploring and doing botanical expeditions and doing little illustrations of botanics. That's where that aesthetic comes from. But it wasn't a commodity, like a consumer product, until you arrived at the Hawaiian shirt."
Although Minaya was born in New York, she spent much of her childhood in the Dominican Republic and attended the Escuela Nacional de Artes Visuales in Santo Domingo. She went on to study at the Altos de Chavón School of Design in the Dominican Republic and the Parsons School of Design at the New School in New York, where she graduated in 2013. Today, she lives and works in the Bronx, but feels that having lived in both the U.S. and in the Caribbean has positioned her to have a unique perspective on race, gender and post-colonial theory.
When Minaya wore a tropical shirt to school in New York, for instance, a friend jokingly commented, "Ooohh, tropical!" while shimmying her shoulders in a move straight off the Copacabana dance floor. Suddenly, she realized how she might be perceived in the States, as a Dominicana.
"What the tropical shirt moment kind of made me realize was that I was that idea for someone else, that I could be standing for all of these symbols and thoughts and desires for someone else," she says.
Also on view in "Gazing Back" are two photographs entitled "Container #2 and Container #3." They feature Minaya on the beach and in a forest enveloped in a tropical fabric that covers every part of her body. The body suit blends in with the landscape, acting as camouflage, obscuring the typical poses we saw earlier in our Google search for Dominican women. Again, Glissant's idea of opacity comes into play.
"I was thinking of this idea that he talks about, of defending the right to remain opaque and maybe making that literal with that image," Minaya says.
Covering the body was a way to proclaim, "You're not going to see me," she says, while at the same time reflecting back stereotypical images that she says people have "already spent a while crafting."
In the video "Labadee," named after the Haitian touristic port popular with cruise ships, Minaya was inspired by a cruise trip she took with her own family. Two plastic loungers of the sort you might see on board are set before the projection of a seven minute tape that includes shots of musicians playing in a gated resort, children waving and gesturing beyond the resort fence, and other scenes that might be glimpsed by any cruise ship tourist.
It also includes the unseen gestures by the cleaning crews and the orchestrated censorship that keeps tourists safely within the confines of a tourist district.
Minaya has made a point of separating the gallery from the rest of the world both literally and metaphorically by using the floral print fabric that is the exhibit's motif. (It makes sense that so much of her work involves fabric since her mother owns a clothing store in the Dominican Republic.) The idea for the fabric wall comes from Labadee, where native Haitians are clearly separated from tourist traffic by a wall.
"It makes certain dynamics very evident of access and privilege," says Minaya. "I wanted to echo that idea."
For her, it was a physical and tangible way to allow visitors to explore the ideas of negation and opacity.
The tropical fabric is gay and lively, but with it comes an implicit warning: you can gaze as much as you want but there are some things you will never see.
---
"Gazing Back" is on view at UMass Boston's University Hall Gallery through May 4. Minaya presents an artist talk on April 18th at 5 p.m. in University Hall, 2nd floor, Auditorium 2310, followed by a reception in the gallery until 7:30 p.m. It is free and open to the public.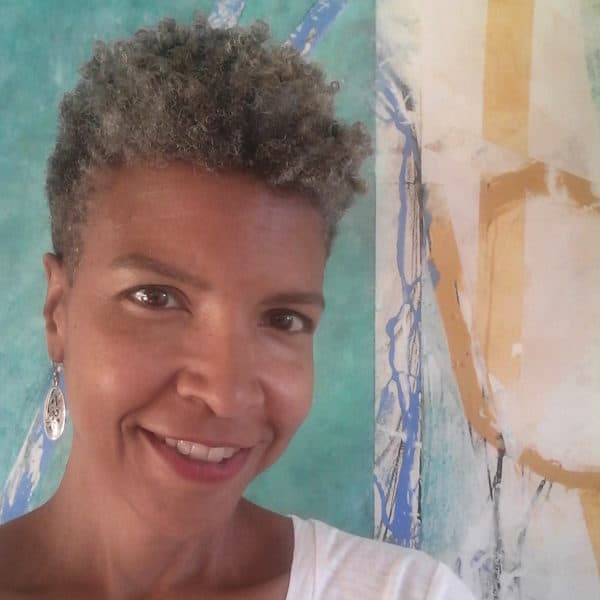 Pamela Reynolds Visual Arts Writer
Pamela Reynolds is a writer and a visual artist. She was a feature writer and editor at The Boston Globe for more than a decade.