Halfsour Carves Out A Spot For Pop In Boston's DIY Scene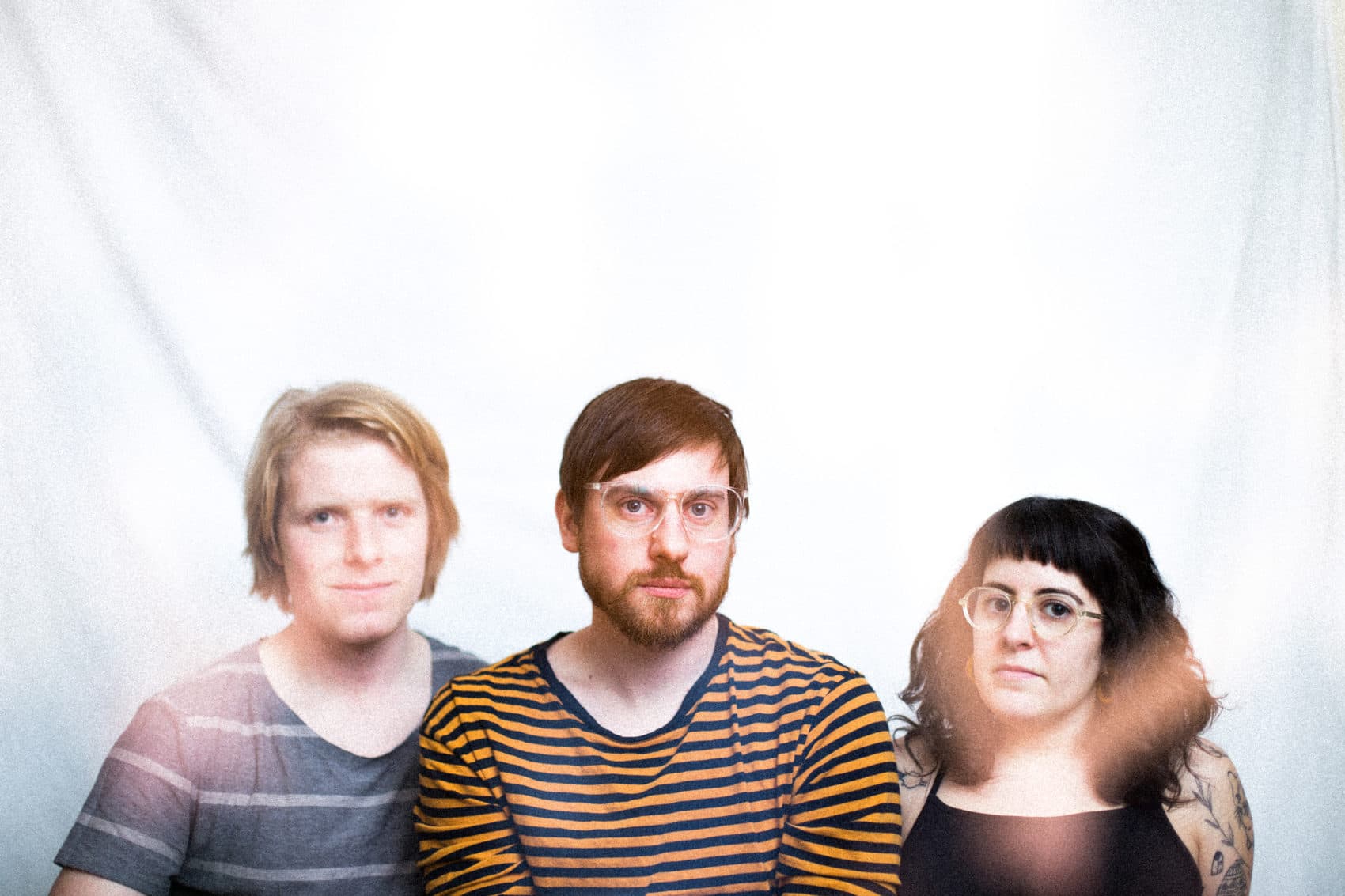 This article is more than 1 year old.
In Boston's DIY scene, bands come and go. Rents rise and new college students show up every September. But, indie pop band halfsour has proven its staying power.
Currently made up of vocalist and bassist Zoë Wyner, guitarist Matt Mara, and drummer Travis Hagan, halfsour started out as a Guided by Voices cover band in 2012 with then-drummer Ian Gustafson. Known for their catchy and energetic sound and relatable lyrics about the mundane, the trio has soared to new heights by honing in on their identity as a band, being more thematically focused, and incorporating varied influences and techniques in their sophomore LP "Sticky," out earlier this month.
halfsour is defining the sound, or at least paving the way, for pop in the Boston DIY scene. It is not quite synth-pop like Grimes and not quite dream pop like Beach House, but a sonically cohesive, riff-laden, somber sweetness comes through in the vocals. The band's new record is fuzzier and louder, with post-grunge influences.
Wyner said she hopes people listen to Sticky as "a concept album about existing in Boston in this day and age," adding that the band gave great consideration as to how the different songs intertwine to form a dynamic arch.
The band recorded the album at a barn in the middle of New Hampshire — listen closely and you could hear barn swallows on some of the songs. "I feel like some of the performances are really good, rough around the edges in a nice way. The tempo pushes and pulls a little bit," Hagan said. "It's also a different setting for us too. We were in a barn... We were all wearing overalls, the weather was really nice."
Wyner's relatable annoyance for both individuals and society drives the writing on "Sticky." The track "Cowboy" is about the pressure of going to a show and feeling like you have to talk to people you're not very close with and wanting to go home and retreat to your blankets. "Slug" focuses on irritation with people who say they're going to do something but don't. "Television Professor" melds irritation with sadness — the track is about people who were formerly passionate about their art now spending all of their time in front of the TV.
Other songs get more introspective, like the perceptive "Blurred Camera Phone" and "Paper Window." Wyner wrote the former at a time when she felt like she could move past expectations set for her by her family. " 'Paper Window' is more about watching someone from a distance as they're changing. So I guess maybe it's like being on the other end of 'Blurred Camera Phone.' 'Paper Window,' there's definitely a lot of sadness in that song," Wyner said.
Wyner said that the band draws influences from a variety of places, including late '70s power pop bands, '90s power pop bands like the Lemonheads, Cold Beat, Eddy Current Suppression Ring, and krautrock.
Power pop from the '70s is particular influential, she said. "It's sort of this moment where pop music and rock 'n' roll were fusing in a way where pop is definitely the overarching descriptor and there are lots of hooks, the music is catchy and it's fun, but there's also a little bit of sort of grit of rock 'n' roll behind it rather than being pure pop," Wyner described.
Existing in Boston, especially as an artist, has proven challenging. Dustin Watson, founder of record label Disposable America that released Sticky, said that there is a lot of turnover in the Boston DIY scene. "I definitely think it's [gentrification] the reason why you see a turnover every few years of just who is still around and who is active in the music scene. It's constantly evolving and reshaping itself just because it's not sustainable to be able to be here in terms of how much it costs to live here," Watson said. "I can't picture leaving Boston but I also don't know how sustainable it is to keep running a record label out of my increasingly expensive apartment."
Mara said that while there is a supportive community of artists, the city itself is not doing enough to retain their artists. "You can't be a musician in the Boston area and not have to battle with in general monied interests changing the landscape of where you live and work and create."
But the band is still here making music and leading the charge for indie pop. "I think we function despite what's going on around us. I think that we continue to make the music we want to make regardless of what's trendy, which means that sometimes we'll be on a show where we're by far the loudest band and we're playing with singer-songwriter types and other times we'll be on a bill with Kal Marks and we'll feel very, very quiet comparatively. I think that it's really important to us to put our sonic preferences ahead of whatever is trendy at any given moment," Wyner said.
Mara echoed Wyner's sentiments. "At the end of the day, it's music, it's loud, it's noisy, it's rock 'n' roll. There's a lot of melody and a lot of fun in it."