Hella Black Trivia Makes Space For Community And Culture In Roxbury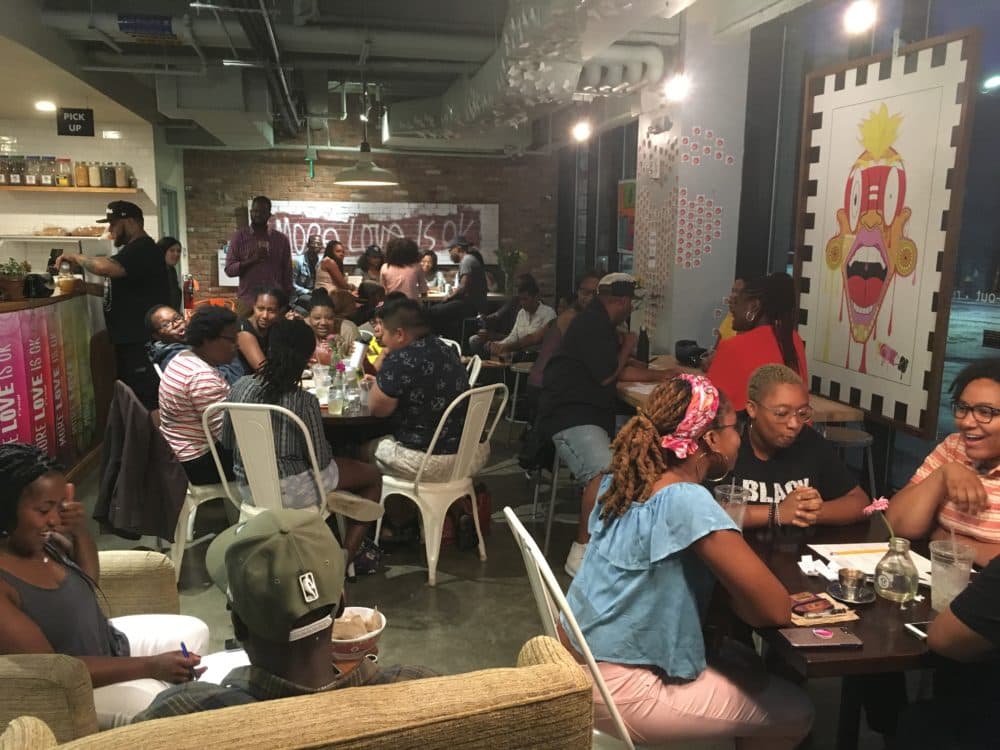 Dudley Cafe in Roxbury is quaking with laughter and conversation. More than 40 people of various ages have come to the cozy eatery inside the Bruce C. Bolling Municipal Building for Hella Black Trivia, which occurs every third Tuesday night of each month. The bright white space with light wood, colorful art and exposed brick feels like a living room and lounge space with its mix of white iron chairs, high-back seating and couches.
While hosts Eric Esteves (Pops) and Jeff Grey (Professor) get their microphones and computers situated beneath a stained-glass 'Fearless' sign, some guests order food, sip wine and share hugs. Others gravitate to the tables and couch area to form teams and chat.
Before the game begins, a numbered piece of paper arrives on the tables. Groups write their team names at the top and get ready to compete. Grey tells the crowd that the house rules are to "have fun, only use resources from your team…meet new people and build community." Each trivia night has a theme and questions fall into categories like "Jeopardy." Team members place a wager on paper (the hosts announce how many points players can bet) that reflects their confidence in the answer. Then, they deliver the responses to the hosts. Later in the game, the stakes get higher and answers are worth more. During deliberations and in between rounds, Esteves and Grey heckle the crowd good-naturedly and the crowd claps back.
First-time players might be startled to learn that the game goes far beyond the common data sets about prominent historical figures such as Martin Luther King Jr., Harriet Tubman and Malcom X. For example, Grey asks what the character Tootie's real name was on the '80s hit sitcom "The Facts of Life" and hints that the character's name is shared with the first black woman to be nominated for an Oscar for best actress in a leading role. Another asks about black cinema. Throughout the night, math, history and hip-hop queries are posed. "It's really about opening people's minds to what black trivia could be," says Grey.
Years ago, Esteves and Grey went to a trivia night at an Irish pub and quickly learned that the questions seemed to lean in one direction. "They were all like, 'Which Guns N' Roses album was this? Which episode of "Friends" was that?'" Grey says. The two did well enough, but it spurred Esteves to ask Dudley Cafe if they would allow him (and co-founder Andre Kelly who has since moved out of the area) to host a trivia night. Initially, Grey was a loyal patron and sometime guest host. Now, he's a permanent figure.
Since then, Hella Black Trivia has gained a faithful following and has hosted events at La Fábrica Central in Cambridge, Tufts University, Dorchester District Court, Wellington Management and Tanám restaurant in Somerville.
At the urging of Biplaw Rai, Dudley Cafe's general manager, the duo launched the Hella Black Trivia card game for purchase at the end of last year. Like the event series, the game offers a diverse set of questions that touch on everything from the War of 1812 to potlikker (pot liquor) to accomplished black politicians. Esteves' sister, Carmen Esteves, created the logo (for trivia night and the game) and Martina Wilson helped with product development.
Everything Esteves does is entrenched in community and purpose. He's the newly appointed executive director of The Lenny Zakim Fund, which provides grants for social change; he works with Root Cause, a consultant group that partners with foundations, nonprofits and more to develop strategies that improve people's lives; and he's behind this summer's TEDxRoxbury event. Grey, one half of "The Poet & The Professor" podcast, is a writer and performer who seeks to broaden people's horizons in all that he does. With guests like local artists, polyamorous couples and flat-earthers, Grey hopes listeners were able to hear that "your ideological opponents are more like you than you think."
For now, the two are having fun with Hella Black Trivia and there are no signs of slowing down.
The goal, says Esteves, is to "have fun and to meet new people…for people who've never done trivia to do it, [and] to realize they like it and to come back. It really is a kind of a movement."
Grey realizes through this work that "people have a thirst for trivia. They have a thirst for community. They have a thirst for knowledge and for having their expectations defied, as long as they're considered."
Esteves and Grey work hard to maintain consistency and quality when it comes to the Hella Black Trivia experience. The launch of the series was successful from the start and the demand continues to grow. Currently, Hella Black Trivia night draws approximately 50 people each month. They have plenty of reoccurring fans (many of whom they know by name) and new attendees every month.
Frequent participant Latoya Gale looks forward to attending because it "centers the black identity." She loves the interaction between the hosts and the crowd and learning new things, but overall, "It's a space where you don't have to explain everything. There are jokes that we get here that other crowds just won't get."
"It really feels like a place of belonging," Gayle says.
---
Hella Black Trivia occurs every third Tuesday of the month from 8-10 p.m. at Dudley Cafe in Roxbury. The next takes place on March 17.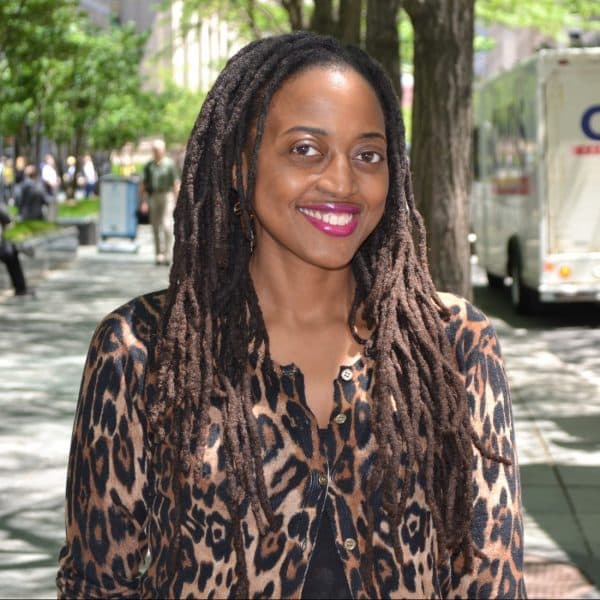 Jacquinn Sinclair Performing Arts Writer
Jacquinn Sinclair is a freelance arts and entertainment writer whose work has appeared in Performer Magazine, The Philadelphia Tribune and Exhale Magazine.