Boston Institutions Urge Congress To Act Now To Fund Museums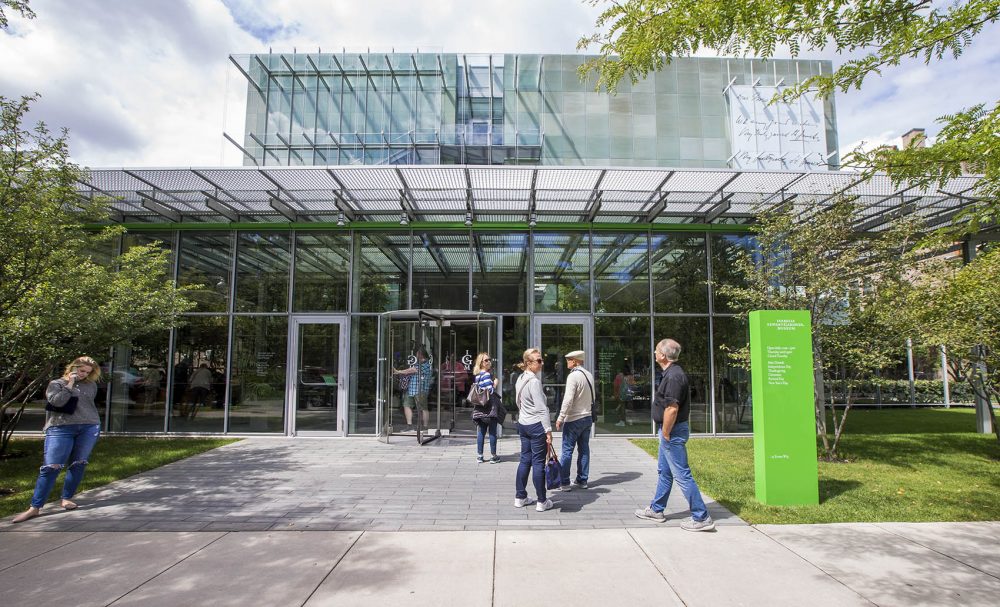 It's been two weeks now since the reality of life under a pandemic started to sink in here at home. Universities announced students needed to pack up and leave, workers were told to stay home if they could, venues cancelled their performances, and the institutions that care for and house our artistic masterpieces shuttered to the public, putting their future in question.
Now, the American Alliance of Museums (AAM) is asking Congress for immediate assistance: at least $4 billion for nonprofit museums in COVID-19 economic relief legislation to provide emergency assistance through June.
Many of our major institutions are privately run, and typically don't receive much funding from the government. They operate on revenue from donations, admissions, and events. Suddenly, that money isn't coming in. According to AAM, museums nationwide are losing at least $33 million a day due to closures as a result of COVID-19. But even though these museums are closed to the public, protecting and maintaining their collections keeps operating costs high. Boston's Museum of Fine Arts, for example, employs 750 full- and part-time staff, many of whom must stay on to provide security, maintenance, and conservation.
"Access to emergency funding now is crucial to ensuring that our staff can keep doing the work they love, and we can continue to plan and create the programs that our Boston community has always counted on," says Karen Frascona, director of public relations for the MFA. "We are working overtime on everything from developing educational materials for students to investigating the possibility of rescheduling local artists who have had performances and events canceled."
In addition to the $4 billion in aid, AAM is also asking for Congress to adopt a temporary "universal charitable deduction" to help incentivize charitable giving which is expected to decline in the months ahead. Museums contribute $50 billion a year to the U.S. economy, and support 726,000 jobs annually, according to AAM. Without immediate relief, the alliance estimates that 30 percent of American museums will not reopen, and small and rural communities will be the hardest hit. One of the most immediate concerns in the field is the possibility of large-scale layoffs, especially for the lowest paid and hourly staff, precisely the people who are most vulnerable to the economic fallout from the virus.
Frascona says that their closure affects every aspect of the MFA's commitment to staying at the center of the community. They're no longer able to share their global collection with visitors, and they're unsure of when that's going to change.  "For the entire MFA team, that's been the most difficult part of the situation."
Local museums are finding creative ways to honor their mission to serve the public while their doors are closed. On Friday, the Isabella Stewart Gardner Museum posted their first series of #FanArtFridays on Instagram, highlighting Gardner-inspired artwork from their fans. Peggy Fogelman, director of the Isabella Stewart Gardner Museum, says that these initiatives are crucial to fostering the kind of dialogue and sense of connection through art that she believes are more important than ever in these divisive times.
"It is heartbreaking not to be able to offer the solace, inspiration, and connection that art can provide in times of crisis," says Fogleman. "We're finding ways to stay connected digitally with our visitors and share the museum, its stories and collection online and through our social media pages."
Frascona says that the MFA is also doing what it can to expand its remote programming. "In the midst of so much uncertainty, our actions are guided by one certainty: a belief in the power of art and artists," she says. "We act on a belief that art can foster community at a time when we are so isolated from one another."
AAM stresses that museums are the most trusted source of information in America, with 98 percent of Americans considering them to be educational.
"Museums can leverage this high level of public trust to provide education on COVID-19 and fight misinformation about its spread," said Laura Lott, president and CEO of AAM, in a press release. "By empowering the public with the information they need to lower their risk of contracting or spreading disease, museums can help sustain healthy communities, maintain calm, and reduce the chances for an increase in discrimination or xenophobia often created by global diseases."
But these programs cost money, and that's why AAM is calling on Congress to provide the immediate relief they say is necessary to safeguard their collections and pay their staff. Basically, they need the public's help to keep serving the community, says Fogelman. "We need the public's help in stressing to our legislators the importance of art and culture and the need to support the artists and institutions that bring joy and a sense of connection to so many in our communities."