4 Documentaries To Watch From The Woods Hole Film Festival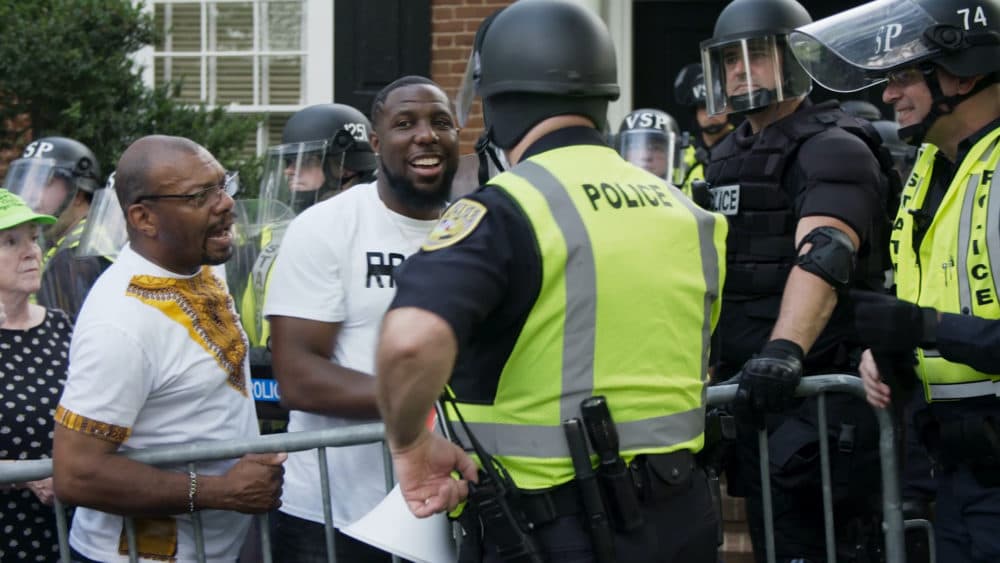 The oldest film festival on Cape Cod and the Islands won't be deterred by COVID-19. Even though the Woods Hole Film Festival, which celebrates its 29th season July 25 through August 1, will be an eight day virtual event this year, audiences can still expect an adventurous slate of films and conversations with filmmakers.
The festival has earned a loyal following thanks to its commitment to the work of emerging indie directors from around the world. This year, despite the challenges and disruptions, is no exception. The program offers a total of 188 films: 42 feature narratives and documentaries and 146 shorts, as well as discussions with filmmakers. Although viewers can stream the films at any time, WHFF will post a suggested watch time that coordinates with the live Q&As.
Here are a few highlights among the many worthy films:
Making its world premiere at WHFF is director Karla Murthy's inspiring documentary about the efforts of some Youngstown, Ohio residents to revive their beleaguered community. The film tracks the decline of Youngstown from a once-thriving Rust Belt city to a desolate place of vacant houses that are often the targets of arson. The film focuses on young residents who've chosen to "stay and fight": Ian, the son of a steelworker, has returned to his hometown to head a non-profit that remodels some of the hundreds of abandoned houses in the city. Julius, a native who rehabilitated his own life, now owns a car wash business and wants to help rebuild Youngstown. Mixing these present-day efforts with haunting footage of the once bustling city and its vanished middle class, the film is a powerful and enlightening look at local activism at the grassroots level and how change can happen — one house at a time.
Like "The Place That Makes Us," this world premiere documentary also features an admirable band of optimists who've taken on a seemingly insurmountable task — the political divide in America. Director Ben Rekhi's timely film follows several citizens on various missions. Most affecting is David Leaverton, a former Republican strategist, and his wife Erin, who after the 2016 election were so disturbed by the discord among Americans that they sold their Texas house, piled their three kids into an RV, and toured the country to listen to people who were different from them. They end up being genuinely moved by stories of injustice and racism, particularly when Erin Leaverton visits the border and talks to mothers fleeing violence in Central America. Based on a book by Mark Gerzon, who is interviewed, the film also profiles Greg Orman who ran for governor of Kansas as an Independent in 2018; Steven Olikara who founded the Millennial Action Project; and Susan Bro, whose daughter Heather Heyer was killed by a neo-Nazi who drove his car into protestors during the 2017 Charlottesville rally.
Director Judith Helfand documented her own DES-related cervical cancer diagnosis at age 25 in her award-winning 1997 film" A Healthy Baby Girl." Helfand's latest personal documentary "Love & Stuff" is something of a companion piece. With her characteristic self-deprecating humor and poignant insight, Helfand explores her mother's death and her decision to become a single mom at 50. After nursing her tough but affable mother, Florence, through the final stages of her life, Helfand must quickly clean out her mother's house, a task fraught with the grief of memory. Some 63 boxes of her mother's possessions end up in Helfand's cramped New York City apartment. When she adopts her baby daughter, Helfand finally commits to losing weight after years of promising her concerned mother that she would. Although funny and relatable, "Love & Stuff" is ultimately a moving meditation on mothering, holding on and letting go.
Blending the best of "Behind the Music" and "20 Feet from Stardom," this entertaining documentary looks at how five singer-songwriters, all children or grandchildren of renowned musicians, still have to pay their dues in a changed, merciless business. The film follows Chris Stills, the son of Stephen Stills and Veronique Sanson; Skip Marley; grandson of Bob Marley; Ben Taylor and Sally Taylor; the children of James Taylor and Carly Simon; and Kori Withers, daughter of Bill Withers, as they navigate budding careers, unexpected obstacles and emotional upheaval. Withers, especially, struggles to overcome her father's distance and disinterest. Directed by Kate Davis (2001's "Southern Comfort") and her husband David Heilbroner, who together made the Oscar-nominated short documentary "Traffic Stop" (2017) and, most recently, "Say Her Name," about the life and death of Sandra Bland, "Born Into the Gig" lets us hear from the famous parents, too, but wisely focuses on the younger generation as it examines the difficulty of finding one's own voice.
---
To stream these films and for more information, visit Woods Hole Film Festival.