5 Things To Do This Weekend, Including Kaki King At MASS MoCA And Maple Sugaring
The light at the end of the tunnel is what this month feels like, for me. As we approach Daylight Saving Time (we "spring forward" on Sunday at 2 a.m.), and the weather has gotten nice enough to go on walks, I am excited for what's to come. This time last year, I started to appreciate nature more than ever since that's all we had when life started to close down. I am really looking forward to catching a sunset after work. The events this week are a mix of things, and some are in-person for those who want to get out!
Thursday, March 11
The Mass Art Art Museum (MAAM) is collaborating with the college's illustration department to bring to you an engaging evening to spark your creativity. Adi Sun, a Boston Music Awards nominee and trans musician, will be performing live music as you doodle whatever comes to mind. Formerly of the band Phenomenal Sun,  Adi Sun will play music from their different projects. Their music offers a dream-like emotion with smooth guitar riffs — it's bound to inspire some beautiful art!
---
Saturday, March 14 and Sunday, March 15
If you can't get enough of maple syrup — this is the event for you! Appleton Farms will have homemade maple-filled food made in their kitchen, demonstrations of maple sugaring, and even the chance to take a self guided walk through the maple trees. When you're ready for a rest, you can settle beside a fire pit for a cozy picnic and enjoy your maple treats with your loved ones. Maple season at the farm runs until the end of March.
---
Saturday, March 13
MASS MoCA has created a curated listening experience so that you can "feel art with your ears." Kaki King, a guitar player who has a long-established relationship with the Berkshires museum, has recorded music specifically for this auditory experience. King's music provides you with a unique soundscape as you wander through the museum after hours taking in the work of Sol LeWitt, Louise Bourgeois and Jenny Holzer.
---
Sunday, March 14
After a year of being mostly indoors, something I was really missing was the energy at a weekend brunch spot — but the Institute of Contemporary Art is bringing it to you! Although the ICA is closed to the public for another week, they continue to curate virtual events. This Sunday, DJ L'duke (who you might know as DJ LeahV) is bringing that energy straight into your home. I know, you're probably wondering where the BRUNCH part is coming from — the ICA has partnered with Four Seasons Hotel chef Kelley Schmidt to share a recipe for a delicious "beets and bleu salad."
---
Sunday, March 14
Join a very particular kind of potluck — one that you you bring a poem instead of a dish. Hosts of the virtual program, best-selling author Anita Diamant (she wrote "The Boston Girl" and "The Red Tent") and Tristan Boyer Binns of the Down Under School of Yoga, will take turns reading poems sent in by the participants. You can bring classic poems, unpublished work, or something new!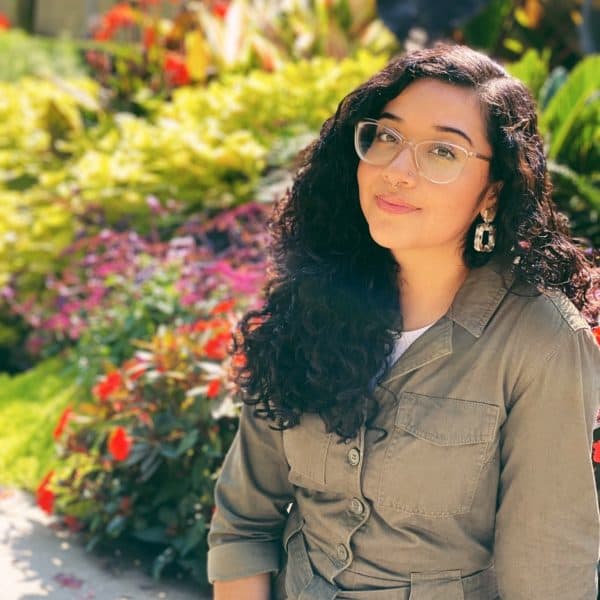 Magdiela Matta Arts Fellow
Magdiela Matta is the reporting fellow for The ARTery, WBUR's arts and culture team.