On Being Gay In Medicine: After The Supreme Court Victory, Still Work To Be Done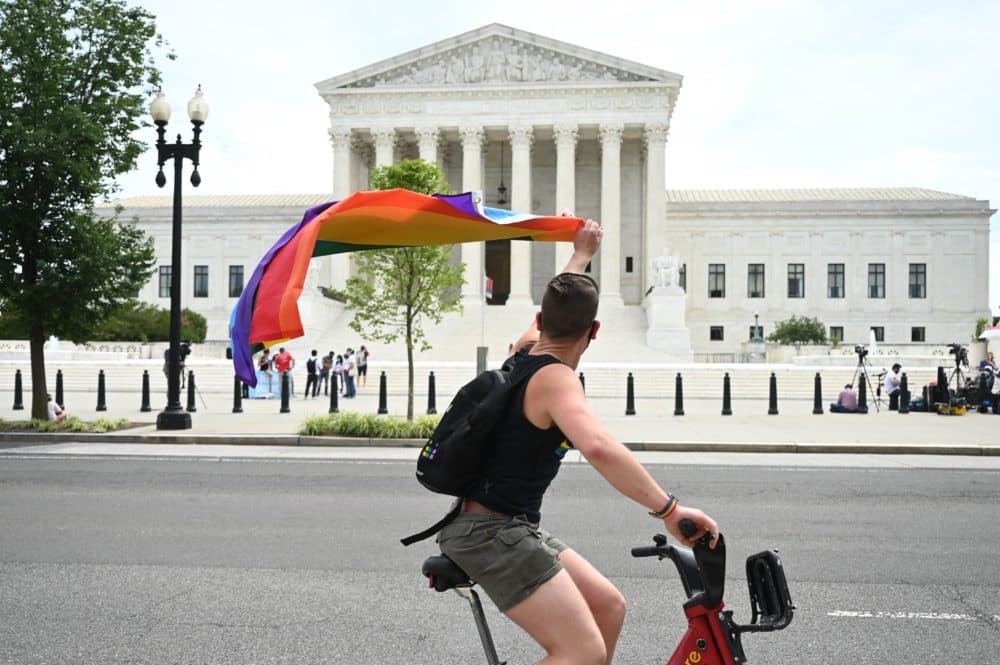 Editor's note: In 2012, When CommonHealth published Dr. Mark Schuster's first piece on being gay in medicine, he was a leading pediatrics professor at Harvard. These days, he's the founding dean and CEO of the brand new Kaiser Permanente Bernard J. Tyson School of Medicine, which will welcome its first class of students in Pasadena next month. Among its many distinguishing features: it will be tuition-free for its first five classes. Here, he updates his original piece — one of our most popular ever — and revisits the importance of speaking out.
When I was a student in medical school, I was told I should not come out on the job under any circumstances.
Back then, in the 80s, I could have been fired based on my sexual orientation. And that remained true — doctors, even those on the front lines risking their lives to save those with COVID-19, could have lost their jobs based on whom they loved — until this past week's landmark Supreme Court ruling.
Although doctors enjoy a privileged position in our society, we have never been immune to anti-LGBTQ discrimination. Ten years ago, I gave a speech at Boston Children's Hospital titled "On Being Gay in Medicine." I talked about how, growing up, I never imagined I would say that I was gay out loud to anyone — much less in front of a large audience at the institution where I worked.
I recounted some of the more disturbing stories from my training at Harvard Medical School. The neurosurgeon who wouldn't operate on a patient because he presumed she was a lesbian. The pulmonologist who avoided going into the room of his patient with HIV. The neonatal nurse who made no effort to contain her disgust and disapproval of a seriously ill infant's two mothers.
And then there was the doctor who had supervised my pediatrics rotation. Having taken it upon himself to be my mentor, he was full of advice about which clinical courses I should take to prepare for my future in pediatrics, and told me that his letter of recommendation would be sure to get me into my first-choice residency. But after I told him I was gay, he withdrew his offer to write me a recommendation. I had reason to fear that his abrupt about-face would end my career. However, there were no grievance boards — no processes in place — to protect students like me.
Our country has progressed a lot since then — and the medical profession has, too. I was fortunate to find other mentors in pediatrics who not only wrote letters on my behalf but who were kind and supportive role models.
But we still have a long way to go to achieve full equality for LGBTQ Americans, including those in the medical field, even after the Supreme Court's ruling.
A couple of years after I gave that speech, it was re-published here, and I immediately began receiving responses from all around the world. Medical students asked if they could come out without endangering their chances at getting into residency. Undergraduates asked whether they should disclose their LGBTQ status on their medical school applications. Some people I had known in school even wrote apologies, assuming that they had made homophobic comments in my presence.
But other messages I received made it clear that circumstances were not improving for LGBTQ doctors and medical students everywhere.
One medical student wrote that in 2011 in New York, an attending physician had lectured him that a patient's "primary illness" was that he was homosexual. The student, who is gay himself, reminded the attending that homosexuality hadn't been considered an "illness" of any kind by the medical profession in decades. The attending shrugged it off, saying, "Not in my opinion. There is something wrong with those people."
Another doctor, who sat on the board of the Gay and Lesbian Medical Association, wrote that he still, in 2012, received frequent reports of medical students being barred from organizing LGBTQ groups at their schools and receiving bigoted comments from faculty and fellow students.
The statistics reinforce these anecdotes.
• A study of heterosexual medical students found that nearly half expressed some explicit bias against LGBTQ people, and a staggering 82% expressed at least some implicit bias. That's bad for LGBTQ medical students and doctors, of course, but it's also dangerous for LGBTQ patients.
• More than half of LGB patients and 70% of transgender patients in one study reported having experienced discrimination at the hands of a medical professional. Worse still, the Trump Administration recently finalized a regulation allowing medical practitioners to violate their oath to "first, do no harm" by denying care to LGBTQ patients if providing it violates their personal beliefs.
• In 2018, three in 10 non-LGBTQ Americans reported that they would feel "very" or "somewhat" uncomfortable if they found out their doctor was LGBTQ. Another study showed that many patients would switch providers or practices if they learned their doctor was gay or lesbian.
It can be easy to think that because the fights for marriage and work equality have been won, all is well for the queer community in America. However, hate crimes against LGBTQ people have been on the rise. And the majority of LGBTQ Americans have been on the receiving end of slurs or other abuse about their sexual orientation or gender identity.
After my speech was published, the emails kept coming for years. Because I had put my own experience out there, the writers seemed to feel safe telling me their deepest, most all-consuming secrets. They were bursting to share their own stories with someone who could understand.
I encourage my fellow LGBTQ medical professionals who have not yet done so to crack open the closet door.
The messages are less frequent than they used to be, but the fear many doctors and medical students face hasn't gone anywhere. More and more, their messages focus on being out while also being a member of another marginalized group — asking, for instance, "Can I be open when I'm a lesbian and Muslim? What will that mean for me as a medical student and later, as a physician?"
It is up to each of us who are LGBTQ to decide whether to come out, and when, and to whom. But as we all process the long-overdue security afforded by the Supreme Court's decision on employment discrimination, I encourage my fellow LGBTQ medical professionals who have not yet done so to crack open the closet door.
Include references to your same-sex spouse on your online biographies if your colleagues mention their opposite-sex spouse in their biographies. Speak up if you hear a colleague making a derogatory comment about LGBTQ people. Encourage your employers, or your schools, to make anti-bias training a regular—and mandatory—event.
Indeed, our schools should make sure that prospective students feel comfortable being out in their applications—and they should help their students learn how bias and discrimination can take a serious toll on people's health, through the damage they inflict on self-confidence and self-esteem, the stress they induce and the violence they encourage.
As doctors, we learn to heal through diagnostics and prescriptions. But for LGBTQ doctors, we can also heal by telling our stories and being open about who we are. Last week, thanks to the work of generations of activists, that became a little bit easier.