Episodes We Love: The Writers Resist, Part 1
Play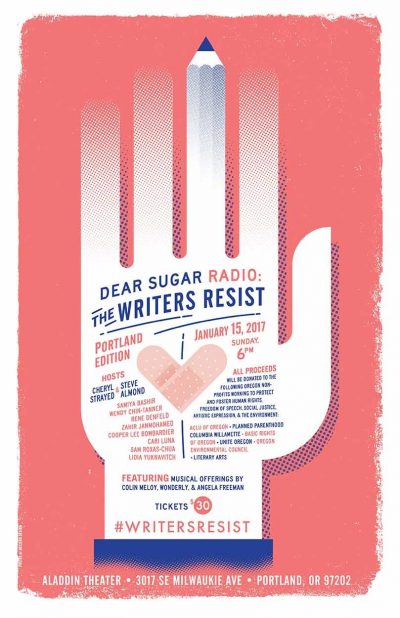 On November 9th, 2016 — the day after Donald Trump became America's President-elect — the Dear Sugar inbox was flooded with emails asking some version of the question, "How do we move forward as a nation from here?"
In this episode, the Sugars bring that question before an audience at The Aladdin Theater in Portland, Oregon, in Dear Sugar Radio: The Writers Resist. This episode was originally published on January 20th, 2017.
The poet Wendy Chin-Tanner was a co-organizer of the event, and she joined the Sugars onstage to discuss this letter in particular:
Dear Sugars,
What does radical empathy look like in this post-election landscape?
How do I love--or even share a meal with--someone who voted for a man who hired a white nationalist as his senior adviser? How do I have empathy for them while also supporting the many people Trump's policies will oppress?
How do I let go of my anger when a 7-year old says she's scared her mother will be deported?
How do we move forward from here?
Signed,
Angry and Sad
The event also included music from Colin Meloy of The Decemberists, and it featured the voices of several Oregon-based writers, who performed original "Letters to America."  Hear their full letters below.
Sam Roxas-Chua  is a poet and visual artist, and he's the author of the poetry collection "Fawn Language." He's the owner of The Poetry Loft, a small business dedicated to community writing workshops and the promotion of poets and writers. He's also the editor of The Quietry, a bi-annual literary journal.
Cari Luna is the author of the novel "The Revolution of Every Day," which won the Oregon Book Award for Fiction. Her writing has also appeared in Salon, Electric Literature, and The Rumpus, among others.
Samiya Bashir is the author of the poetry collections "Gospel" and "Where the Apple Falls." Her newest collection is called "Field Theories," and it comes out in a few weeks. She's also a creative writing professor at Reed College.
Cooper Lee Bombardier is a writer and visual artist based in Portland, Oregon. His work appears in ten anthologies and many publications, including The Rumpus and The Kenyon Review. He's currently looking for a publisher for his first book.
Rene Denfeld survived a horrific childhood to become a death penalty investigator and social justice warrior. She's the author of the acclaimed novel "The Enchanted," which was a recipient of the French Prix Award and an ALA Medal of Excellence. It was also named best book of the year by The Oregonian. Rene's forthcoming novel is "The Child Finder."
Lidia Yuknavitch is the author of several books. Her most recent is the novel "The Small Backs of Children," which won the 2016 Oregon Book Award's Ken Kesey Award for Fiction, as well as the Reader's Choice Award. She has another novel coming out in April called "The Book of Joan," and she's working on a book based on her popular TED Talk, titled "The Misfit's Manifesto."