Superintendent Shortage In Mass. Hits Crisis Levels
05:13
Play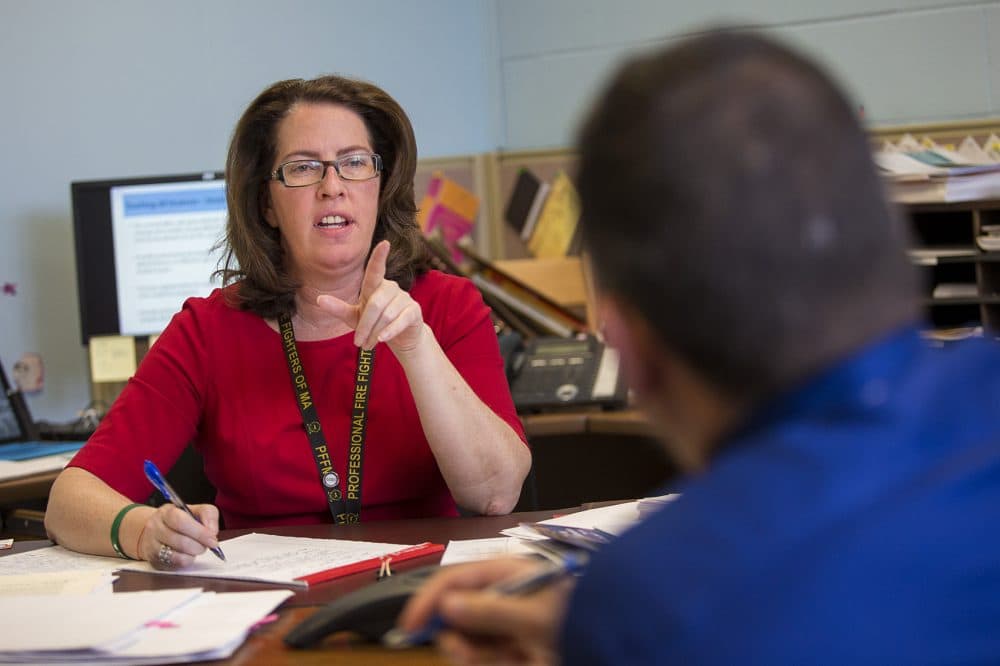 This article is more than 3 years old.
School districts throughout the state are dealing with a crisis: There just aren't enough qualified superintendents to fill all of the open positions.
In Peabody, for instance, finding a qualified candidate has not been easy. This spring, three of the district's six finalists were snatched up by other districts, and the other three did not have enough experience.
"It's almost like free agency in baseball," says Peabody School Committee member Joe Amico. "You better give them a great offer when you do decide on what you want. And we didn't even get to that process. We only got through the initial interviews."
Peabody has gone through four superintendents in 10 years, and the district is far from alone in its challenges of finding and retaining qualified leaders. There are 275 superintendents in Massachusetts, and every year, there is turnover.
"We have been watching somewhere in the vicinity of 55 to 65 superintendents turning over every year, for the past 10, 12 years," says Tom Scott, executive director of the Massachusetts Association of School Superintendents.
Scott says today, you can expect a top school leader in Massachusetts to stay with a district about five to seven years. "If you're in a district for 10 years plus, you've been in there for a long time," Scott says.
A change in the state pension system has led many superintendents to retire earlier than they used to.
Then there is the issue of scrutiny. Scott believes social media, and increased public access to information about the decisions superintendents make, adds additional pressures. Scott says that with increased budget constraints, school communities are also less likely to be forgiving when they believe a superintendent has made a wrong decision.
"The way I describe it is, the position has been so much more politicized than it should be," Scott says. "Schools are a microcosm of society. We deal with many social issues that take place today. Our expenditure is the largest expenditure in most communities, so all of those factors weigh into the decisions that superintendents make."
An Exhausting Schedule
Dianne Kelly knows all too well the important decisions superintendents have to make -- and she enjoys making them, even if it makes for an exhausting schedule.
Kelly is finishing her second year as the leader of the Revere School District, and her days and nights are consumed by her job. Each day Kelly is in the office by 7 a.m. and most of her days are dominated by meetings with parents and staff. By 4 p.m.? "That's when I say I can do my work," laughs Kelly.
By 5, Kelly begins her second leg of the day, writing policy and proposals, or figuring out budgets with her team. Then there are those evening events, like committee and school meetings. "I get home about 8:30 or 9 p.m., and then it's eat something completely unhealthy that I can call dinner and take care of email from there," Kelly says. "And then wrap it up, you know, about 10:30 or 11 p.m."
Kelly says she loves the job, and she was groomed for it by her old boss, former Superintendent Paul Dakin. Kelly believes Dakin was contemplative in choosing her as the assistant superintendent during his tenure.
In 20 years, there have only been three superintendents in Revere. "The important piece of that kind of continuity within the superintendency is that there is continuity within the belief system and the values of the school district," Kelly says.
'We Don't Tap'
One way to attract more candidates might be identifying and grooming them earlier, says Scott, of the superintendents association. He believes that could go a long way in helping to solve the shortage.
"We need to do more outreach," Scott says. "We don't tap; I call it tapping. You know you approach someone and say, 'You know, I think you really have these qualities. I would really encourage you to advance yourself in the direction of principal or superintendent of schools.' "
Peabody School Committee member Amico finds inspiration in Revere's ability to hire and retain superintendents.
"I'd love to see that happen in Peabody," Amico says, "where you have someone long term because stability is good for students, it's good for parents, and of course it's good for teachers as well."
In the meantime, the committee has found a temporary solution. Instead of hiring a new superintendent, the district has persuaded retired leader Herbert Levine to serve as interim head for another year. The district is taking advantage of what's called a "critical shortage waiver," through the state, which allows districts to bring a former superintendent out of retirement for a short period of time to help run a district.
Amico says the Peabody school district will start a new search in the fall, with the hope that lessons learned from the previous searches will lead to the perfect candidate.
This segment aired on May 17, 2017.