Anxiety Over Student Visas Could Impact Enrollment, Mass. College Leaders Worry
05:01
Play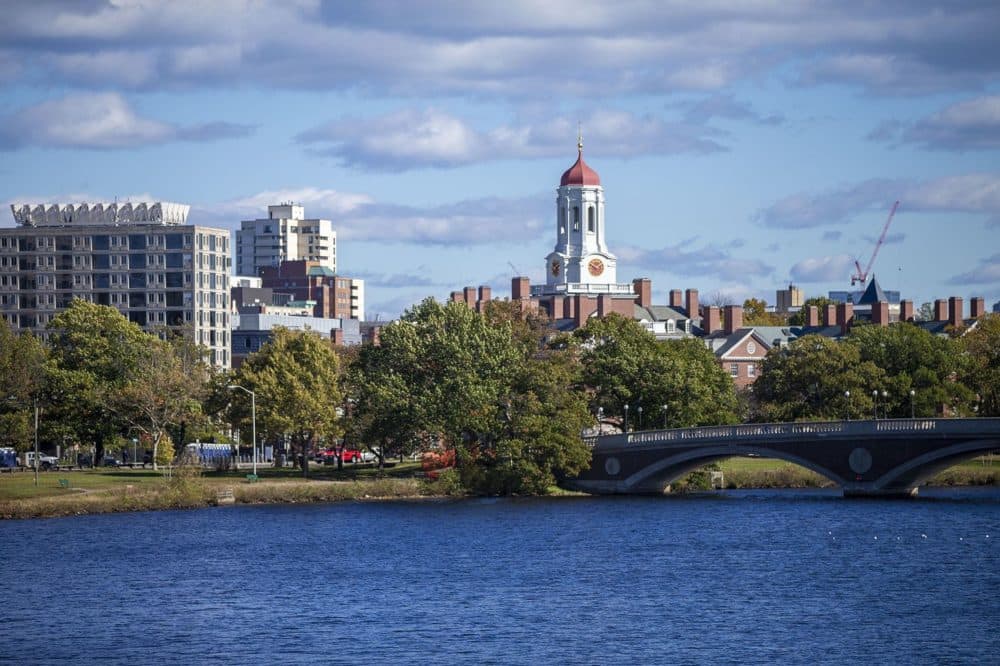 For international students who want to go to college in the United States, there's a lot of documentation involved. And for many, a lot of uncertainty.
"We have a climate right now that is very unfriendly and stressful for international students,"said Christina Chen, assistant dean for international students at College of the Holy Cross in Worcester. Her office fields a lot of questions from students.
A two-year work permit available under the F-1 student visa — known as Optional Practical Training, or OPT — is causing the most headaches, Chen said. None of her students got answers on their applications within 90 days, which had been the typical window of decision timing.
That delay is more than just a logistical detail. Many of Chen's students had to ask their employers to push back their start dates.
Several students interviewed for this story that weren't comfortable with going on the record. But almost all of them told WBUR that the OPT application process is a huge source of anxiety. Some said they even lost a job offer over recent delays.
"I've just become very disillusioned with the immigration system."

Gupta, a Massachusetts college student
"I have quite a few friends whose [OPT approval] had been delayed by a month or two months and they were getting really anxious," said Gupta, a recent Massachusetts college graduate. WBUR agreed to use only her last name in this story because she's going through an immigration status change and doesn't want to jeopardize that process.
Gupta said she got lucky with her work permit, which was approved in just over a month. Still, she said, "I've just become very disillusioned with the immigration system."
A spokesperson with U.S. Customs and Immigration Services said in an email that the delay was due to a surge in applications over the summer, and the agency has devoted more resources to address the workload.
But college leaders say it's not just the work permit causing problems for students.
Harvard College President Larry Bacow called the student visa system "unpredictable and anxiety ridden" in a letter this summer to Secretary of State Mike Pompeo. Forty-three college presidents later echoed those concerns in a letter to national lawmakers.
Jeanne Kelley, managing director of the International Students and Scholars Office at Boston University, said just getting the F-1 student visa to begin with seems to be taking longer.
"It's extremely stressful for them," Kelley said. "Because in some cases they might not get here in time to begin the program and they might have to defer their admission."
The State Department, which handles F-1 visas, said in an email that application times can vary, and that national security is its top priority.
Regardless, Kelley said the uncertainty in the process is problematic. First, it makes it harder for schools to predict headcounts every semester. She's also worried that, if all of the stress around this process continues for too long, it could affect future enrollment. Today, around 10,600 students from 130 countries attend Boston University.
Las year, international student enrollment in Massachusetts colleges was up from the year before. But nationally, the number of new international students enrolling in U.S. schools is decreasing, according to an annual survey conducted by the Institute of International Education.
International students are important to local schools because they add a diversity of language skills and cultural perspectives to campus, said Richard Doherty, president of the Association of Independent Colleges and Universities in Massachusetts.
They also bring money. It's estimated that the contribution is around $3 billion. Doherty explained part of that figure is student spending in the community, but a lot of it comes in the form of tuition dollars.
"It's a huge, huge contributor to the Massachusetts economy," Doherty said. "It definitely has a positive impact on schools' bottom lines."
International students typically pay full price for tuition because they don't qualify for institutional aid or federal financial aid. And colleges across the country have become increasingly reliant on that revenue source.
The number of international students has more than doubled in Massachusetts since 2006. But there's more competition for these students now.
"While we are increasing hoops that immigrants and visitors have to jump through, we're watching our competitors — namely Australia, Canada and the United Kingdom — change their policies to be more attractive," said Rachel Banks, director of public policy with NAFSA: Association of International Educators.
As for Gupta, who recently graduated with a masters degree from a Massachusetts school, those policies have caught her eye. She recently started the application process to become a permanent resident in Canada, and said the process so far is a lot easier than trying to get a green card in the U.S.
She's also telling others about her frustrations with the U.S. immigration system.
"With friends, I just tell them to avoid being here unless they want to go back to India and they just want to come here for a few years," Gupta said.
That's what has Massachusetts higher education leaders so worried.
This segment aired on November 12, 2019.