WBUR & NPR Name Tonya Mosley As Third Co-Host Of Here & Now
NPR and WBUR announced today that Tonya Mosley has been selected as the third co-host of Here & Now, the weekday news and talk program distributed on more than 475 NPR stations nationwide. Mosley starts August 5 and will be based in Los Angeles.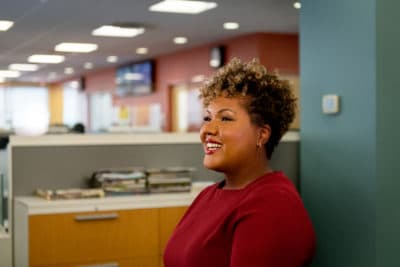 Mosley has been the Silicon Valley bureau chief for KQED, the public radio station based in San Francisco.  She is also the host of the new podcast Truth Be Told. As an Emmy and Murrow award-winning television, radio and print journalist, Mosley creatively uses her curiosity and tenacity to find and expose truths for the greater good of society.
"We are pleased to anchor Here & Now's extensive reach by bringing Tonya on as co-host to offer greater coverage on the west coast," said WBUR Managing Director of News and Programming, Sam Fleming. "Her impressive reporting and inquisitive nature make her a great fit to complement our current co-hosts, Robin Young and Jeremy Hobson."
Prior to KQED, Mosley served as a senior reporter covering education for WBUR and before that had been a television reporter and anchor for several media outlets, including Al Jazeera America. In 2015, Mosley was awarded a John S. Knight Journalism Fellowship at Stanford University where she co-created a workshop for journalists on the impacts of implicit bias, and co-wrote a Belgian/American experimental study on the effects of protest coverage. Mosley has won several national awards for her work, most recently an Emmy Award in 2016 for her televised piece "Beyond Ferguson," and a national Edward R. Murrow award for her public radio series "Black in Seattle."
A live production of NPR and WBUR Boston, in collaboration with public radio stations across the country, Here & Now reflects the fluid world of news as it's happening in the middle of the day, with timely, smart, and in-depth news, interviews and conversation. Co-hosted by award-winning journalists Robin Young and Jeremy Hobson, the show's daily lineup includes interviews with newsmakers, NPR reporters, editors and bloggers, innovators and artists from across the U.S. and around the globe. Here & Now began at WBUR in 1997, and expanded to two hours in partnership with NPR in 2013. Today, the show reaches 5.27 million weekly listeners on more than 475 stations, representing 87 percent of the DMAs across the country (Act 1, Nielsen Audio Nationwide, Fall 2018, 12+). Here & Now airs weekdays 12 p.m. - 2 p.m. ET with live updates until 4 p.m. ET.