Listen To All Episodes Of On Point's Series on 'Solutions For Closing The Achievement Gap'
This article is more than 3 years old.
On Point's four-part series exploring the achievement gap in American K-12 schools, what's causing it — and what's working to narrow it — launched today.
"Achievement gap" refers to the disparity in academic performance or educational attainment between different groups of students.
The series will explore questions such as: Is the achievement gap the result of students' lack of achievement, or the lack of opportunities they're offered? What kinds of things are students working on, building and creating in classrooms? How do we define "good" and "bad" schools — and what do they mean to their surrounding communities?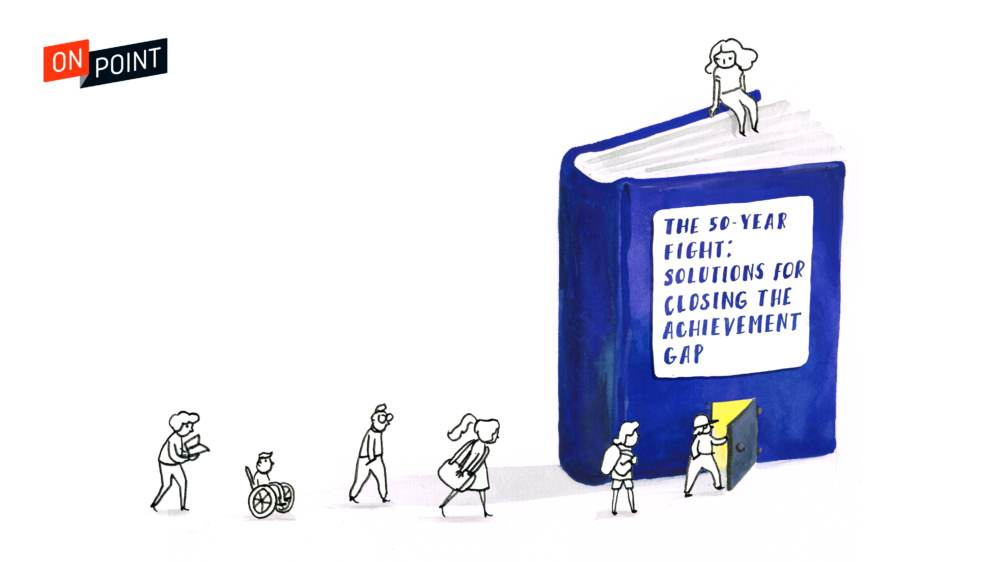 Part I of the series 'What Is The Achievement Gap?' aired on Sept. 9 : "The gap" is everywhere — not just urban districts, and not just districts known for low-performing schools. We talk about why the gap between educational achievement, for white students and students of color, has been so intractable, where it came from, and whether we should be calling it the achievement gap at all or the opportunity gap. Is it about students' lack of achievement or the lack of opportunities they're being offered?
Part II of the series 'How We Learn' aired on Sept. 16: Rapping to learn iambic pentameter. Folding origami to learn geometry. In this hour, we explore one method of closing the achievement gap: ditching the test prep worksheets and provide more engaging learning experiences. Scratch the rote learning and standardized test prep, and make time in the classroom hands-on instead. What kinds of things are their students working on, building, creating? What are the challenges? Could every school do this?
Part III of the series 'The Knowledge Gap' aired on Sept. 23: Longtime education journalist Natalie Wexler joins On Point to discuss her new book, "The Knowledge Gap: The Hidden Cause of America's Broken Education System — and How to Fix It." She argues that we're not providing students who need knowledge the most access to that knowledge, particularly in the way we're teaching reader comprehension. There's a large body of research showing what works in teaching reading. So why aren't our schools using it?
Part IV 'School Integration' aired on Sept. 30: There's actually only one policy that has greatly narrowed the achievement gap across the country. And that's desegregation. In parts of the country with widespread desegregation, the achievement gap between white students and students of color (particularly black students) narrowed. It wasn't without costs for students of color — black teachers lost their jobs, community schools were shuttered, and these new desegregated schools were often unwelcoming, losses that have often been hidden/forgotten. But, African Americans who attended desegregated schools were more likely to finish high school, go on to college, and be healthier later on in life. Schools have rapidly resegregated in the past two decades, though. Why, and what's being done to reverse that trend?
Immerse yourself in the entire series here: