Stop Dieting, Start Listening: WBUR Launches New Healthy Eating Podcast
This article is more than 1 year old.
WBUR, Boston's NPR news station, announced today that it will launch its new podcast, Food, We Need To Talk, on Monday, December 23, 2019.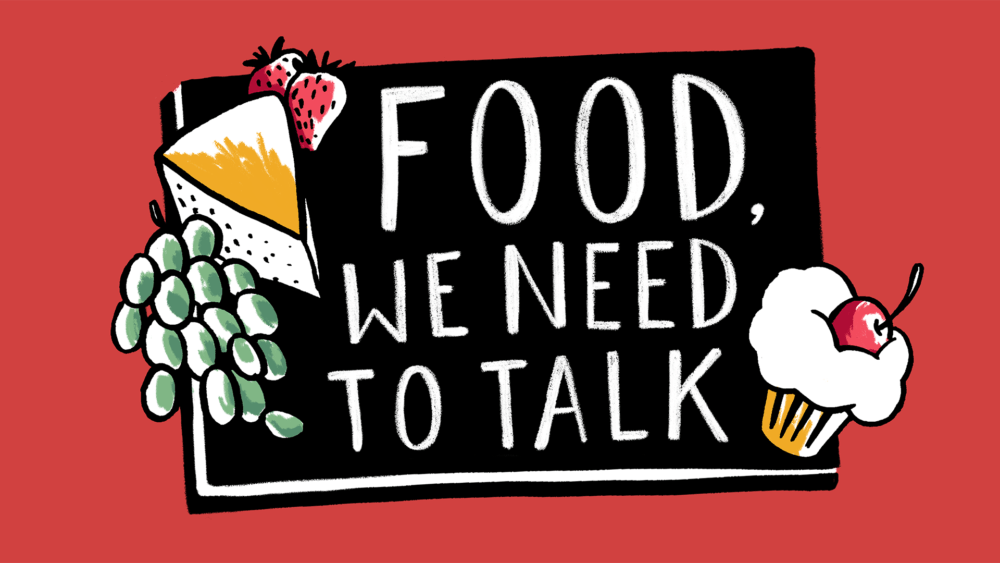 "Doomed if you diet, doomed if you don't." That's how 24-year-old host Juna Gjata describes the dilemma that she and millions of Americans face: Most diets backfire but eating freely in this food environment is not likely to be healthy either.
In this 10-part podcast, Juna undertakes a journey toward redefining her relationship with food. She's guided by noted Harvard Medical School lifestyle medicine expert Dr. Eddie Phillips, using solid science, clinical knowledge and common sense. Along with her, listeners learn how to eat better, and most importantly, how to feel better about their food choices.
"It's the quest for a middle way that makes sense," says Carey Goldberg, WBUR health and science reporter, editor of CommonHealth and executive producer of Food, We Need To Talk along with WBUR producer/editor George Hicks. "Juna is an engaging young personality who's determined to crack this conundrum that so many of us face — how the heck to eat. And Eddie is the perfect guide, supportive and generous with the wisdom that comes from having treated thousands of patients and the knowledge that comes from being up on all the latest research."
By episode 10, listeners come away with a range of actionable concepts, from simple practices like how to fill a plate at a meal to complex issues like how to improve self-image. Most of all, they're armed with information that lets them change forever their attitude toward food. And it's a heartening change: toward health and pleasure, away from guilt and restriction.
Dr. Eddie Phillips is a clinician and expert in lifestyle medicine working to incorporate nutrition, exercise and behavioral change into US medical school curricula. His co-host, Harvard grad and pianist Gjata, has performed at Carnegie Hall, but says dealing with food remains the greatest challenge of her life.
"No matter what I accomplished in the rest of my life, for some reason, the whole food and weight thing always seemed to defeat me," said Gjata. "It seemed like any problem was solvable, except getting my body to look the way I wanted it to. Over the course of this podcast, Eddie helps me shift my thinking in a way that I think — I hope — will last the rest of my life."
The season will be comprised of the following ten episodes:
Doomed If You Diet, Doomed If You Don't- Gjata and Phillips lay out the central challenge, and the goal of getting beyond a focus on weight. Guests: Sal DiStefano of the Mindpump podcast and James Hill, PhD.
Good Food, Bad Food- Gjata and Phillips begin to move past the idea that some foods are "good" and others "bad."  Guests: Michelle Gallant, MS, RD, LDN, Mindpump's Sal DiStefano and Rachele Pojednic, PhD explore how to stop thinking of food as a moral quandary.
Cheesecake is Crack- Is food addictive? Guests: New York Times best-selling author Michael Pollan and Paul J. Kenny, PhD explore the addictive power of hyperpalatable foods, how they change your food preferences and how they make you less attracted to natural foods.
What the Hell Are we Supposed to Eat? -What should people actually eat? Guests Walter C. Willett, MD,PhD, Michael Pollan and Rani Polak, MD, Chef, MBA cover the basics of what to eat and the importance of cooking.
How Can I Become a Fat-Burning Machine?– What is the difference between cardio and resistance training? Guests Sal DiStefano, Wayne Wescott, PhD, and Clinical Exercise Physiologist Jackie Shahar explore building muscle and speeding up your metabolism.
Snake Oil- Guests Pieter Cohen,MD, Tim Caulfield and Layne Norton, PhD discuss skinny teas, juice cleanses and waist trainers, and debunk the gigantic health supplement industry, including pre-workout supplements and fat-burners.
Measures of Success- There are much better ways to measure progress than the scale. Guests Nicole Bajdek,  Sarah Camhi, Sal DiStefano and Mark Berman, MD discuss how to gauge success, and Gjata shares her biggest lessons.
"Food, We Need To Talk'" is a free podcast timed to help people who hope to start the new year with a fresh, healthy outlook on food. New episodes will be available every Monday starting Dec. 23 to stream or to download on Apple Podcasts, Stitcher or your favorite podcast app.
About Dr. Eddie Phillips: Edward M. Phillips, MD, is Assistant Professor of Physical Medicine and Rehabilitation at Harvard Medical School, Founder and Director of The Institute of Lifestyle Medicine (ILM) at Spaulding Rehabilitation Hospital and former host WBUR's award-winning exercise podcast, The Magic Pill. Phillips is an active clinician and teacher who speaks and consults nationally, guiding a broad-based effort to reduce lifestyle-related death, disease, and costs through clinician directed interventions with patients. He has been known to eat a dish of ice cream followed by a fudgsicle while reading journal papers about stress eating.
About Juna Gjata: Juna Gjata graduated in 2017 from Harvard University with a B.A. in Cognitive Neuroscience and Evolutionary Psychology and a minor in Music. Her passion for classical piano has allowed her to perform solo at venues including Carnegie Hall and the Kennedy Center. Outside of music, Gjata is obsessed with all things health and fitness, and speaks to schoolchildren about what it's like being visually impaired.