WBUR Announces Daniel Schorr Journalism Prize Winner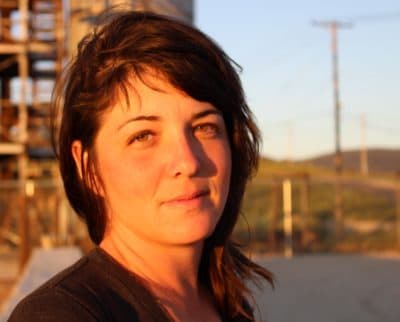 WBUR announced today that Nora Saks is the winner of the 2019 Daniel Schorr Journalism Prize. The winning podcast was produced by Montana Public Radio, where Saks serves as a host, producer and reporter.
The Schorr Prize is named for the late NPR senior news analyst and veteran Washington journalist Daniel Schorr. Schorr was a believer in supporting talented young journalists as they rose through the ranks of public radio. The annual $5,000 Prize — sponsored by WBUR and Boston University, and funded by Jim and Nancy Bildner — salutes a new generation of public radio journalists under the age of 35, seeking to inspire them to stretch the boundaries of the medium.
Saks' winning entry, Richest Hill, is a podcast series about the past, present and future of one of America's most notorious Superfund sites. Comprised of ten episodes, Richest Hill explores the circumstances that led the Mining City to unimaginable wealth as well as the tragedy and changes in technology and society that eventually depleted Butte, Montana of the wealth and opportunity it had amassed just a century prior. Richest Hill is a colorful, reporting-rich, unspooling of a complicated narrative, weaving easily between Butte's copper-rich history and its troubled present as the country's largest Superfund site.
"As local journalism continues to struggle, the promise demonstrated in the submissions of such young journalists makes me hopeful for the future of public media," said Lynette Clemetson, director of the Wallace House, University of Michigan, who served as the prize's finalist judge. "Richest Hill is consistently excellent, and Nora set a high bar for young reporters and storytellers to aspire to. She hooked me with a story that I didn't even know I cared about."
Saks' work has been heard on NPR, Montana Public Radio, Yellowstone Public Radio, Alaska Public Media, the Coast Alaska radio network, the Alaska Fisheries Report, and has been published in The Washington Post, the Associated Press and the Missoulian. Her radio pieces have won awards from the Associated Press Television and Radio Association, the Society for Professional Journalists, the Alaska Press Club, and the Broadcast Education Association. Saks has masters' degree in environmental science and Natural Resource Journalism from the University of Montana and is a proud graduate of the Salt Institute for Documentary Studies in Portland, Maine, and the University of Toronto in Canada.
In addition to Clemetson, the Schorr Prize judging panel included preliminary judges Sean Bowdwitch, senior news manager, WNYC; Sarah Gonzalez, host and reporter, NPR's Planet Money; Loretta Williams, independent public media producer; Dave Miller, host of Think Out Loud, Oregon Public Broadcasting; and Jeremy Bernfeld, director of collaborative reporting, WAMU.
Saks will be presented with the prize at a virtual event for The Edward R. Murrow Society, on Tuesday, September 15. Members of WBUR's Murrow Society preserve the journalistic values of Edward Murrow, an influential figure in American broadcast journalism, and play a crucial role in supporting insightful and responsible journalism.
"I was incredibly excited by the strong array of applicants we had for the Schorr Prize this year," said Sam Fleming, managing director of news and programming, WBUR. "The winning submission from Nora provided a terrific example of authentic, narrative storytelling — and it was a thrill to hear a fresh new voice from the West."
---
Past Schorr Prize winners include former ProPublica staff reporter Hannah Dreier (2018); former WLRN reporter Wilson Sayre (2017); former WNYC reporter and now a reporter for NPR's Planet Money Sarah Gonzalez (2016); WAMU reporter Patrick Madden (2015); WFPL reporter Devin Katayama, now a reporter for KQED, San Francisco (2014); WBEZ producer Becky Vevea (2013); KUNC reporter Grace Hood (2012); NPR host David Greene (2011); NPR reporter Ailsa Chang (2010); reporter Chana Joffe-Walt, who covers global economics for NPR's multimedia project Planet Money (2009); former NPR defense correspondent Guy Raz, host of How I Built This and the TED Radio Hour (2008); and NPR investigative correspondent Laura Sullivan (2007).