Meet the new host of WBUR's Morning Edition, Rupa Shenoy
This article is more than 1 year old.
Rupa Shenoy stepped from The World to behind the microphone as host of WBUR's Morning Edition. Listeners have been looking forward to Rupa's on-air arrival to hear her take on the news here locally and around the globe. Learn about Shenoy's experience as a journalist in this Q&A with Inside WBUR.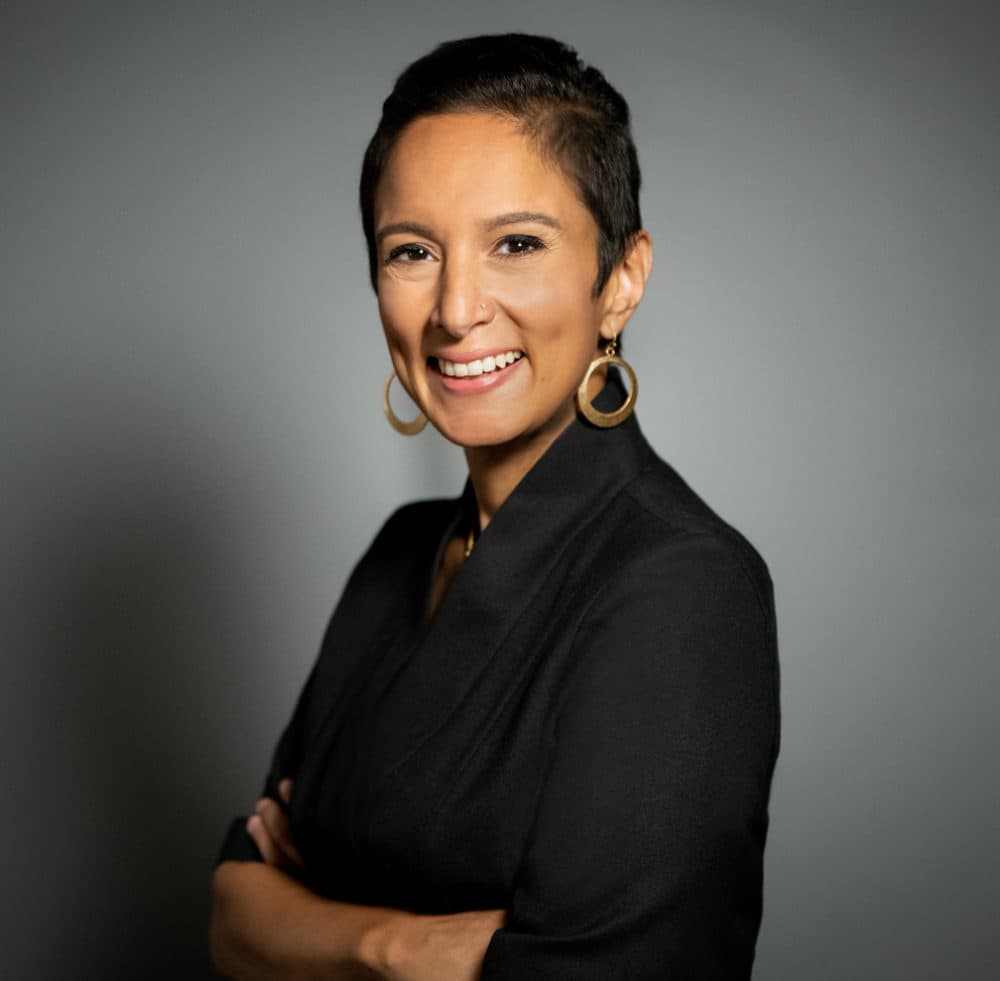 What was your first experience as a journalist? 
Shenoy: I was in grade school when my mom was in a car accident, and I had to quickly leave a note for my dad to tell him we went to the hospital. I wrote one sentence, and later he said how grateful he was — he said it told him exactly what he needed to know, in the order he needed to know it. I was hooked. In college, I studied abroad and traveled alone, talking to strangers in hostels and writing it all down.
And what was your path to journalism from there? 
Shenoy: Right out of college, I joined The Chicago Reporter, a race and poverty-focused monthly magazine supported by civil rights leaders and people like Obama when he was a state senator. I broke a story that got a lot of national attention and was hired as a reporter.
I earned my graduate degree at Northwestern, and, while going to school full time to complete that degree, I also joined the Associated Press in Chicago. There, at all hours of the day and night, I covered big stories like the murders of Jennifer Hudson's family, the arrest of Governor Rod Blagojevich, and Obama's election. Coming up in Illinois at the same time as Obama, in a way, has given me some interesting perspective.
Tell us more about the stories you've covered.
Shenoy: Early on I spent a year investigating police shootings in Chicago. (That story happened to have the best first line I've probably ever written: "Both men ran.") I also did a lot of work on ex-offenders and criminal justice. Later, when I was working for a suburban newspaper, I was covering a city hall meeting when I met a woman who told me three of her dogs had died after digging in her yard. I looked up her property records the next day and found that she lived on a former Superfund site — that's what the government calls polluted locations deemed dangerous. It ended up being a year-long investigative series that showed the whole neighborhood had been built on a Superfund site that hadn't been cleaned properly. The EPA ended up ordering another massive cleanup.
What was your introduction to the Boston news market?
Shenoy: I came to Boston to do investigations for radio and TV at GBH. I ended up covering things like that horrible winter we called Snowmageddon. There was also the long Market Basket strike that got a lot of national attention. I did some data-based journalism, analyzing bills passed on Beacon Hill, and I even spent a little time in the Patriots' locker room during a little scandal called Deflategate.
I later started a podcast called Otherhood, about identity and the kids of immigrants, and moved to the radio program The World, which is also at GBH. For one episode, I embedded at Cambridge Rindge and Latin and was able to capture the really remarkable way students and staff were grappling with issues of race.
You have a strong interest in human rights. How do you feed that interest in addition to reporting on the topic?
Shenoy: During the Trump administration, it became apparent that human rights were going to be a huge point of conflict, so we decided to focus all of my attention there. I went to the Canadian border to document people walking through the snow for hours to flee the US. I spent a week in Portland talking to people about how the city's history contributed to a brutal Islamophobic hate crime on a train. In 2019, I traveled from Virginia to Brazil and Ghana to document how the first enslaved Africans were brought to the English colonies, and how that history plays a role in the debates we have today. That year-long series won the RTNDA's Kaleidoscope Award.
What drew you to WBUR and Morning Edition?
Shenoy: In the wake of George Floyd's death there was a lot of conflict and upheaval in public radio newsrooms over coverage. I was looking for a place that was taking steps to meet those challenges. WBUR approached me about hosting Morning Edition — something I hadn't considered before. But during many conversations with people in all types of roles at WBUR, I became convinced that leadership shared my concerns and my goals and would support me as a new type of host who speaks to a diverse listenership that wants to engage directly with the biggest issues facing us today.
How did your upbringing shape who you are as a journalist?
Shenoy: My parents are from India, and they settled in Cedar Rapids, Iowa, where I was born. They took me back to India a lot, and I kind of ended up not fitting in anywhere. I felt like an outsider and observer everywhere. Writing became a way to understand the people around me.
How do you unplug?
Shenoy: This answer is going to reveal how nerdy I am: I listen to sci-fi audiobooks (checked out from the library) while walking my dog, Samara, around the Charles River. We're always looking for new places to walk if anyone has suggestions.
What's your media diet? What are you reading, watching, listening to right now?
Shenoy: Is this a trick question? I listen to WBUR, and I read WBUR.org!