The Turner Girls
05:44
Play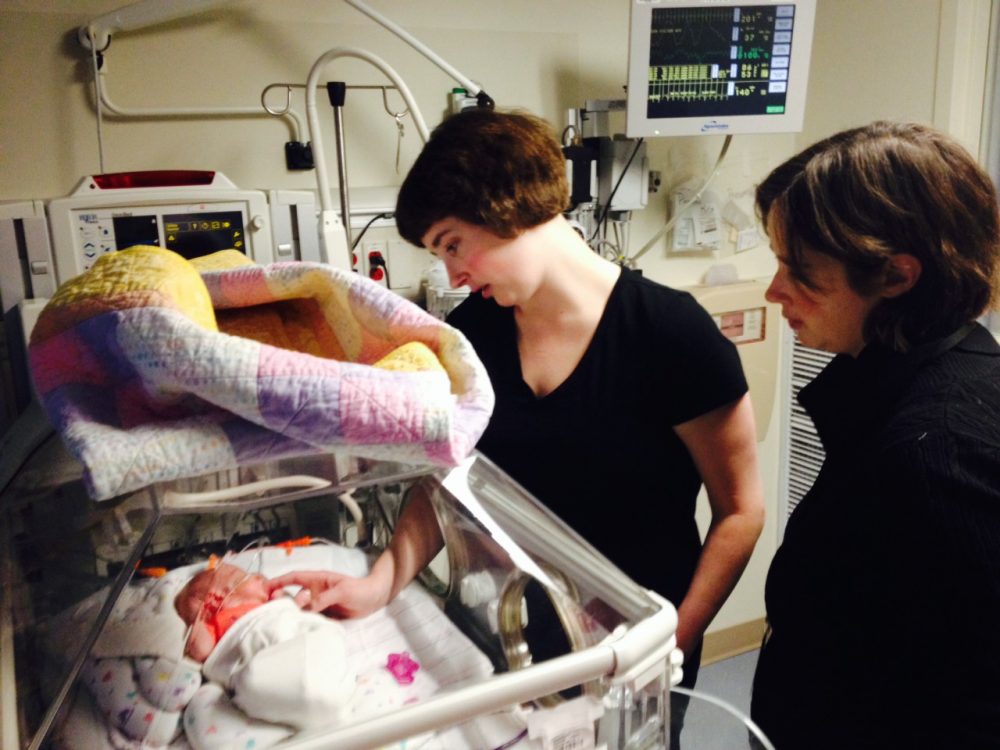 Jen Turner had always wanted to be a mom. But when she developed macular edema, an eye disease, doctors warned her that pregnancy could result in permanent loss of sight. Seeing her sister's distress, Jen's identical twin, Mel, made an unconventional proposal.
Jen shares her story for WBUR's Kind World, celebrating acts of kindness.
---
JEN TURNER: Being an identical twin, it's something that has certainly defined my life in the sense that you grow up with this person and because that person is always with you, they become sort of the central figure of your life.
My husband's a little bit older than me - he's about 10 years older than me - so, after we got married, you know, we were thinking maybe we would think about starting a family soon. And we had a miscarriage in August of 2011. And then I was diagnosed with Type 1 diabetes in January of 2012.
About six months after I was diagnosed as a Type 1 diabetic, I developed an eye condition called macular edema. The doctors knew and were aware that I wanted to become pregnant as quickly as possible, but they also said that if I did become pregnant I could lose significant amounts of vision, and there was no guarantee that I would be able to get that vision back.
I definitely confided to my sister how difficult the emotional turmoil was. You know, I would write her emails saying that parts of me thought that it might have been better off if I had died, because I didn't really see a happy ending for myself at the time.
My sister came to me one day and she said that it was difficult to see me in so much pain. And so my twin, in this crazy idea, offered to carry a child for my husband and I. And she said that she wanted to use one of her eggs.
I thought that it was an amazing thing that she was willing to do, but I also thought that it wouldn't work. I was fine with Mel wanting to try, but I was so sort of unhappy and just thinking that nothing good was going to come from my life.
She artificially inseminated her own egg. So, the process took six or seven months, and by May of 2014 Mel was pregnant.
It wasn't an easy pregnancy for my sister. She ended up in the hospital with preeclampsia for five weeks, and was in the hospital until the delivery. So I ended up going to Weymouth, to South Shore Hospital, and it was such a miraculous experience.
MELISSA TURNER: When we went to the ultrasound, Jen came in just as the heartbeat flared on the screen, so, it was really cool cause she knew that, you know, her baby had a heartbeat. But, so, I made a joke, somewhere along the lines of, you know, "sorry, kid, we're only having, you know, the one baby." And then the ultrasound technician kind of scanned down, and the second baby popped up, and, yeah, I was pretty much floored.
JEN TURNER: They just felt like my daughters, like from the moment I held them, and long before that, too, but, when you look down, it just felt so amazing to be a parent, finally, after so long waiting for them to show up.
The oldest by five minutes is Irene Lesley Ann, and my baby girl is Margaret Elizabeth Ann. I gave them the middle name of Ann for each of them because it's the middle name that Mel and I share.
She is so humble about her role in making me a parent, but she literally gave me my life back. You know, I want my children to have all the things that most parents want for them - you know, health, and happiness, and to be smart, and good citizens - but, I would also like them to be the love story that Mel is to me.
---
Kind World is a project of the WBUR iLab, celebrating stories of kindness and the profound effect that one act can have on our lives.
Kind World is produced by Zack Ezor, Lisa Tobin and Nate Goldman. If you have a story of kindness to share, please send us a message or email us at kindworld@wbur.org.