A Muslim Immigrant Rebuilds His Life With The Help Of A Jewish Family
Resume
Note: This story is an update to "Turning Point," which originally aired on September 12, 2017.
According to the United Nations, one person is displaced every two seconds worldwide due to violence, war or targeted persecution. For more than 70 million internally and externally displaced people, finding safety alone is difficult, but rebuilding a new life can be even harder.
We caught up with one young man who was displaced from his country of origin and forced to rebuild his life in America almost five years ago. Just as in 2017, we won't share his name and other identifying details to protect him and his family.
This man's safety was jeopardized after he spoke out against a center that was encouraging young students to commit acts of terrorism. Once the terrorist group learned of his efforts, they began to threaten his life. Desperate to save himself, he emigrated to America.
"When I first moved here, I was hopeless, lonely...at a difficult emotional state in my life," he says. "I had no idea about my future. I had no money. And since I joined this wonderful American family, I'm more happy, excited, active… I go to work, I have a girlfriend now and life seems wonderful."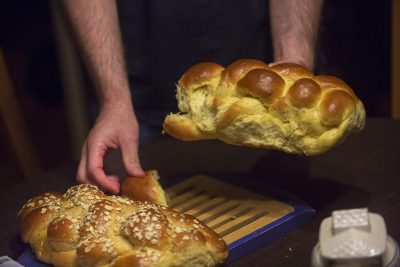 His wonderful American family comprises of Susie and Rob, two Jewish Americans who volunteered to take him, a Muslim immigrant, into their home. Though he was supposed to live there for three months, they've lived together for almost five years and counting. They all enjoy having dinner together every night, reading, and talking about politics and religion. The young man also says he's learned a lot just by watching how Susie and Rob, a couple in their 70s, treat each other.
"It's very much what I imagined as a kid growing up in the Middle East about a husband and a wife… more friendly," he says. "I like the way they handle family issues, their sense of humor. How they interact with each other is an example for me."
The young man says that much of the reason he, Rob, and Susie work so well together is because they share the same core values. Though they come from different backgrounds, each possess a deep sense of empathy and curiosity about the world, as well as a passion for helping others.
Despite all the threats he's faced, the loss of his home, and the separation of his family, the young man retains the same inner compassion that first drove him to speak out against a radical organization.
"I never regret what I did," he says. "It was my duty to do that, and I was ready to give my life for that. I'm the kind of person with strong principles. I never compromise my principles."
Though he's been in touch with his family back home, he still hasn't been able to visit his country or see his family. This is difficult for him, especially as his mother is having health problems.
Still, he's found the support he needed to help him get through, and he's still holding out that things will one day improve in his country and he'll get to visit and see his family again.