Teacher Gives Each Student $20 To Use In Kindness 'Challenge'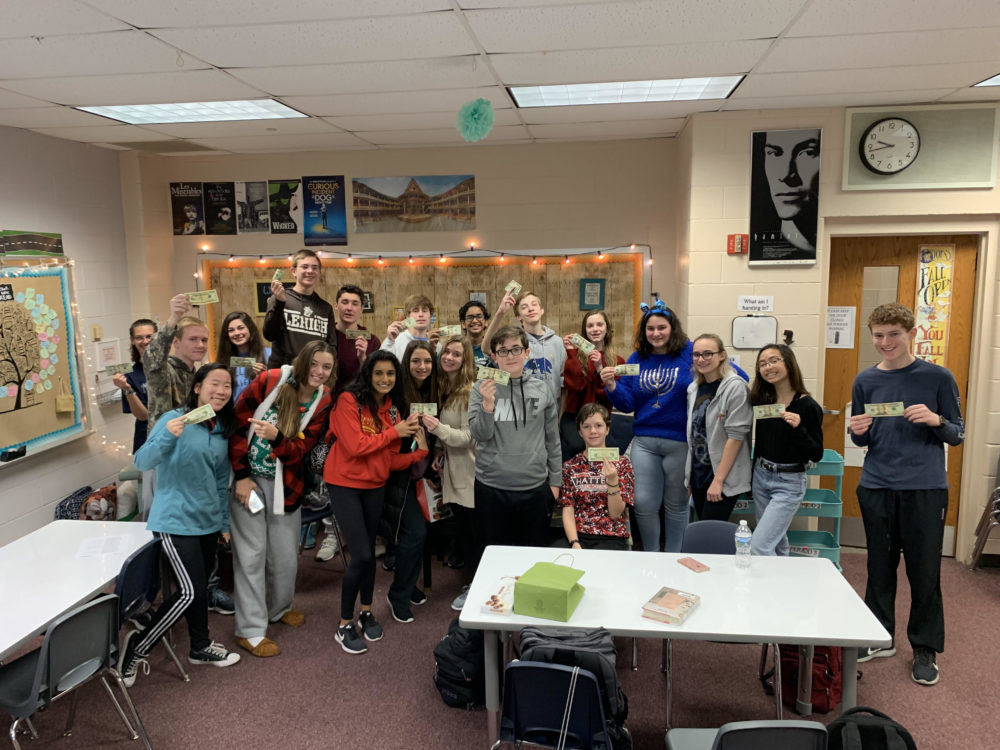 Almost five years ago, Kristina Ulmer, 37, lost her younger sister Katie in a car accident. She was only 29.
"My sister was really charitable," Kristina remembers. "Her entire life she worried about people that were in need or in trouble."
(Listen to the full episode here. Kristina Ulmer's story begins at 6:43)
Once Kristina got a hold of Katie's wallet, she found $80 in the billfold. Kristina wanted to do something with the money that would honor her sister's spirit. In the years that followed, she'd add a little bit of money to the wallet periodically as she thought about how to spend it.
Finally, last fall, she turned to her students for help.
As a ninth-grade English teacher at Hatboro-Horsham High School in Hatboro, Pennsylvania, Kristina is well-aware of the stereotype that teenagers are self-absorbed and largely disinterested in the world around them. However, she says she saw something special in her students.
"I just had a really amazing group of kids," she says. "I just thought… 'I think you could take this money and you could do something amazing with it.'"
Kristina shared the story of her sister with her classroom. Then she gave each student a $20 bill and asked them to do something kind with the money over school break.
"I said to my students, 'you don't realize that people are walking around...with things that they're struggling with," says Kristina. "I want you to be empathetic toward that and realize that you can do these small kind things that will make them feel happy and brighten their day."
At first, her students wanted to pool all of their money together to donate to a single charity. However, Kristina was adamant that they focus on smaller, more manageable acts of kindness — the kind that improve someone's day rather than dramatically change a life.
Her students answered the call. One bought a glass of water at a restaurant and left a $20 tip for the server. Another student paid the bill for other patrons at a coffee shop.
An anonymous donor heard about Kristina's assignment and donated money so she could do the same project with her students in the spring. Again, students thought of creative ways to improve the lives of others. One student donated her money to the school library, where her money paid off four seniors' library fines which otherwise would have prevented them from graduating.
Kristina plans on continuing this assignment for as long as she has the money. She's raised more than two thousand dollars on a crowdsourcing website, and receives some donations from town residents.
She's most surprised by the impact she's had beyond the classroom. Other students and people in her community tell her they're inspired to do their own acts of kindness.
"I often think about my sister and how she's not here doing the good things that I know she would've been doing if she was here," Kristina says. "But there are things being done in her name."
She says this lesson about kindness and charity is the most important one she teaches her students.