Vietnamese-American Man Dedicates Himself To Reuniting Other 'Amerasians' With Their Families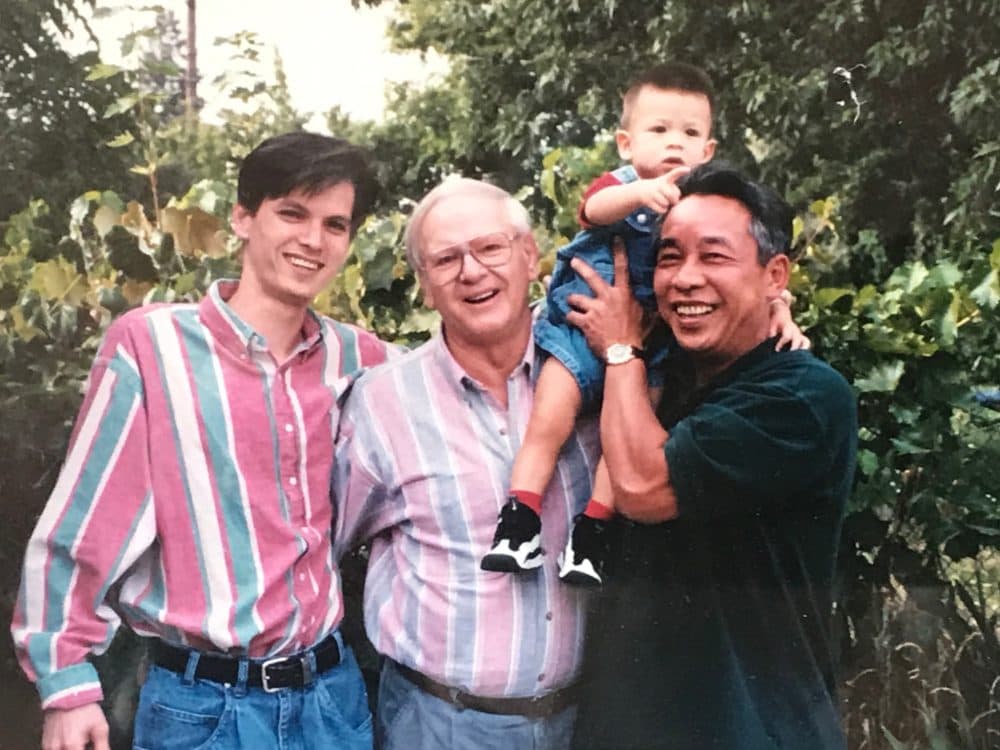 When Jimmy Miller first landed in Spokane, Washington, in 1989, he felt welcomed. Fellow refugees, government services and charities all pitched in to help him and his family settle into their new home.
(Listen to Jimmy's story beginning at 7:27)
"I feel that I'm so happy that finally I come to the country. I have freedom now," Jimmy recalls.
It was a world away from the life he left behind.
Jimmy was born on Christmas Day in 1967 to Kim Phan, a Vietnamese woman, and James Miller, an American serviceman. His parents met and married in Saigon (now Ho Chi Minh City) during the Vietnam War.

In 1968, James was injured and sent back to the U.S. The couple eventually lost touch. Kim remarried and had two more children.
Throughout the war, Jimmy's family lived in American-allied South Vietnam, where the family owned their home and ran a successful business. Jimmy, a half-American child, was relatively safe and treated with respect.
But things changed drastically in April of 1975, when the war ended and Communist North Vietnamese forces gained control of Saigon.
Story continues below
Subscribe to the podcast
Kim worried for her family's safety and especially for 7-year-old Jimmy. Amerasians — the commonly used term for children of Asian women and American servicemen — were seen as children of the enemy, and their mothers were at risk of being treated as traitors.
"My mom hid me in the rooms and when the Communists come, she burned everything from my dad because she worry that if she keep any information about my dad then we might have the retaliate from the Communist [sic]," Jimmy says.
The regime seized their home, forcing Jimmy and his family to move in with his grandmother, who lived about 75 miles outside of the city. Life didn't get easier for Jimmy. At school, he was often bullied. Children would beat him up and call him names like "half-breed."
By then, Jimmy says his family was poor, but other Amerasians were suffering much more. Many of them were orphaned and survived by picking through garbage. He remembers the time he encountered a young Amerasian child who didn't even have a shirt.
"I took my shirt, and I give it to him," he says, "because I know I have another one at home."

Twelve years after the war ended, the U.S. passed a law to make immigration easier for Amerasians and their families. Jimmy jumped at the chance, and by December 1989, he and his immediate family arrived in their new home in Spokane to begin a new life.
Jimmy wanted this new life to include his biological father.
"I missed that, all his guidance, when I was growing up," he says. "I wish I have a father to guide me, to be a better person [sic]."
All Jimmy had to go on were his father's name — James Miller — and a photo album his grandmother managed to hide after the war. After years of searching and coming up empty-handed, he eventually gave up.
But his younger half-sister Trinh didn't. She knew how much Jimmy wanted to find his father.
"She tried to search everything ... and she did this secretly. I didn't know anything," Jimmy says.
Starting with nothing more than a postmark on an old envelope, Trinh managed to track down Jimmy's dad and put the two in touch. Jimmy still remembers when they finally met face-to-face.

"I saw him, he saw me and we just walk over and we hold each other. Finally, I have a father," he recalls. "You know, in Vietnamese saying that the child is growing up without a father, is like the house without a roof."
Jimmy and his dad didn't have very long together. James passed away two years after they connected.
But that feeling of finally "having a roof" stayed with Jimmy and inspired him to find a way to give back to other Amerasians.
According to Jimmy, there are about 350 Amerasians still living in Vietnam today. His mission is to help reunite them with their American families and support them if they choose to immigrate to the U.S. He does this through his nonprofit, Amerasians Without Borders, which raises money for DNA kits and immigration support.
"I tell you, when I found my dad, I know how it feels," Jimmy says. "And right now, every time I able to find a father for the Amerasians, especially in Vietnam, and I'm so happy for them."