#COVIDKindness: Using The Arts To Reach Out From A Distance
With so many people stuck indoors due to the COVID-19 pandemic, communities all over the world are finding creative ways to connect and to relieve anxiety.
(Listen to this story on this week's episode of Kind World by clicking the player below)
Italy has been under total lockdown since March 9, meaning Italians can't leave their homes unless it's to get food or other basic needs. Those who violate the lockdown regulation face a hefty fine.
"Staying now inside the house, not being able to leave your house for any reason, is nerve-wracking and very frustrating," said Francesca Distefano, an international consultant living in Rome. "The only moment of relief when you can feel and see human interaction is around 6 p.m."
For weeks now, Italians have been going out onto their balconies every evening to play music and sing together. Francesca says these daily musical moments helps her stay positive. She's not the only one who feels that way.
People all over the world have been inspired by Italy's example .
That includes Shelly Glennon, who came home from a trip feeling sick and had to isolate herself in her bedroom as a precaution. The quarantine was hard on her two young children, who didn't understand why they couldn't see their mother. But then Shelly had an idea.
"I just had this glimmer where I remembered seeing the Italians singing from their balconies," Shelly said, "and I was like, 'You know what I need? I need some music.'"
Shelly told her kids to go out on the sidewalk. She put her speakers on the windowsill and they danced together as she stood on a landing outside her bedroom.
"This was just like this moment where we all just ... took this big sigh and just kind of filled our body with some positive vibes again," she said.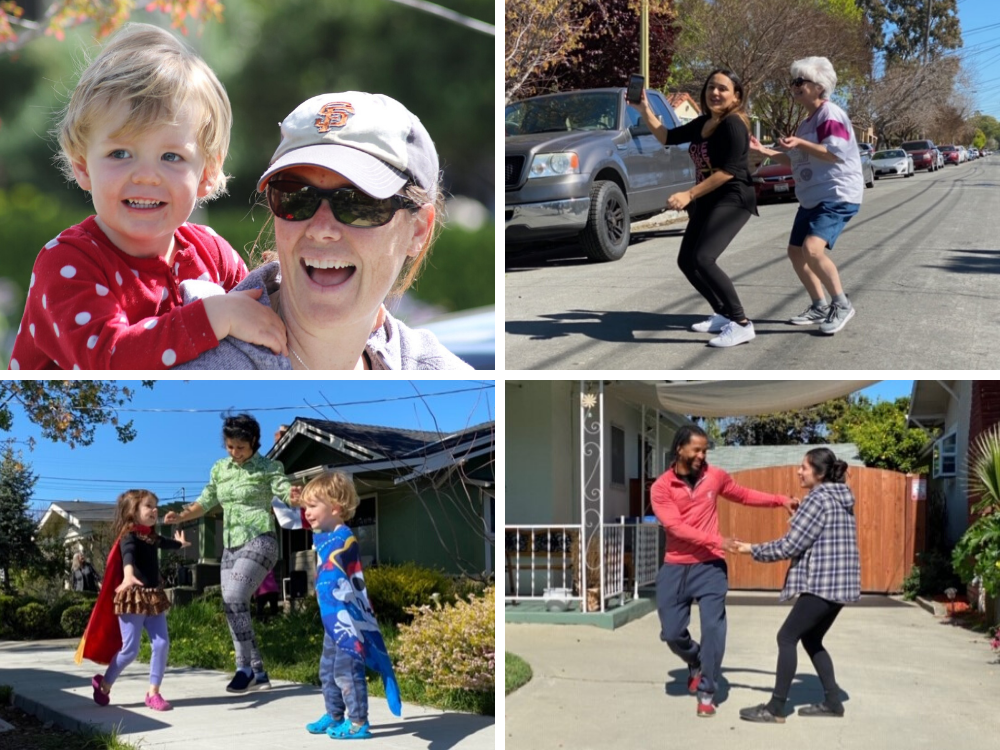 When her doctors gave her the OK, Shelly joined her kids downstairs on the sidewalk. That's when her neighbors took notice. Now, every day at 3:30 p.m., Shelly, her kids and all their neighbors dance on their sidewalks. They call it Social Dis-Dancing, and they go live every afternoon on Facebook, so you can dance along, too.
Shelly said it can be hard to keep up the motivation to do this every day, but going out and dancing with her community never fails to make her feel better: "We all need injections of joy at least five times a day right now."
In South Philadelphia, Robin Mack-Ward has found a different way to connect with her neighbors, through a public art project called One Philly Art.
"The idea is that each week, there is a theme, and everyone in Philly, young or old, can and should make art based on that theme," Robin said.
People who participate in the project display their artwork in their window or outside their house. Then Robin uses the addresses they submit to create a map of where all the art is, so that anyone who goes for a walk can turn it into an art tour.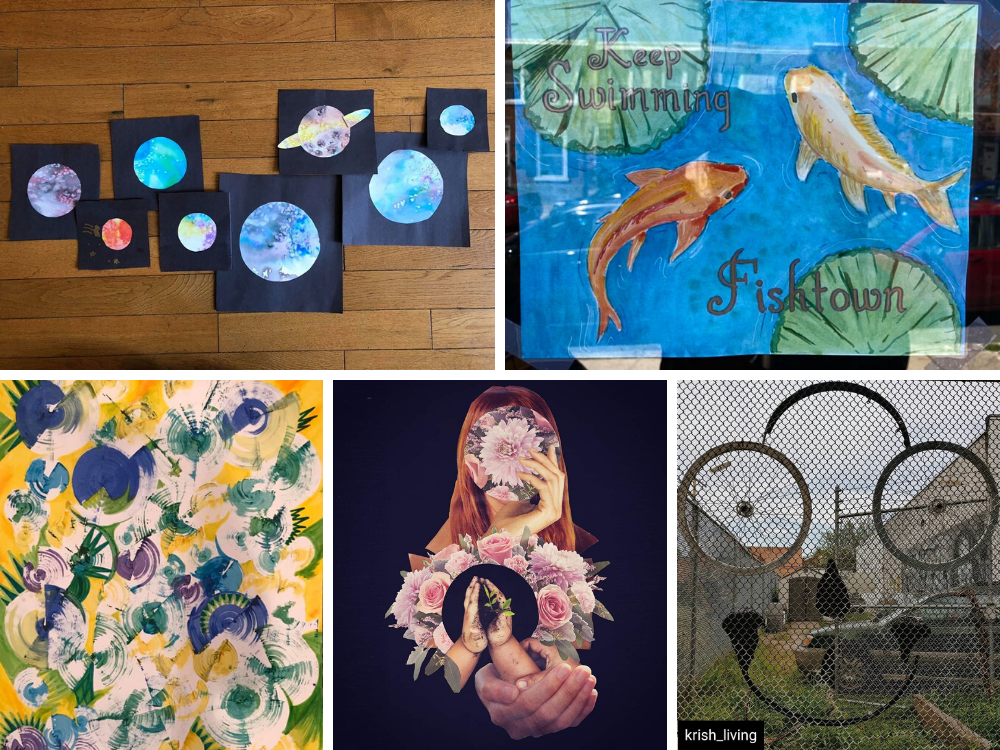 Robin chooses broad themes like "Plants," "The Night Sky and Beyond," and "Circles and Cycles," in order to inspire people to really exercise their creativity.
The response has been phenomenal: Within the first week, the project had over 2,000 members and over 200 locations on the map. And now, new groups wanting to replicate the idea are popping up in other cities and states, including here in Cambridge and Somerville, Mass.
Artists all over the country are experimenting with sharing their craft with online audiences.
Boston-based painter Laurel Greenfield goes live on her Instagram for an hour every weekday and hosts a "paint-along."
"When all of this started happening, it kind of made me take a step back and be like, 'How can I show up at this time? How can I just be there for my people with color and joy?'"
The answer: each day, Laurel paints a different cake and encourages her audience to paint alongside her. The response from her viewers has been wonderful.
"I've gotten a lot of messages just from people thanking me for doing it, kind of giving them something to do in the morning or just something to take their mind off of everything that's so crazy," Laurel said. "One person told me that they'd been watching along with their granddaughter and like they're painting together."
Laura has moved the painting workshops she normally teaches at Boston Public Market online as well, and she said that she's never had so many sign-ups. She said she hopes the renewal of interest in the arts brought about by COVID-19 will last beyond the outbreak.
"We've kind of been taught that art is extra, that we don't really need art," she said. "I'm hoping that this will help people keep these things in their life and make the time to be creative."