'A Lady And Gentleman In Black,' By Rembrandt Van Rijn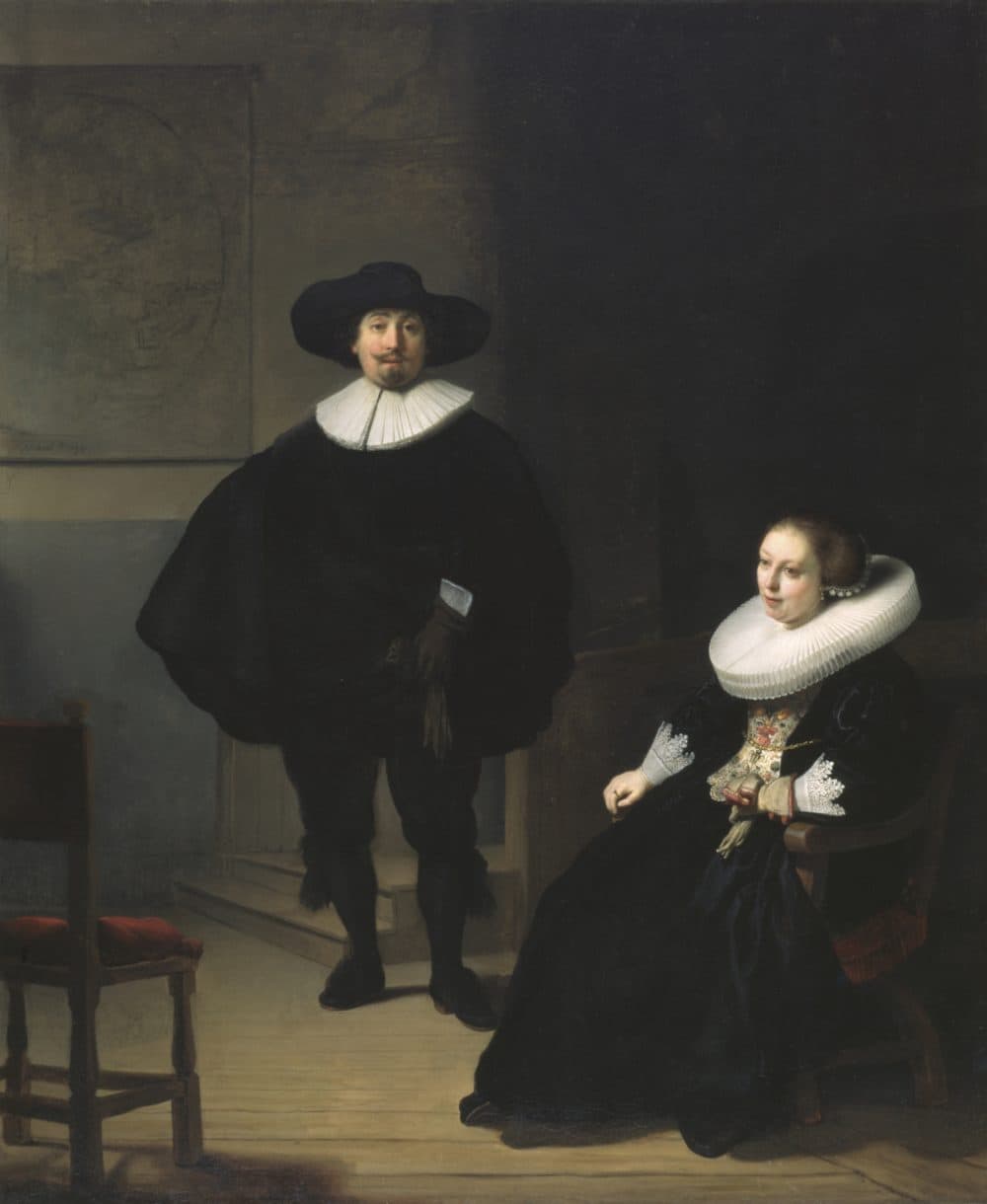 1633
All of the Rembrandts in Mrs. Gardner's collection were produced by the early 1630s, when Rembrandt was only 26 or 27 years old (though his sensitive self-portrait — which wasn't stolen — dates from four years earlier). He had already achieved a dazzling technical skill. Later images might be more profound, more searching, but these earlier masterful works were what made him famous.
Rembrandt painted many couples, some in very large formats. But the vast majority of these portraits are actually "pendants" — two separate canvases each picturing one member of the usually married couple. "A Lady And Gentleman In Black" is probably Rembrandt's first double portrait including both figures on the same canvas. It's impressively large — over 4-feet high by some 3½-feet wide. The colors are austere, but the clothing is rich, with amazingly detailed lacework (a Rembrandt specialty in this stage of his career), especially the woman's elegant ruffled collar and lace cuffs. How tiny his brush must have been.
But what's most striking about the painting is the position of the two figures. On the right, the woman is sitting in an elegant chair, looking out, but not at us — modest but self-possessed. Her left, gloved hand holds the glove of her naked right hand, which is resting on the arm of her chair. In the center, the man is standing, towering over her, swaggering, confrontational — his gloved left hand holding his right-hand glove; his right hand hidden, presumably on his hip, under his black cape. To his left is another chair, empty, simpler than the one the lady is sitting on. The seated woman, the standing man, and the empty chair form a triangle — the shape of solidity and stability. The room they're in is quite spare, something — perhaps a map — is hanging on a wall behind the man. Also behind him are two steps leading up to a doorway his figure is blocking. Because we can't really see the doorway, it seems more like an exit than an entrance. Though there's an underlying tension, the situation is not about to change. The woman is strong, but not passive. The man is certainly in control — or thinks he is."
— Written by Lloyd Schwartz
---
The Gardner Museum's security director Anthony Amore describes this painting and what it means to him to have lost it:
---