'Christ In The Storm On The Sea Of Galilee,' By Rembrandt Van Rijn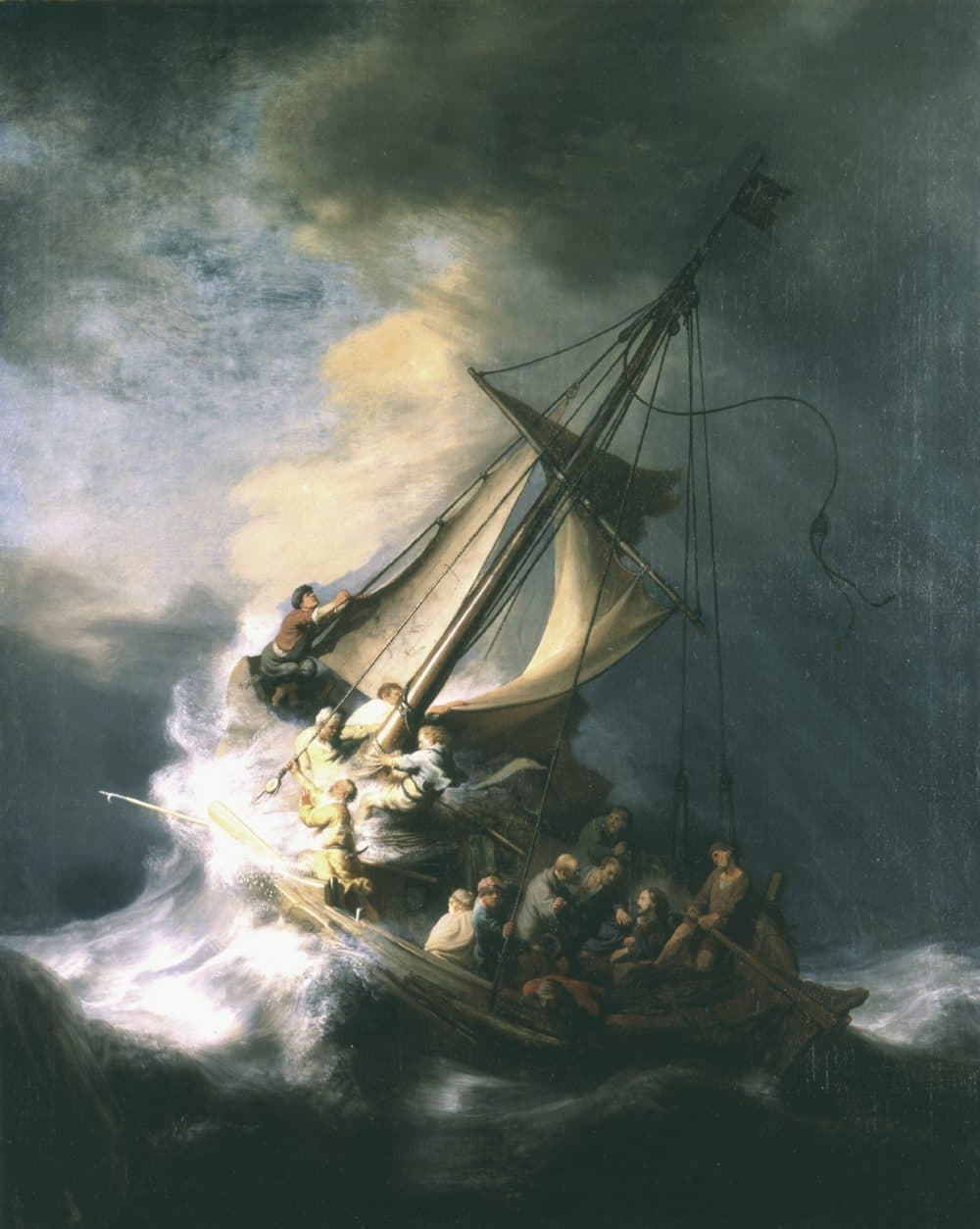 1633
"Four artworks to the right of the stolen ""Lady And Gentleman In Black"" in the Dutch Room hangs the empty frame of the most famous of the missing paintings, "Christ In The Storm On The Sea Of Galilee," an illustration of an even more famous passage in the New Testament (Matthew, 8):
23 And when he was entered into a ship, his disciples followed him.
24 And, behold, there arose a great tempest in the sea, insomuch that the ship was covered with the waves: but he was asleep.
25 And his disciples came to him, and awoke him, saying, Lord, save us: we perish.
26 And he saith unto them, Why are ye fearful, O ye of little faith? Then he arose, and rebuked the winds and the sea; and there was a great calm.
Rembrandt's painting, from 1633, the same year as the portrait of the couple, is that painting's almost diametrical opposite. Instead of calm stability, this is one of Rembrandt's most dramatic and dynamic images. The canvas is just over 5 feet high and more than 4 feet wide — the effect is overwhelming. We are at the height of a violent storm. Dark clouds glower above, high waves are lashing the boat, the wind has already torn the mainsail in half. We almost can't tell the waves from the rocks against which the small vessel seems about to founder.
Jesus and his disciples are in the boat. Some of them are in a state of panic. Some of them are working to hold the boat together. One is leaning over the side of the boat, about to vomit. One of them is staring out directly at us, holding onto his cap with one hand and onto a rope with the other. I'm not sure which disciple this is, but it's Rembrandt's face — the same face as in the also stolen "Self-Portrait," a postage-stamp-size etching from the same period. With careful observation we can make out, in the midst of all this tumult, Jesus himself waking up from his nap and not the least bit worried. "Oh, ye of little faith."
As opposed to the portrait of the couple, where every detail has been created by tiny, almost invisible brushstrokes, the brushstrokes here are wild, broad, windswept splashes across the canvas. We can actually see — almost touch — the vigorous brushing. It takes work to make out the small human faces. The boat has been swept up to an almost 45-degree angle to the water. As we watch, we ourselves are thrown off balance. (Or, rather, were.)"
— Written by Lloyd Schwartz
---
The Gardner Museum's security director Anthony Amore describes this painting and what it means to him to have lost it:
---